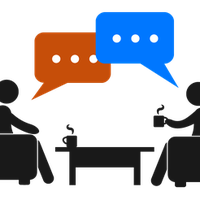 Pequeñas Conversaciones, ¿Soltero o casado? - 3
Aún no me lo creo: ¡Martín no está divorciado !
¿En serio? ¿Todavía están juntos ?
Sí, están casados y... ¡van a tener un hijo!
¡Qué mentiroso!
Así que ahora yo también estoy sola ... ¿hacemos algo juntos esta tarde?
No es una buena idea. Ya tengo planes...
¿ Con quién ?
Voy a casa de Sara a ver una película.
¡Me apunto! ¿ Dónde vive ?
Clara, esa tampoco es una buena idea...
En este momento suena el timbre y Hugo va al intercomunicador ...
Sí, Sara, cariño , ¡ahora bajo!
¡Oh! Hugo... ¡ tienes novia !
To hear audio for this text, and to learn the vocabulary sign up for a free LingQ account.