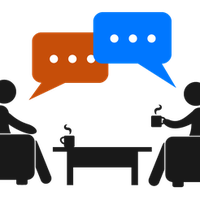 Pequeñas Conversaciones, ¿Soltero o casado? - 1
¡Qué feliz estás hoy, Clara!
Sí, Hugo... Estoy enamorada.
¿ Tienes novio ? ¡Qué bien!
¿Cómo se llama?
Martín, mi compañero de trabajo.
¿En serio? ¿Martín? Pero... ¿él no está casado ?
No, está solo. Bueno... ¡ahora está conmigo!
¿Seguro? Yo conozco a su mujer.
Que no... ¡Él está divorciado !
Vale, si tú lo dices...
To hear audio for this text, and to learn the vocabulary sign up for a free LingQ account.