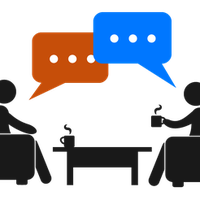 Pequeñas Conversaciones, ¿Qué deseas tomar?
¿Qué deseas tomar?
Tomo un té.
¿ Solo una taza de té?
Sí, el té es bueno. ¿Y tú qué tomas ?
No sé. Un zumo de naranja , unas cervezas , un vino tinto, un café o un vaso de agua . Hay muchas opciones.
¿Y un té? ¿No tomas té?
Sí, entonces tomo uno.
Perdón, ¿cuánto es todo?
Son dos tazas de té, tres trozos de tarta y un café.
Son nueve euros con diez.
Muchas gracias.
To hear audio for this text, and to learn the vocabulary sign up for a free LingQ account.