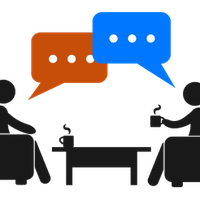 Pequeñas Conversaciones, En la puerta
¡Buenos días! ¿Es usted nuevo en el barrio ?
Sí, vivo en este piso desde hace dos días.
¡Por eso no lo conozco! Voy a apuntar sus datos.
¿Disculpe? ¿Quién es usted?
Soy de la Asociación de Vecinos. Vamos a organizar una fiesta.
¡Escriba aquí su dirección completa!
También puede darme su correo electrónico y su número de teléfono.
Pero... ¡No sé de qué está hablando!
Lo siento. No voy a darle mi correo ni mi número de teléfono.
Pero... ¡así no puedo enviarle un mensaje con la información!
To hear audio for this text, and to learn the vocabulary sign up for a free LingQ account.