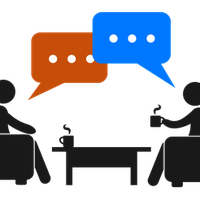 Pequeñas Conversaciones, Cumpleaños de la abuela
Qué contenta está nuestra abuela !
Claro, hemos venido todos los nietos.
No todos, falta la prima Lola.
¡Es verdad! También era el cumpleaños de su marido, ¿no?
No, de la madre de él. Cumple sesenta años.
Por cierto, ¿sabes quién va a tener un hijo?
¿Lola? ¿El primo Miguel? ¿Tú?
¡No! ¡Mi hermano Alberto!
¡Pero si no está casado !
Ay Manuel, ¡no seas anticuado!
To hear audio for this text, and to learn the vocabulary sign up for a free LingQ account.