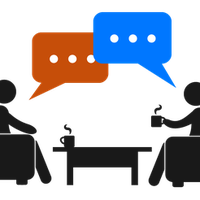 Pequeñas Conversaciones, Voy a la barra
Bueno, amigos, voy a la barra.
¿Vosotros qué tomáis ?
Yo tomo una copa de vino tinto.
¿Y vosotras?
Yo también.
Un vaso de agua, por favor.
¿ Nada más ? ¿ Solo un vaso de agua?
Sí. Entonces dos copas de vino tinto y un vaso de agua.
Para mí una taza de té y una tarta de plátano.
¿ Eso es todo?
Sí.
To hear audio for this text, and to learn the vocabulary sign up for a free LingQ account.