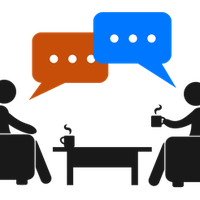 Pequeñas Conversaciones, Una postal
Hola Elisa:
Hoy he pensado en ti.
Es que hemos comido en un restaurante vegetariano increíble.
A Ana no le ha gustado … Ay, ¡ella siempre come carne!
Por cierto, Sergio y Luis han comprado ya su vuelo. ¡Van a venir en abril!
¿Y vosotros? ¿ Habéis pensado en visitarnos pronto?
Un beso
Fran
PD: ¿Ya has empezado tu trabajo nuevo? ¡Cuéntame!
To hear audio for this text, and to learn the vocabulary sign up for a free LingQ account.