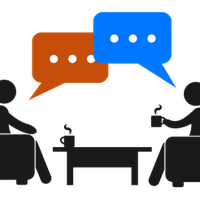 Pequeñas Conversaciones, Ultimo dia del curso
Alba, voy a hacer el próximo curso. ¿Y tú?
No, no puedo. No voy a tener tiempo.
¡Qué pena! Entonces... ¿no vamos a vernos más?
Oye, Julián, ¿quieres mi correo electrónico ?
¡Okey! ¿Quieres también mi número de teléfono ?
¡Sí! Te envio un mensaje y ¡quedamos un día!
¡Genial!
To hear audio for this text, and to learn the vocabulary sign up for a free LingQ account.