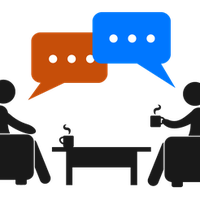 Pequeñas Conversaciones, Sorpresa planificada
¿A qué hora llega Sara al aeropuerto?
A las cinco de la tarde.
¡Perfecto! ¿ Quedamos con ella por la noche? ¡Tengo una idea!
Oh, ¿qué planes tienes? Cuéntame...
Este fin de semana es la gran fiesta de verano en mi barrio…
Genial! ¿A qué hora nos vemos ?
A las nueve en mi casa. ¿Hablas con Sara?
¡Okey!
Unas horas después, Marcos Luisa cuenta sobre su llamada a Sara ...
¡Qué pena! Sara hoy no puede salir. Está enferma.
¡Vaya! ¡La pobre! Entonces va a perderse toda la fiesta…
Sí, es verdad, pero por lo menos puede ver los fuegos artificiales desde su balcón.
To hear audio for this text, and to learn the vocabulary sign up for a free LingQ account.