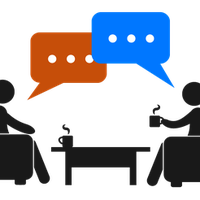 Pequeñas Conversaciones, ¿Qué planes tienes?
Sara, ¿ qué planes tienes para el jueves?
Uff… demasiados. A las doce tengo una cita con el dentista y más tarde voy a la peluquería.
A qué hora ?
A las cinco de la tarde .
Pero por la noche podemos quedar.
¡Genial! Nos vemos en mi casa a las nueve. Genial!
Muy bien, entonces le digo a Elsa que quedamos con ella el jueves.
No, Elsa no puede esta semana , ¡está ocupadísima!
¡Vaya! Es muy difícil quedar con todos.
To hear audio for this text, and to learn the vocabulary sign up for a free LingQ account.