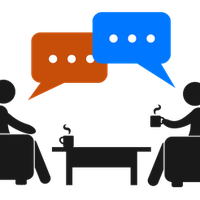 Pequeñas Conversaciones, Prepárate para la fiesta
Creo que no nos falta nada.
Solo las bebidas.
¿No te ha llamado nadie ?
No, y Carlos nunca me llama.
Siempre lo tengo que llamar.
Pero Mónica me ha llamado. Ella viene a las 9 y trae a alguien.
¿Trae algo de beber?
No, no trae nada.
Pero Juan también viene. Él siempre trae algo de tomar.
To hear audio for this text, and to learn the vocabulary sign up for a free LingQ account.