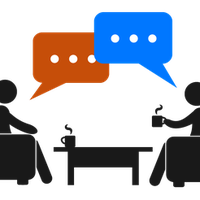 Pequeñas Conversaciones, Miguel y Elsa quieren conocer a Sara
¡Tengo muchas ganas de ver a Sara!
¡Yo también! ¿La vemos el fin de semana ?
No, ella vuela el sábado a Barcelona.
Entonces, ¿cuándo nos vemos ?
Ella hoy no puede .
¿Y el viernes
¡Uf! Yo no puedo. Tengo clase por la mañana y por la tarde trabajo.
Ay Elsa, ¡nunca tienes tiempo!
¡No te enfades! Quizá la vemos el sábado por la mañana en el aeropuerto.
To hear audio for this text, and to learn the vocabulary sign up for a free LingQ account.