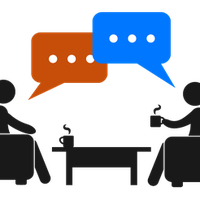 Pequeñas Conversaciones, En un pequeño restaurante
Hoy ofrecemos comida típica de México.
Oh, ¡qué bien! Me gusta mucho la comida mexicana.
La especialidad es chili con carne.
¡Qué pena! No como carne. ¿Hay otra cosa?
Claro, podemos ofrecerle la ensalada azteca.
¿Una ensalada? Bueno, vale…
Muy bien, ¿y qué quiere beber?
Un zumo de naranja.
¿Desea algo más?
No, gracias. ¿Me trae la cuenta, por favor?
Claro, ¡ahora mismo!
To hear audio for this text, and to learn the vocabulary sign up for a free LingQ account.