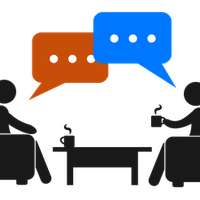 Pequeñas Conversaciones, En el cafe
Marcela, ¿qué tomas?
Yo tomo un café con leche y un bocadillo. ¿Y tú?
Me gustaría tomar una cerveza.
¿No es mejor un zumo de naranja ?
No, el zumo de naranja es muy ácido … mejor tomo algo dulce.
¿Una horchata?
No, no tomo horchata, es muy dulce.
Bueno, ¡pero decídete ya!
Tomo un café cortado con un trozo de tarta de chocolate.
Y seguro que el café cortado no te sabe muy amargo ...
To hear audio for this text, and to learn the vocabulary sign up for a free LingQ account.