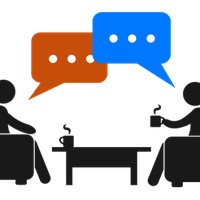 Pequeñas Conversaciones, En el bar
¡Otra vez has llegado tarde, Rubén!
Perdona, cariño, ¿ya has pedido algo?
Pues claro… ¡Una cerveza! ¡Y ya me la he bebido!
¿Quieres tomar otra cerveza o pido solo para mí?
Sí, por favor, y quiero también una ración de croquetas.
¿Croquetas? ¿A estas horas?
Sí, es que... ¡todavía no he comido !
Oh no... ¡las croquetas son de jamón! Y yo no como carne...
¡Ay, qué pena! ¡Me las tendré que comer yo!
¡Que aproveche ! Yo voy a pedir una ensalada...
To hear audio for this text, and to learn the vocabulary sign up for a free LingQ account.