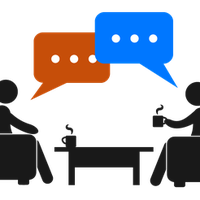 Pequeñas Conversaciones, Despues del cine
Este barrio es muy bonito.
Sí, en estas calles hay muchos edificios con encanto.
¿Vives por aquí ?
Sí, en un piso pequeño.
Pero voy a mudarme la próxima semana.
Mi nuevo piso está cerca de la avenida Avellaneda.
¿En serio? Yo vivo en ese barrio, en la calle Tejedores.
¡Qué casualidad! Mi dirección es calle Tejedores trece.
¡Yo vivo en el once! ¡ Vamos a ser vecinos!
To hear audio for this text, and to learn the vocabulary sign up for a free LingQ account.