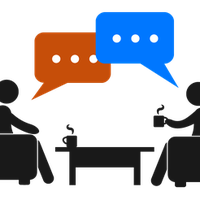 Pequeñas Conversaciones, Buenas noticias
Alba tiene buenas noticias que reportar y le envía un mensaje a su amiga Beatriz ...
Hola Beatriz:
¡ Vas a sorprenderte con estas novedades!
El viernes voy a quedar con Julián. ¡Por fin!
Antes, él va a ir a clase.
Luego, los del curso van a tomar una cerveza juntos.
Pero él no… porque nosotros vamos a ir al cine juntos.
¿Y tú y Alex? ¿Qué vais a hacer el viernes?
Un beso,
Alba
To hear audio for this text, and to learn the vocabulary sign up for a free LingQ account.