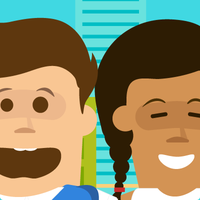 SpanishLingQ Beginner - Who is She?, Part 5
Paulino: ¿Por qué está haciendo tantas preguntas acerca de la muchacha que vive con su hermano?
Juana: Él no ha respondido a mis correos electrónicos desde hace muchas semanas.
Yo creo que ahora sé por qué.
Paulino: ¿Por que?
Tal vez él está ocupado.
Él, probablemente, está demasiado ocupado para escribirle.
Juana: Yo pienso que es porque él está enamorado de esa muchacha.
Paulino: ¿Por qué dice eso?
¿Cómo lo sabe?
Juana: ¿Por qué lo digo?
Paulino: Sí, ¿por qué lo dice?
Juana: Antes nosotros nos escribiamos todo el tiempo.
Nos enviábamos correos electrónicos cada semana.
Y él ha dejado de escribirme.
Paulino: ¿Y qué?
Él probablemente tiene otras cosas que hacer.
Juana: Ahora yo no sé nada de él.
No me escribe más.
To hear audio for this text, and to learn the vocabulary sign up for a free LingQ account.