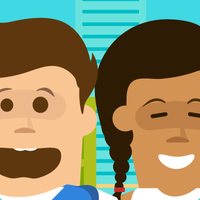 ItalianLingQ - Who is She?, Part 13
Ma mi deve dare subito i 500 euro.
Che ne dice se le do un assegno?
Lo accetterebbe?
Ok.
Mi firmi un assegno e farò ciò che vuole.
Da quale banca è emesso l'assegno?
La "Banca di Roma"
Non ho mai sentito parlare di questa banca.
È una banca molto conosciuta nel mio paese.
Sa una cosa,ci ho riflettuto sopra.
Pensarci bene,non mi va di fare ciò che mi chiede.
Ma se un attimo fa mi ha detto che l'avrebbe fatto.
Lei mi sta chiedendo di fare una cosa disonesta.
Ma all'inizio lei era d'accordo.
Anche se ho detto che l'avrei fatto, adesso ho cambiato idea.
To hear audio for this text, and to learn the vocabulary sign up for a free LingQ account.