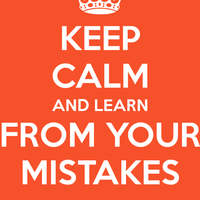 Natalia Tarasenko, 6. Mistakes
I have some problems
I don't have any problems.
Do you have any problems?
there is someone I want to introduce you
there is nobody I can ask for an advice
there is nothing you can do about it
Is there anything else I can do for you?
should - следует
you should eat less sugar
must - обязан
you must study hard
have to - приходится
Sorry guys I have to go, it's late
You don't have to do the dishes
Do I have to do the dishes?
It was quite a challenge
I'm used to his speaking manner
The second video was related to coming up with ideas
in order to come up with something new you should work hard
her speaking manner was more accurate than the previous speaker
developing a new project
when I'm on a running track
I need to think over those ideas in my head
and decided which ideas fitted more
Well, it works in a way that
having nobody around you
you can pick the best idea while walking
an Instagram post by one person I follow
he shares the same opinion
and it really works
there is nothing mentioned about in this article
brainstorming doesn't help me much
I fulfill my ordinary duties
I can stay in the office
the team is scattered around Ukraine
I like it when team members are next to me
my company provides this opportunity
Yeah, I can relate to that
it's unproductive
she literally hates offices
She works remotely either from home or a coworking
I can grab a cup of coffee on a terrace
I didn't learn anything new
I didn't see any value in it
you should be grateful for everything you got
but the way, the way the talk is delivered doesn't appeal to me
everyone involved in making his morning cup of coffee
the person who he visited first was a barista
people were complaining about her
even a small girl expressed her discontent
She comes home exhausted
it took her sometime to calm down
people are so picky
these days people are getting even more embittered
His son had encouraged him to do it in person
They knew nothing about his gratitude
do it as a pro
I wasn't aware of coffee tasting
He taught him doing it in a right way
the road which this coffee and water were brought by
the place where this coffee had been grown
people growing the coffee
when you have some time to attend some meetups
They can't seem to get why I do it
My guess, you simply want to evolve
To hear audio for this text, and to learn the vocabulary sign up for a free LingQ account.