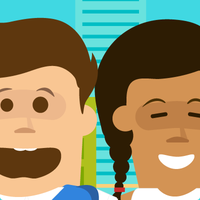 EnglishLingQ - Who Is She?, Part 21
Jane: Which is the door to their apartment?
Paul: It is the second door on the left, the one with the green door.
It is down that way.
Jane: Let's hurry up.
Quickly, let us in.
Paul: What are you going to do?
And where is my money?
I want my money now.
Jane: Sally, get into your pyjamas and get into bed.
Paul: Oh boy, this is going to be bad.
I am leaving.
Jane: I hear someone coming down the hall.
Paul: I am not staying around here.
Good bye.
Sally: Oh no!
He said the girl would not come back for an hour.
I guess she came back early.
Jane: I do not care what happens.
I just want to embarrass my brother and break up his relationship with this girl.
To hear audio for this text, and to learn the vocabulary sign up for a free LingQ account.