インド
ChatGPT is a smart
Artificial Intelligence (AI) Solutions and Service Providers |ThinkPalm
application that can chat with humans, write scripts, do assignments, and write programmable codes for humans. It is still in its learning phase. May be near future, ChatGPT will solve any challenge we throw at it.
ロシア連邦
What this Ad has to do with the subject?
オーストリア
it does not work with just the words you want to learn. It creates a new story with differnt words and those you gave chatGPT
パキスタン
How are you prompting/writing your question? I never faced this issue. I formulate a question like this"Please write a crime story/science fiction story in German language or whatever language you are learning by using these words , verhindern/words in your target language, etc.
Try giving a list of 5 -10 new words for each new story.
Report back if it works.
EDit:
Prompt: write a crime story in Spanish by using these words,Ambivalencia Efervescencia, Anacronismo, Perplejidad, Polifacético, Enigmático, Disidencia Discrepancia, Onírico. This is the story in Spanish I got.
Había una vez un detective llamado Carlos, quien estaba investigando un asesinato en una pequeña ciudad. El caso era particularmente difícil debido a la ambivalencia de los testigos, quienes parecían estar ocultando algo importante.
Sin embargo, Carlos seguía adelante con la investigación, y pronto descubrió que había una efervescencia de actividad sospechosa en torno a la víctima poco antes de su muerte. Parecía que la víctima estaba involucrada en algún tipo de negocio ilícito que había atraído la atención de varias personas.
Mientras Carlos profundizaba en el caso, comenzó a notar algunos anacronismos extraños en la escena del crimen. Parecía que algunas de las pistas no encajaban en el momento en que supuestamente habían ocurrido.
Esto le causó perplejidad al detective, pero su mente polifacética le permitió encontrar una pista crucial que lo llevó a un sospechoso enigmático que había sido visto cerca de la escena del crimen.
Sin embargo, la disidencia entre el sospechoso y los testigos complicó aún más la investigación. Había discrepancias en las declaraciones, lo que dificultaba determinar la verdad.
Finalmente, Carlos tuvo una idea onírica que lo llevó a encontrar la evidencia que necesitaba para resolver el caso. Con el sospechoso bajo custodia, pudo aclarar la perplejidad del caso y cerrar la investigación con éxito.
オーストリア
I would like a story only with those words I gave chstGPT and no new words.
United States
United States
How is this with finding or compiling various Indigenous language resources for things like Ainu, Mayan, Quechua, Cloo, etc.? I would adore finding something for Cloo but it seems to elude me.
イギリス
I use it to learn specific examples of word usage. Today I focused on portuguese word 'Estive'. So not only I am learning this word repetitively but also learning other words also. A lot of past tense words also turn up on a regular basis too.
So, one not only can focus on specific words or subjects or X of an language, but one is also getting the mass input one needs also. 
オーストリア
On the website is the sentence mode and app not. And where can I find the chatgpt app?
オーストリア
Since ChatGPT is all over the place anyway, I decided to not act like the tech-grumpy grandfather for once XD and give it a try. I must admit, I really liked the way you can interactively shape your conversation and get the best out of it.
I told it to:
+ Speak with me in my chosen language (Italian) for learning purpose
+ Use some topics I like (traditional food, history of the country, some cities...)
+ Give short replies and use simple language
+ Correct my sentences
+ Ask me some questions
+ Write short texts about the topics we've discussed just for me to read
Reading the replies here, I found it quite helpful to feed ChatGPT with your learning words/Lingqs and write shorts texts involving those words. I've included that now into my daily routine and that really works fine. Thanks for that idea!
The biggest bonus for me: I'm still a bit shy or embarrassed talking to real people (natives) in Italian or write them E-Mails, WhatsApp and so on. I have a feeling that ChatGPT is a real opportunity to slowly overcome that feeling and transition into the "comfort zone".
United States
When I get a word that I'm confused with its usage (many different meanings), I have chatGPT write sentences with each meaning and provide an English translation for each. It's like having a teacher that doesn't annoy! 
イギリス
OMG, I hadn't thought of using it to create stories using specified words. It wouldn't be quite as efficient as Anki since it's not going to be spaced perfectly, but at least it's a way to get extra exposure without having to re-read the same text. 👍
ロシア連邦
It wouldn't be quite as efficient as Anki
It seems that you've got hard beliefs that spaced repetition is irreplaceable.
Think about how many things we remember once and for all. That stupid guy in the supermarket two years ago, that bicthy Karen on the gas station about half a year ago and her speech word by word, that special birthday when you had gotten that special gift from someone you love, the day your kids were born.
Spaced repetition curve is not about remembering really, it's about forgetting things we don't really single out from daily routine.
In that sens, generating catchy contexts could work a lot faster.
エジプト
I have no idea about doing this vividly , can any one make a video and teach us?
ロシア連邦
But who's gonna click on the video for you and watch it for you? And then learn the language for you. Because what can be more easy and simple than typing your question into YouTube or Google to find that there's already 100500 videos about chatGPT and how to use it?
But if somebody cares enough to take your hand and show around the Internet for you, they're could also teach you how to poop by yourself :D
エジプト
Your way indicates your upbringing, I think you talk to your mother and your family like that, but when it comes to others, you have to respect yourself.
ドイツ
Hi mostafa19, 
why not ask ChatGPT directly?
For example, like this (for Arabic:  https://arabic-for-nerds.com/how-can-you-use-chatgpt-to-learn-arabic/)
User: "How can I use ChatGPT to learn Arabic?
ChatGPT: There are a few ways that you can use ChatGPT to learn Arabic:
Vocabulary practice: You can use ChatGPT to help you practice new vocabulary words. Simply input a word or phrase in English, and ChatGPT will provide the Arabic translation. You can also use it to get the Arabic pronunciation of a word.
Grammar practice: ChatGPT can also help you with grammar practice. You can input a sentence in English and ask ChatGPT to translate it into Arabic. This can help you see how the grammar structures are used in different sentences.
Writing practice: You can use ChatGPT to practice writing in Arabic by inputting a prompt or a topic in English and ask ChatGPT to write a short text in Arabic. This can help you learn how to construct sentences and paragraphs in Arabic, and get feedback on your writing.
Translation: ChatGPT is also useful as a translation tool, you can use it to translate text from English to Arabic or vice versa.
Reading and Listening practice: You can use ChatGPT to practice your reading and listening skills by asking it to read a text in Arabic or have a conversation in Arabic.
It's important to remember that ChatGPT is a language model and its main goal is to generate text based on the input it receives. Therefore, it's important to validate the output it produces and use it as a support tool rather than a definitive source. It's also recommended to use it in combination with other resources and study materials to have a more comprehensive learning experience." 
エジプト
Very thanks , I wrote the comment before I searched, but now I understand ,I thought it was difficult. You're very respectful unlike the one named "" I think he talks to his mother in the same way.
ドイツ
You're welcome. 
SI seems to be a nice Russian dude,
only a little rough around the edges (sometimes) :-)
Anyway, I thought only Germans, Dutch, Finns, and Israeli liked a direct and blunt style of communication, but SI (Russians in general?) seems to like that as well.
In short, it's (usually) not a personal, just a cultural thing...
ロシア連邦
In General, Russians prefer no communication at all, they just say "Угу" or "Мм..", all the other forms of communication give you no guarantee that you aren't acting against another stupid law from another stupid dictator with a small d***, but a great role in history. Being drunk gives some chances to not end up in jail for your words, because when you're drunk you look irresponsible, that is patriotic.
ドイツ
"when you're drunk you look irresponsible, that is patriotic"
Makes perfect sense. 
Now I understand Putin's foreign policy much better: 
When you're not drunk you look responsible -
and that is unpatriotic :-) 
But Russia vs "The West" is boring... 
I like the new balloon game much more, i.e.: 
Can the Chinese build balloons faster than the Americans can shoot them down?
Spy satellites or cyber-attacks are so overrated, an armada of spy balloons is much more technologically sophisticated (at least in a steampunk universe) :-)
ロシア連邦
:D
I'm a bad cop, Peter is a good cop, we're the Stupidity Police and we've spotted your acting against the law that is talking without thinking, as well as crying for help without trying first and without even scrolling down this very page with all the answers. You have the right to talk to your mother before we call in ours!
エジプト
Who's crying right now? Why do you behave like I asked your mother to record a video and explain to me about ChatGPT.
and who's using ( :D , :( , etc) in 2023 , probably You're almost using TikTok a lot.
ロシア連邦
mostafa19 be like:
- bla bla mother bla
- mother bla bla
- .. .. ...
- mother mother!
ロシア連邦
Don't you see how the comments are nested? It's clear I was talking with Peter about the russians' thing, again you're talking before thinking first. But don't get defensive, nobody's gonna charge you for that, we're not the Police really :D
エジプト
Can you record a video and explain to me anyone you talk to right now?
ロシア連邦
mostafa19,
I recorded a picture for you, explaining I was talking to Peter, see how the comments are nested. And stop act stupid for your own sake.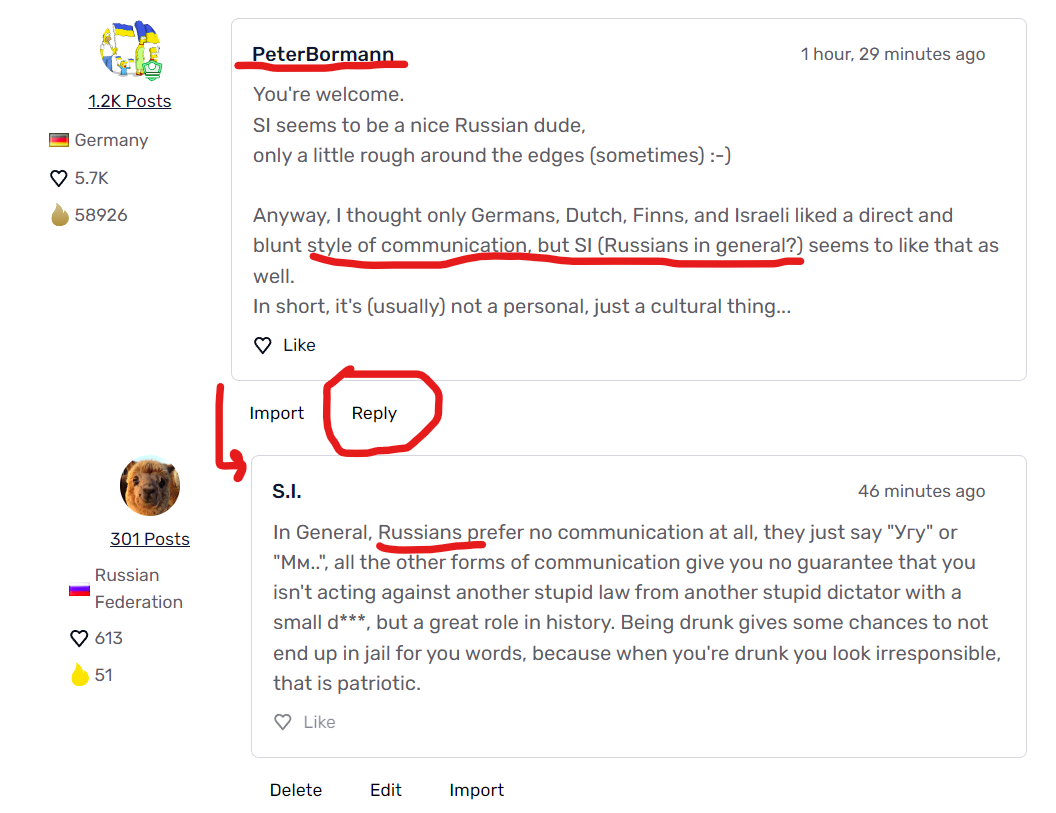 エジプト
Hahahah, i really enjoyed my time. Come every day.
ロシア連邦
Poor thing... Can't scroll, can't search, can't think, can't poop, for Сhrist sake. Too busy dreaming of mothers.
United States
It'd be great if we could collapse threads or hide posts that go off-topic.
But since that's not possible here, the longer a thread gets the more useless it becomes.
Except for 🍿
エジプト
エジプト
Can u recording a video and explaining why you put your mother's picture in your profile.
ロシア連邦
@PeterBormann,
What do you think after that:

was it worth helping such a person?
I've got developed intuition about such characters. If they don't care to just scroll down the page or search first, if they're assuming that everybody around cares so much to record a video for them, it means something. And usually it ends up like that.
エジプト
You not respect me, this result, and now you cry, you have to respect others.

ブラジル
polemics are great to practice written english.
ロシア連邦
You didn't take time to read through all the examples the users have contributed in this discussion before you came in here, you didn't care to just scroll down and find out that all the answers are already here.
Basic respect you lost right at this point.
True respect you lost a chance to deserve after bringing in the conversation and insulting the person that has nothing to do with what is happening here. You're gonna have problems with such attitude in the future. Really, a person who can't google or scroll, will never be able to contribute something valuable to people, only wasting their time and shittalk of others' relatives.
カナダ
it's a very smart way...thank you
ドイツ
To me, ChatGPT is an absolute game changer. Nothing comes even close. You can do so much, it is insane. I simply hope it stays free.
Here are some examples:
a) create cloze sentences
b) practice outputting/writing in your L2
c) practice sentence patterns, etc
d) ask it to express things in different words in order to get to know other ways of expressing things, etc
United States
United States
If anyone wants a laugh, they can ask ChatGPT to make them a conlang!
"Can you create a synthetic conlang that uses V2 word order and has many cognates from Sámi languages?"
Here is what I got back.
Nouns:
Nouns in this conlang are inflected for case and number. There are four cases: nominative, accusative, genitive, and dative.
Verbs:
Verbs are inflected for tense, mood, and person. Tenses include present, past, and future. Moods include indicative, subjunctive, and imperative.
Articles:
The definite article is "da" and the indefinite article is "ei".
Pronouns:
Personal pronouns in the nominative case are:
1st person singular: mun
2nd person singular: du
3rd person singular: son
1st person plural: mii
2nd person plural: dut
3rd person plural: sii
Possessive pronouns are inflected for person and number and follow the noun they modify.
1st person singular: munin
2nd person singular: dunin
3rd person singular: sonin
1st person plural: miin
2nd person plural: dutin
3rd person plural: siin
Demonstrative pronouns are:
"dette" for "this"
"datte" for "that"
Interrogative pronouns are:
"man" for "who"
"met" for "what"
"me" for "where"
"mo" for "when"
"mik" for "why"
"moz" for "how"
Here are a few example sentences in this conlang:
Mun elen du. (I see you.)
Son válddii eamit. (He caught a fish.)
Mii álgit goikkat dut. (We will go hunting with you.)
Datte lea ráhkaduvvon. (That is forbidden.)
Man lea dutnje namma? (What is your name?)
Now, technically I didn't ask for a Uralic conlang, just a conlang with Sámi cognates, so I won't judge it for having articles or not having "enough" cases. But I can say, from my intro course in Davvisámegiella, the words look Sámi.
What is funny to me though, is how it introduces cases and then proceeds to not use them in the example sentences. In this example, we technically don't see the accusative 2nd person singular pronoun, so we don't know if it is being followed (presuming dut is dative), but I had done some other tests with a friend and most of them had example sentences that did not track at all with the stated rules for the conlang.
スペイン
Lol oh God this is something I didn't consider. At some point polyglots will learn everyt language and then start creating their own languages.
United States
I'm so glad that I'm not the only one who immediately thought of LingQ after learning about Chat BPT. I'm not looking to it for precise instructions on how to preform open heart surgery, I just want to practice typing in french à propos de quoi que ce soit. I'm looking forward to hearing some tips on how you all end up using the new tool.
United States
For myself, this seemingly came out of nowhere and it also felt overhyped so I tended to ignore it. I've also read that it may sound and look convincing even as it gets things wrong and/or very wrong.
I've watched a couple of videos a week or two ago. One folks may find interesting here on some ideas of how you can question chatGPT to do certain things with language:
It's quite intriguing. The question is whether it is giving incorrect answers to me. Seemingly it does a pretty good job and Asad's example seems good to me. However, in many cases one may not know if it's wrong or not and it will sound convincingly correct. I've not tried it out so I can't speak to what it gets wrong and how frequently.
It's pretty impressive though from what I've seen.
ロシア連邦
> I've also read that it may sound and look convincing even as it gets things wrong and/or very wrong.
At least for most popular languages, it cannot be a problem for learning. We're growing up, constantly dealing with inaccurate, incorrect or even completely false information, but it doesn't affect our fluency. The brain averages over things on its own. And people give us far more wrong ideas and most of the time we haven't got a chance to check this immediately before it cathes on, till new (and more reliable) information takes over the old one just like statistically.
It's worth trying, you'll like it :)
オランダ
I'm waiting for the possibility in Chat GPT to ask my questions by speaking and get the answers in audio ...
スペイン
Yes this feels like it's just around the corner. For the moment it's quite limited with even it's typing ability as it can't change fonts, bold, italicize, underline, etc. But this is definitely gonna be where it gets crazy interesting
パキスタン
StewartLikesLingQ,
The only language-related thing I have asked for is the selection of German magazines based on the CEFR Levels. It gave me a concrete list based on these levels so it was pretty impressive and made my job easier on which magazines to buy from shops. For example, magazines like Spiegel and Focus are rated at C1.
I will try your story method, let's see how it goes. This is what i got.
Write me a story in German by using 500 most common words. Only use past tense and perfekt
Es war einmal ein kleines Mädchen namens Anna. Sie lebte in einem Dorf in den Bergen. Eines Tages beschloss sie, in den Wald zu gehen, um Pilze zu sammeln.
Sie ging früh am Morgen los und nahm nur einen Korb und ein Messer mit. Der Wald war groß und dunkel, aber Anna war mutig und ging tiefer hinein. Sie fand viele Pilze und legte sie in ihren Korb.
Plötzlich hörte sie ein Geräusch und drehte sich um. Sie sah einen Bären, der auf sie zukam. Anna war erschrocken und rannte so schnell sie konnte zurück zum Dorf. Der Bär verfolgte sie, aber sie schaffte es, ihm zu entkommen.
Als sie zurück im Dorf war, erzählte sie allen von dem Bären und zeigte ihnen die Pilze, die sie gesammelt hatte. Die Leute waren beeindruckt von ihrem Mut und lobten sie. Von da an ging Anna immer mit einem Freund in den Wald, um Pilze zu sammeln.
ドイツ
Hi Asad,
nette kleine Geschichte - etwas trivial, aber wie Stewart schrieb, ChatGPT sollte als TextGenerator ideal sein, um Texte in unseren L2s zu generieren.
Quasi:
Warum 50-60 Mini Stories auf LingQ nutzen, wenn man gleich Tausende haben und in LingQ importieren kann :-)
PS -
Imperfekt (ich ging, er tat, sie las, etc.) kommt im Alltagsdeutsch weniger häufig vor als Perfekt (ich bin gegangen, er hat getan, sie hat gelesen, etc.). Daher bringt die Geschichte vielleicht weniger, als man denkt.
Aber gut, ChatGPT ist nur ein cooler Textgenerator - allerdings ohne jegliches Problemverständnis.
イギリス
PeterBormann: Imperfekt kommt im Alltagsdeutsch weniger häufig vor als Perfekt. Daher bringt die Geschichte vielleicht weniger, als man denkt.
Das scheint mir eine sehr wichtige Feststellung zu sein.
Könnte diese Funktion (imperfekt durch perfekt ersetzen) nicht einfach eingebaut werden?
ドイツ
Hi Maria,
ich denke, für ChatGPT als Textgenerator sollte das kein Problem sein.
Aber jeder Text, der mit "Es war einmal" beginnt, zeigt das Textgenre als Märchen an. Und für Märchen ist Imperfekt perfekt (sorry, I couldn't resist :-) ).
Oder anders ausgedrückt:
Märchen sind zum Lernen von Alltagsdeutsch weniger geeignet, weil die Tendenz der deutschen Sprache langfristig zu sein scheint, die vielen komplizierten Imperfekt (oder genauer: "Praeteritum)-Verbformen (tat, las, merkte, sprang, etc. pp.) durch die sehr viel einfacheren Perfekt-Verbformen zu ersetzen, also:
* Die immer gleichen Präsensformen von "haben" Ich habe, du hast, er / sie / es hat, wir haben, ihr habt, sie haben + die je verbspezifischen Partizip Perfekt-Formen "gelesen, getan, gehabt, gefunden, etc"
Dieselbe Logik gilt für die Vor-Vergangheit (Plusquamperfekt):
* Die immer gleichen Imperfektformen von "haben": ich hatte, Du hattest, etc. + die je verbspezifischen Partizip Perfekt-Formen (wie zuvor).
Fazit:
Man kann im Deutschen mit beiden Vergangenheitsformen (Perfekt und Plusquamperfekt) mündlich "fast" alles ausdrücken, was man möchte - ohne je das komplizierte Imperfekt (Praeteritum) zu benutzen. Und in einigen Jahrhunderten dürften die Imperfektformen, zumindest mündlich, fast völlig ausgestorben sein (Analogon: das Passé Simple versus Passé Composé in Französisch).
Das macht für Leute, die Deutsch lernen möchten, das Sprechen schon erheblich einfacher :-)
イギリス
"Aber jeder Text, der mit "Es war einmal" beginnt, zeigt das Textgenre als Märchen an. Und für Märchen ist Imperfekt perfekt (sorry, I couldn't resist :-) )"
Klasse!
"Das macht für Leute, die Deutsch lernen möchten, das Sprechen schon erheblich einfacher :-)"
Toll!
"Ich denke, für ChatGPT als Textgenerator sollte das kein Problem sein."
Super!
Ich hoffe, das wird bald umgesetzt. Dann werde ich den Chat ausprobieren.
Ich habe das Gefühl, dass ich wieder zu den Anfängern zurückgekehrt bin. Ich habe mich seit Jahren nicht mehr mit Deutsch beschäftigt.
Ich habe Hilfe bekommen, um dies zu schreiben.
United States
@Maria2
Answering in English as I'm about to go into a meeting...I assume you can ask it to use Imperfekt. You type to chatGPT as if it is a person. Tell it exactly what you want. So you could use Asad's question:
Write me a story in German by using 500 most common words. Only use past tense and perfekt
and simply ask:
Write me a story in German by using 500 most common words. Only use past tense and Imperfekt
I assume this would now work as you're asking.
Edit:
I misunderstood the issue. I see Asad specified "use past tense and Perfekt". It seems to have only used "simple past tense" (Imperfekt).
I think it took his first part of the statment "past tense" and just simply did Imperfekt.
If I request it to to "Write me a story in German by using 500 most common words. Only use Perfekt"
Then it came up with this:
"Es hatte einmal ein Junge gelebt, der in einer großen Stadt aufgewachsen ist. Er hatte immer davon geträumt, die Welt zu entdecken und Abenteuer zu erleben. Eines Tages hat er beschlossen, seinen Traum zu verwirklichen und ist losgereist.
Er hat viele Länder besucht und viele unterschiedliche Kulturen kennengelernt. Er hat sich in Berge gewagt und im Meer geschwommen. Er hatte viele Herausforderungen gemeistert und viele neue Freunde gefunden.
Eines Tages ist er jedoch in eine schwere Situation geraten und hat seinen Weg verloren. Er war alleine und verängstigt, aber er hat nicht aufgegeben. Er hat seine innere Stärke entdeckt und ist seinen Weg zurückgefunden.
Nach seiner Reise ist er zurück in seine Heimatstadt gekommen. Er hatte viele Geschichten zu erzählen und viele Erfahrungen zu teilen. Er hatte sich verändert und war reifer geworden. Er hatte gelernt, dass das Leben voller Abenteuer und Überraschungen ist, wenn man bereit ist, sie zu suchen und zu erleben.
Er hat beschlossen, seine Erfahrungen in ein Buch zu schreiben, um andere Menschen zu inspirieren und ihnen zu zeigen, dass alles möglich ist. Das Buch hat erfolgreich verkauft und er hat sich einen Namen gemacht als Schriftsteller. Er hatte seinen Traum verwirklicht und war glücklich."
United States
I tried this one for myself just now:
"write a back and forth conversation in German with two people who just saw an accident"
It produced:
"Person 1: Oh mein Gott, hast du das gesehen? Da ist gerade ein Unfall passiert!
Person 2: Ja, ich habe es gesehen. Es sieht schlimm aus. Wir sollten die Polizei rufen.
Person 1: Ja, ich habe es bereits getan. Sie sind unterwegs.
Person 2: Gut. Wir sollten auch sehen, ob wir helfen können.
Person 1: Ja, ich denke, wir sollten uns dem Unfallort nähern. Vorsichtig, es sieht aus, als ob es sehr gefährlich ist.
Person 2: Ja, du hast recht. Ich hoffe, dass niemand verletzt ist.
Person 1: Ich denke, dass es einige Verletzte gibt. Ich habe gerade jemanden aus dem Auto helfen sehen.
Person 2: Oh nein, das ist schrecklich. Wir sollten uns beeilen und helfen, wo wir können.
Person 1: Ja, lass uns gehen. Ich hoffe, dass alles gut ausgehen wird.
Person 2: Ich auch. Wir sollten beten, dass niemand ernsthaft verletzt wurde."
Edit:
Some of the chatGPT experts here may already know this, but it looks like you can ask chatGPT to "Please continue" if you want it to continue on with the story or conversation that it is generating.
I'll be interested to hear how others are utilizing it.
United States
"Aber jeder Text, der mit 'Es war einmal' beginnt, zeigt das Textgenre als Märchen an. Und für Märchen ist Imperfekt perfekt." -- Genau das.
Selbst wenn wir sagen, schreib mir eine einfache Geschichte ohne das Imperfekt, versteht ChatGPT nicht wirklich, was Zeitformen und Kasus sind. ChatGPT fingt mit "Es war einmal" an, und jetzt haben wir ein Märchen.
Das Genre ist das Wichtigste für ChatGPT. ChatGPT hat irgendtausend Märchen gelesen, und weißt, Märchen sehen so aus.
Leider sind Märchen nicht geeignet, für Mündsprache oder Umgangssprache zu lernen. Aber wir können das lösen (oder helfen), wenn wir schreiben, schreib mir einen Dialog zwischen zwei Leute, die über [etwas] sprechen.
United States
Aber ohne Präteritum, wie könnten die zukünftigen deutschlernenden Leute Konjunktiv I lernen?!
ドイツ
@Eric
"If I request it to to "Write me a story in German by using 500 most common words. Only use Perfekt"
Yes. That's it.
But the "quality"of the story is completely lame: It has the charm of a brain-dead parrot that can still pronounce Wikipedia sentences while looking at a television that is tuned to a dead channel.
I guess the AI-based text generator would transform the famous confrontation between the Witch King of Angmar and Eowyn
Tolkien: "Come not between the Nazgûl and his prey! Or he will not slay thee in thy turn. He will bear thee away to the houses of lamentation, beyond all darkness, where thy flesh shall be devoured, and thy shrivelled mind be left naked to the Lidless Eye."
into:
"a tall black man on a dragon spoke evil words to a blonde woman."
What I've seen so far, I'd say one of its strengths is generating diaogues based on factual information.
As soon as tropes (metaphors, etc.) come into play, it's more or less helpless.
However, the ability to switch between literal and non-literal (especially metaphorical) interpretations in the blink of an eye is a hallmark of how humans process language.
I doubt that current AI research is capable of solving this problem - and perhaps it never will be. But maybe brain-computer links will be a "game changer" in this context...
United States
@Peter,
Agreed, it's a pretty lame story. I definitely won't use it for those purposes, but of course this lame story is perhaps not so bad for something if you are just starting a language and you can perhaps steer it a bit more to a style of story, and or a subject.
Like this:
"Write a story in German about a murder in the style of a mystery and don't be lame" (LOL)
It came up with:
Es war ein kalter Winterabend in der kleinen Stadt Blackwood. Der Schnee fiel sanft auf die Straßen und die Leute eilten nach Hause, um sich aufzuwärmen. In der Villa am Stadtrand jedoch herrschte Chaos.
Detective John Miller wurde zu dem Tatort gerufen, wo er eine grausige Szene vorfand. Der reiche Unternehmer, Alexander Blackwood, lag tot in seinem Arbeitszimmer, ermordet mit einem Messer.
Miller begann sofort mit den Ermittlungen und interviewte die Familie und das Personal des Opfers. Niemand schien ein Motiv zu haben, aber Miller war sich sicher, dass der Mörder jemand war, der dem Opfer nahestand.
Er begann, die Finanzen von Blackwood zu untersuchen und fand heraus, dass das Unternehmen in Schwierigkeiten steckte. Miller verdächtigte den Finanzberater des Opfers, Peter Thompson, und begann, ihn zu verhören. Thompson bestritt jedoch jede Schuld und Miller war unsicher, ob er der Mörder war.
Miller durchsuchte das Arbeitszimmer des Opfers erneut und fand ein geheimes Tagebuch, in dem Blackwood über seine Probleme mit einem Geschäftspartner namens Michael Green schrieb.
I think a little better than Asad's story, but then again I wasn't limiting it to the top 500 most common words. Still I won't be substituting books for this, but I can maybe having a "conversation" with it. Or maybe asking for dialogues. It is pretty intriguing. I even asked it to create some programming code for me (stuff I already knew but was curious what it would do).
ドイツ
Vielleicht auch interessant in diesem Kontext :
"Bereits im 16. Jahrhundert setzte sich im das Perfekt gegen das Präteritum als Vergangenheitsform durch (). Ein wichtiger Grund hierfür war, dass auf Grund des Wegfalls von -e am Wortende die schwachen Präteritumformen mit der 1. bzw. 3. Person Singular des Präsens zusammenfielen, z. B. macht(e) – macht. Allerdings sind im Oberdeutschen, mit Ausnahme des , wo es überhaupt kein Präteritum mehr gibt, die Präteritumformen von sein sowie der , die sich phonetisch deutlich vom Präsens der 1. bzw. 3. Person unterscheiden, auch hier in der gesprochenen Sprache lebendig geblieben.
Im Sprachraum wie auch im wird nach wie vor das Präteritum verwendet. In Zusammenhang mit den Massenmedien breitet sich jedoch seit Mitte des 20. Jahrhunderts in der nichtmundartlichen Umgangssprache auch in Norddeutschland das Perfekt aus, was mit einem gleichzeitigen Rückgang der traditionellen Mundarten in diesen Regionen einhergeht." (meine Hervorhebungen)
https://de.wikipedia.org/wiki/Pr%C3%A4teritum#Besonderheiten
https://de.wikipedia.org/wiki/Oberdeutscher_Pr%C3%A4teritumschwund
ドイツ
@Eric
"It produced:
"Person 1: Oh mein Gott, hast du das gesehen? Da ist gerade ein Unfall passiert!
Person 2: Ja, ich habe es gesehen. Es sieht schlimm aus. Wir sollten die Polizei rufen."
This dialogue is pretty good and helpful for SLA.
But the generated story is just uninspired / bad, and some of the German sentences are wrong or, at least, awkward. For example:
AI: "Eines Tages ist er jedoch in eine schwere Situation geraten und hat seinen Weg verloren."
German native speaker: "Eines Tages ist er jedoch in eine schwierige / heikle / delikate Situation geraten, sodass er vom Weg abgekommen ist / sich verirrt hat."
I would avoid such AI-generated stories like the plague.
Remember the brain-dead parrot staring at a TV tuned to a dead channel? :-)
United States
Thanks for the input Peter. At my level I'm definitely not in spot where I can judge the quality of the German getting produced here. I agree in probably finding more use for this with dialogues. Definitely it is not winning any Pulitzer Prize. =)
ドイツ
@Toby (noxialisrex)
"Aber ohne Präteritum, wie könnten die zukünftigen deutschlernenden Leute Konjunktiv I lernen?"
Similar to the Praeteritum (Imperfekt), Konjunktiv I and II are also endangered species in Alltagsdeutsch.
"Konjunktiv I
The present subjunctive occurs in certain expressions, (e.g. Es lebe der König! "Long live the king!") and in indirect (reported) speech. Its use can frequently be replaced by the indicative mood." (highlighting by me)
My guess is that German will take the path of least effort like Dutch:
has the same subjunctive tenses as German (described above), though they are rare in contemporary speech. The same two tenses as in German are sometimes considered subjunctive mood (aanvoegende wijs) and sometimes (voorwaardelijke wijs). In practice, potential subjunctive uses of verbs are difficult to differentiate from indicative uses. This is partly because the subjunctive mood has fallen together with the indicative mood. (highlighting by me)
United States
That was the joke :). I find it highly unlikely Subjunctive I would survive in normal speech where preterite does not. Subjunctive forms of verbs in Swedish is now essentially reduced to "vore" (were in English), and it is completely gone Norwegian and Danish. I suspect German will one day join us all and eventually lose moods and even its case system :).
ドイツ
Yes, German will follow the English lead:
* No real cases
* Past tense - overrated
* Subjunctive mood - overrated
* Articles: Who needs the no-information of "der", "die" and "das" when "da" is more than enough :-)
And thousands of English words are also already part of the German language.
Maybe the perfect SLA shortcut would be:
Just use English, but pronounce the words in German.
Sounds like real Denglish, doesn't it? :-)
United States
Da will eventually be enough. First you have to have a common gender and neuter like Dutch and Platt. We'll say de and da, it'll go nicely with your indefinite articles of n and ne.
Korea, South
Tried this this morning and it was pretty great, ngl
オランダ
Hi Stewart,
I also used chatgpt to write a story for me. I asked it write in A2 difficulty and use the vocabulary (that I provided in a list). after you initial start you can ask it to continue the story and give it more vocabulary to use.
I got inspired by a Youtube video I saw.
gr, Floriaan
ChatGPT just changed language learning forever. Let's explore how artificial intelligence is revolutionizing language education and doing away with boring language classes and ineffective study methods. It's NOT perfect by any means, but it's an incredible start, and it will only get better over time. From personalized learning plans to real-time conversation practice, AI is changing the game for language learners. Let's dive into the future of language learning. How do you think we'll learn languages in the future? How do you plan to change your learning plans? Try out ChatGPT here: https://chat.openai.com/chat ❖ Support the channel HERE 👋🏽: https://www.buymeacoffee.com/jerryregistre ❖ OTHER VIDEOS: 🎬 I Tried Learning Spanish in Virtual Reality https://www.youtube.com/watch?v=xc4OXA5j4K4 🎬 The Best Languages to Learn in 2022 | Language Learning Data Trends https://youtu.be/lZ_tKg2A-sE 🎬 Things Salvadorans Say 🇸🇻 | Spanish Phrases You Should Know From El Salvador https://www.youtube.com/watch?v=UyQO16hph6I 🎬 Top 25 Best Youtubers for Learning Spanish https://www.youtube.com/watch?v=WeylqUc0x7k 🎬 Top 10 Netflix Series in Spanish in 2021 | Learn New Spanish Vocabulary by Watching TV https://www.youtube.com/watch?v=HrE8lq9mwxc 🎞 Spanish Around the World | Phrases From Every Spanish Speaking Country in the World https://www.youtube.com/playlist?list=PLjUNOROnzAGKqRZnumrACSletKT6RJBCy 🎬 Studying Abroad in Seville, Spain During the Pandemic | My Experience https://youtu.be/XZLfzEMS7aM 🎬 Surprising My Host Family in Seville, Spain After 13 Months Away | A Weekend in Sevilla https://youtu.be/0AsH0lSosAM 📸 Instagram: https://instagram.com/jerryregistre/ About me Hola a todos 👋🏽 I'm Jerry, I learned Spanish from 0 to fluent, have taken the Spanish C2 mastery exam, and I make videos to help you learn Spanish and connect to the people and cultures that surround this beautiful language. Whether you're just starting out or want to keep improving, I've got something for you, so come aboard and join this Spanish adventure! 🥂
United States
I have also asked it to write a story for me. It's a great way to get repeated vocab, but in different contexts.  
イギリス
Wow. This kid has discovered stuff that is just mind blowing. Holy shit.
イギリス
That video talks about quizing you, correcting you, teaching concepts, providing explanations etc., but none of that really does much for you.
The strength of ChatGPT is the ability to have a real time conversation with it, and pick topics that you know will contain the kind of vocabularly you want.
I guess its speed will help, in a more efficient way, ease some of the beginner quiries you might have, but that period is like less than 1% of the time you're going to be putting in if your goal is a high level of competence in a language.
ロシア連邦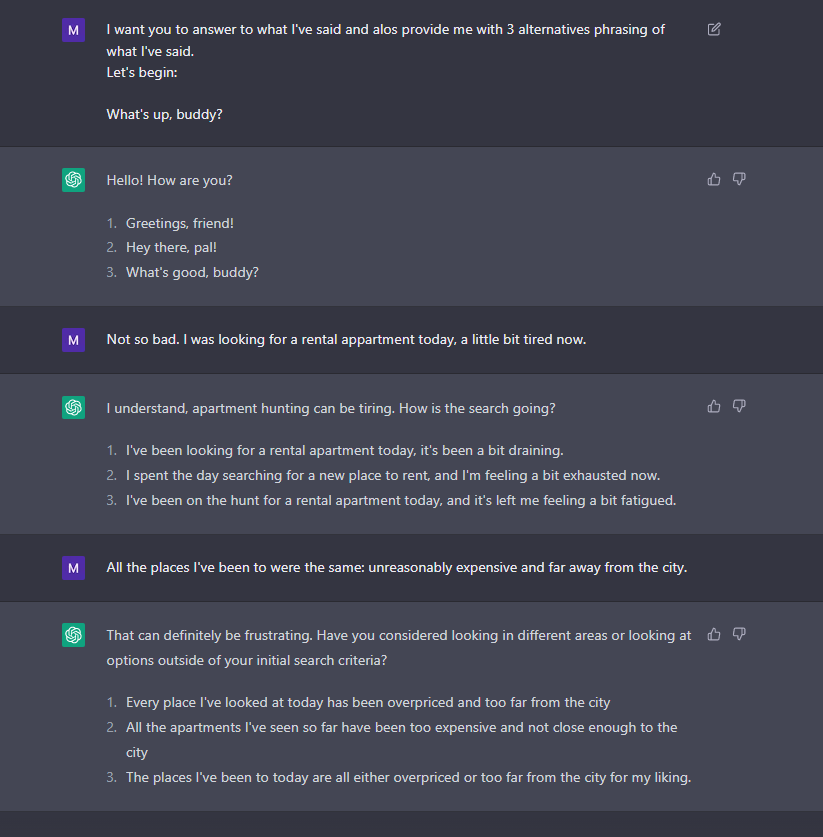 I'm crying, he's so nice and empathetic.
イギリス
What would be *crazy* is if it could to speech to text as an input....
オーストリア
How does it work with lingq. How can I import lingQs what I created in this
ロシア連邦
You can find the export options in the dictionary section of the web version on the right. It sends selected LingQs as an .csv file on your e-mail (you sould filter them if you don't want all of them be exported).
You then can open the .CSV file with Google Sheets or MS Exel.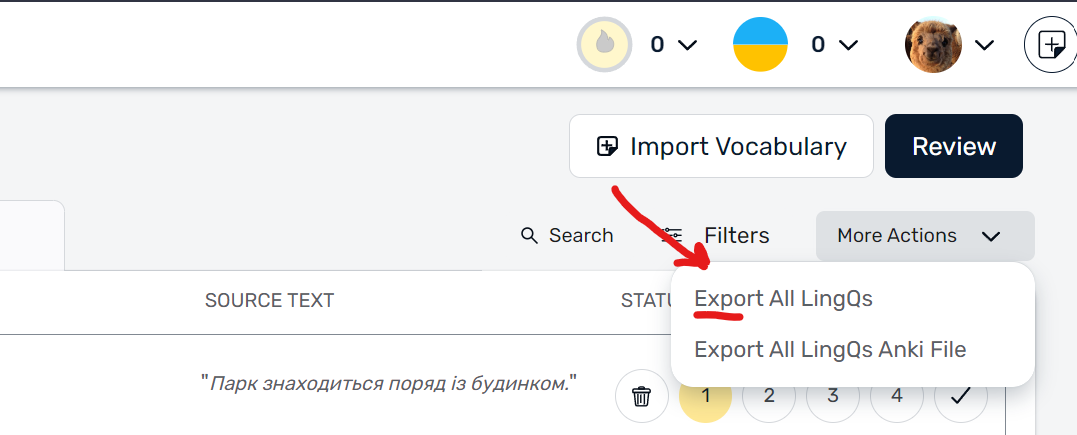 オーストリア
Other question. Guess you ate all longer on lingq than I. The sentence mode is missing on the
オーストリア
Also where can I find the
ロシア連邦
ロシア連邦
Easy. You can find the in the the
オーストリア
On the website is the sentence mode and app not. And where can I find the chatgpt app?
ロシア連邦
You should ask someone of who you know to show you how to use the Internet, the browser and Google. After that you will be able to find anything without any help.
Strangers don't have time to teach a random guy from the Internet all the basics.
WANT TO LEARN A NEW LANGUAGE?
ご自分のお好きなコンテンツで言語を学びましょう
登録は無料です