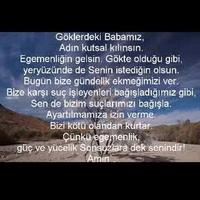 Göklerdeki Babamız
Göklerdeki Babamız,
Adın kutsal kılınsın.
Egemenliğin gelsin.
Gökte olduğu gibi, yeryüzünde de senin istediğin olsun.
Bugün bize gündelik ekmeğimizi ver.
Bize karşı suç işleyenleri bağışladığımız gibi, sen de bizim suçlarımızı bağışla.
Ayartılmamıza izin verme. Kötü olandan bizi kurtar.
Çünkü emenlik,
Güç
Ve yücelik sonsuzlara dek senindir.
Amin.
To hear audio for this text, and to learn the vocabulary sign up for a free LingQ account.