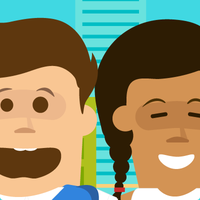 SpanishLingQ Beginner - Who is She?, Part 7
Juana: Yo no estoy preocupada por mi hermano.
Yo estoy interesada en saber qué está pasando.
Paulino: Bueno, la verdad es que yo no sé por qué él no le escribe.
Juana: Pero yo quiero que usted me ayude.
Es por eso que yo vine aquí hoy.
Paulino: ¿Cómo puedo yo ayudarla?
Yo no puedo contestar a todas sus preguntas.
Juana: ¿Por qué no?
Esto es muy importante para mí, como usted sabrá.
Paulino: Bueno, en mi opinión, usted hace preguntas que no son asunto suyo.
Juana: ¿Por qué no son asunto mío?
Paulino: Este es el lugar en donde vive su hermano.
El maneja su propia vida.
El vive por su propia cuenta.
Juana: Pero él es mi hermano.
Me interesa lo que le pase a él.
To hear audio for this text, and to learn the vocabulary sign up for a free LingQ account.