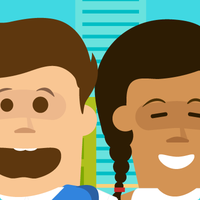 SpanishLingQ Beginner - Who is She?, Part 1
Paulino: Hola.
¿En qué la puedo ayudar?
Juana: Hola, mi nombre es Juana.
Paulino: ¿Cómo está?
Mucho gusto en conocerla.
Juana: Mucho gusto en conocerlo, también.
Paulino: ¿Cómo se llama su amiga?
Juana: Mi amiga se llama Sandra.
Paulino: Hola Juana.
Hola Sandra.
Mucho gusto en conocerlas.
To hear audio for this text, and to learn the vocabulary sign up for a free LingQ account.