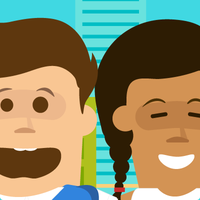 ItalianLingQ - Who is She?, Part 1
Il potere del linguista.
Una storia semplice per imparare l'italiano.
Salve.
Posso esserle d'aiuto?
Mi chiamo Chiara.
Come va?
Piacere di conoscerla.
È un piacere anche per me.
Come si chiama la sua amica?
La mia amica si chiama Elisa.
Salve Chiara.
Salve Elisa.
Molto lieto di conoscervi.
To hear audio for this text, and to learn the vocabulary sign up for a free LingQ account.