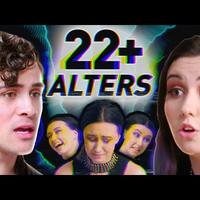 What I Found On Youtube, I spent a day with MULTIPLE PERSONALITIES (Dissociative Identity Disor... (3)
Ugh, it's ridiculous. It is so damaging like there are some stuff it gets right like yeah
It's done through trauma yeah there can be protectors and persecutors, but we're not superheroes
There's no beasts. We ain't going to hurt you. We aint gonna kidnap you like people with D.I.D aren't
created with D.I.D it's developed because of trauma
We are no more likely to be dangerous than any other member of society and in most cases we are less likely
because of what we've been through most people are more likely to return to the situation of being a victim or
Being abused rather than an abuser.
What do you think the biggest misconception is surrounding D.I.D?
I think there's the idea that it's purely dysfunctional, that it's obviously miserable
I've definitely had my rough days, weeks, months, years (A: But it's not constant?)
It's gotten better. And I think that's the part that we don't tell.
Kyle: A lot of people think that it's really rare
But it- the same percentage of people who have ginger hair have D.I.D.
What is that? 1 to 3%?
1 to 3% Yeah
Which means it's as common as bulimia, more common than schizophrenia, you either
haven't known it or you ain't known it, if they don't want you to know,
you won't *** know.
If there's anyone watching who has D.I.D, but maybe is
Uncomfortable or experiencing fear about the idea of letting people know,
due to the negative stigma and judgement, is there anything that you'd want to say to them?
You're not alone, a lot of folks
experience being many people, parts, alters,
identities in one body. It's ok if it's hard sometimes
the world isn't set up for us to have an easy time as
folks of D.I.D
Like, I'm dissociating now
(A: Take your time, let me know whenever you're ready)
(Little alter): I wanted to answer the question
You can answer it! (Little: Oh No) let me know when you want me to ask (Little: there's somebody else here, I'm sorry) oh, no problem
*Literally the sweetest purest smile in the entire world*
Hi :) (A: Hi!)
How you doin?
Oh good (A: good)
D'you want me to set you up with a question again? Do you wanna answer this?
Mmm, do you want me to explain you what's going on?
We're in the middle of an interview about D.I.D.
We have D.I.D :D *Oh my god they're the cutest thing in the world please protecc*
Yes, you do. (Little: Yeah) and that's what you're here to talk about. (Little: Yeah!)
do you feel comfortable talking about D.I.D?
Mm-hmm. (A:Yeah?) Mm-hmm
I can answer the question!
All right
I'll I'll ask the one that I just asked Kyle. (Littlle: Okay) and Kyle mentioned that
That Nin wanted to come out and answer this one. Do you feel comfortable answering this one?
I dunno what it is yet!! (A: ok, alright!)
I can't answer until you tell me what it is!! :D
If there's anyone watching who has D.I.D and is maybe
Nervous about the idea of coming out and talking about it with people
because their fear of the judgement that they might receive or
Anything like that?
Is there anything that you'd want to say to them any kind of advice that you'd want to give them?
I say (A: and you can say to the camera if you want) the camera?
What about the man behind the camera?!
Hi!!!! You have such good hair!! (A: yeah doesn't he?) It's so good!
When you have D.I.D
you feel very
alone and
it feels like you're going crazy and
There's no way anyone
could understand
and there's no way you can have a good life
and this is it. It's gonna be bad life forever
it's always gonna be living bad memories people thinking bad things and it's not.
and even when it feels like that, it feels so bad and the memories are so bad
A: It's okay take your time, if you want a moment, it's okay
And if you want to cut this part out or anything like that we totally will (Little: okay.=) Yeah, so take your time
But we felt like that
And
Now everything is different
What's different?
we're not alone anymore
(A: is that a better feeling?)
(Quietly) I'm sorry [sniffing]
A: It's okay, don't be sorry. That's why you're here you're here to talk about this and feel these feelings (Little: mhm)
But let me know if you want to stop for whatever reason. (L: mhm) It's all- this is all up to you
(Little: Somebody else is here) you could let them speak whenever you want (Little: I'm really sorry, I-) dont, don't apologize
(Little: I'm too small) Yeah, it's okay. You have no reason to apologize
Nin: What happened?
Uh, I don't remember the name, **** years old.
Oh, okay. (A: Yeah)
Gave a really good response.
Can I still do it too? (A: you want to do it too?) I do yeah, is that okay? (A: ok yeah absolutely)
It's okay to take your time with it
Nobody's entitled to information about why this has happened
or anything
Deeply personal about how you exist as you are
but there is absolutely nothing to be ashamed of. We see you and we believe you.
I actually have a parting gift for you! (Amanda: yay) A best interviewer shirt that you could get at padildoshop.com
But you can have this for free
now 16 people get to wear one shirt.
(Petra Joy and Z:)This is Petra, this is Joy. And this is Z listen to all of us when we say
subscribe to Anthony Padilla
(Laughing) that was great!
All right
You got five seconds to shout-out or promote anything you want directly in the camera, GO
treemunity on twitter. and check out the pluralassociation.org
Some great activists are doing some organizing for our community
Go follow us at dissociaDID
And also if you're looking for somewhere to feel safe, there are loads of Facebook groups
Definitely you should subscribe to him because 16 of us really enjoyed this
(laughing) That's what you would use your 5 seconds for?! (Amanda: yes!)
Thank you so much! (Nin: thank you!)
And I feel like I understand the wondrous world of dissociative identity disorder just a little bit more
Thank you for having me
after spending the day with these people with D.I.D
I've come to understand just how nuanced the discussion of this disorder is and how important it is to be accepting and supportive
Of any and everyone because you never truly know what may be occurring behind the scenes
See you later. Bye guys
press a like
Kyle: Sometimes it's flattering that people want to like look after us and stuff. -Can I tie my hair up?- (A: do whatever you have to do)
That people will want to be like flattering and **** like that. Sorry can I swear? (A: yeah, yeah absolutely) Oh thank ****
I tried s o hard
Yeah, yeah don't censor yourself, speak however you normally wanna speak (Kyle: okay, this changes everything)
Please, oh my god you lifesaver
Can I put it over my legs? (A: yeah! do whatever you gotta do)
Thank you. (A: yeah) I thought we decided earlier that we were gonna wear trousers
[Anthony laughs]
Thought that was the decision that we were set on (A:she went above and beyond)
K: Apparently... A: Yes!
To hear audio for this text, and to learn the vocabulary sign up for a free LingQ account.