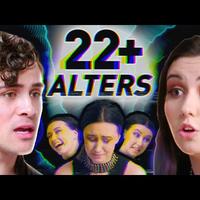 What I Found On Youtube, I spent a day with MULTIPLE PERSONALITIES (Dissociative Identity Disor... (2)
After this, and I could hear him talking to me and it was the first time that I actually kind of wasn't like, okay
Yeah, so this is my inner voice. (A: Yeah) That's what I thought it was
everybody else says like
You know, your inner voice you talking to yourself and this lady in the crisis team was like have you ever heard voices?
Before this I wouldn't not have given that a second thought I've been asked that before and was like not no no, no
Definitely not- (A:yeah) it was very much like a man's voice. It didn't sound like it was coming externally again
It wasn't exactly like a voice-
(A: it was an interpretation?)
Yeah, but it was very different from mine. And he was like, ''I'm gonna be with you the whole time
We're gonna be fine. You can do this'' and was like
''you need to lie on your stomach, now'' and I was like
''what'' and
was just
Pretty much shutting down at this point and I was watching everything happen as if I was across the room
you had an out-of-body experience almost?
Yeah, it's part of dissociating
It's called derealization when you don't experience
What's happening in your life or the world around you as real? It feels like a dream
I have experienced that many times in my life because I've had severe panic attacks (Nin: Yeah)
and in those moments, it feels like my body goes numb. I feel like I'm able to see
Myself and my actions from a third-party perspective
(N: yeah)
And.. I've almost felt crazy because I feel like
there's a- there's me, and then there's a me inside my head noticing my outside actions
Uh-huh. That's derealization, you're dissociating from yourself because it's a traumatic situation if you're having a panic attack you are
It's trauma. It's traumatic
Do you ever experience, for example,
like, you're recording something on camera, and then you look back at it later and
you are just then realizing for the first time what occurred on camera?
I did have a little while where I was like, I don't ever want anybody to see me like that
But it was coming to terms with
That's not you and that's why it's okay and if people are looking at my alter in this body and saying 'that's Nin',
then they're denying that other alter's existence and I have to stop thinking
from the point of view that this is my body. I'm the only one who deserves to be here
this is only going to be my life forever
(A:mhm)
because...
They've always been there, or most of them have always been there.
They have a life and feelings and wants and dreams of their own
They have experienced terrible things for me and kept me safe from terrible things
Why in the world should the fact that we've experienced terrible things and suffered be another reason that we should have to suffer?
Do each of your alters have names?
they all have names, ages...
and literally the personalities
(A:yeah)
Umm... They're all very distinct.
How do they end up receiving names?
Oh, they tell me their names
(A: Oh, really?) And I have no idea where they come up with some of them, because I'm like 'this is not something I would have ever
thought of-'
like, 'what? Where did that come from?' Like one of my alter's name is freedom (A: freedom!) Yes!
Does that alter represent freedom in any way?
I mean she- her first name was pain and then she switched it to freedom. (A: Oh, okay...)
A- a very literal... uh, naming system (Amanda: Yeah)
Yeah, so, it was for her. Some of my- My protector's name is Brad
Oh that very normal (Amanda: yeah) name not protector but, name is Brad
Yes, the protector, his role is a protector for us, and his name is Brad.
Do you consider having D.I.D a hindrance in your day-to-day life?
Even normal things like
going out to a coffee shop or going out to the zoo,
Whenever me and my partner, who also has D.I.D, try and do something nice...
I don't think there's ever been an occasion where one of us hasn't been triggered
It's hard to do things that are simple like walking around shopping centers because certain things can be positive triggers (A: Yeah)
Which can encourage certain alters to front. For example, if we will pass a toy store
it's... an immediate [snaps finger] positive trigger for our littles
A: Oh, its a good- good trigger, then
Well, yeah, but that doesn't mean that it's safe for a little to suddenly be walking around, they're a child
so they, the brain essentially split off in some circumstances, will have split off
and separated that
area of life, those experiences
So while they still have access to an adult brain and will be able to understand adult concepts and be able to use adult words
The way they process things is still the mind of a child
So they probably won't know where they are. They'll likely get scared
I don't know where the body's going to be when I come back to. somebody could take them
Yes, we're in an adult body but adults get taken places too. You know? (A: Yeah, yeah) if you are in-
[sigh] It is frightening not to have control
and not to have memory, because you don't know what's happened
that sounds terrifying.
It is terrifying.
I don't have all of the brain power
I don't have all the body batteries like some of it is Ally some of it is Z
So it's not- each- each person doesn't have 100% within their own...
yeah I mean like it's 100% its hard, like, they're a hundred percent of themselves
But in terms of managing the body, I do feel like, on a somatic level or like a body
energy level, like,
we have each different connections to different pathways in the brain and in the body
like I feel more
Sensation in certain parts of my body and then if Alli comes to the front and I go away
Alli's gonna feel something differently. She might even taste something differently
oh whoa
yeah, and like different people have some food preferences based on that
But unfortunately, we don't get to explore a lot of that because it's hard to go into a restaurant and be like 'hey
There's actually nine of us eating. Can you give us like this order and this order, please?' (A: 'just a sampler, please')
Do you proudly tell people that you have D.I.D or is that something that's more of a secret?
I wouldn't call it a secret (A: right) I mean, you know...
you're here in front of the world
Yes, but there have been- I am careful, because there have been times I've told people who have
Completely retreated from my life just because the stigma is around it. One of my alters
She's my 16 year old has purposely told people we have it to push people away (A: Ohh)
Amanda: when she didn't like them
So it's a defense mechanism
Amanda: It is! It can be, for her it is
Hum...
For some of us it's better to not say
I'm trying very hard to stay in my body (A: yeah, yeah)
Nin: I'm sorry
If you need to take a moment, it's totally cool.
I'm just..
[mumbling]
(mumbling) switchy, sorry.
(A: Yeah, no worries. Take your time. We got plenty of time like I was saying)
Nin: It's hard.
A: Yeah, I know it's hard, but you- you're so strong, because he flew all the way out here, and...
mhm
(A: mhm, and it's okay to feel these things cuz)
(A: Yeah, like I said, you're here to talk about it)
You wanna take a quick moment?
Sorry what?
You wanna take a quick moment offstage?
Kyle: No, I'm here now, sorry, hi
It's Kyle, nice to meet you (A: Hello Kyle!)
Good to meet you.
'Course we're wearing a **** skirt
A: Yeah, [laughs] you're not cool with the skirt?
No, not really
[both laugh] Kyle: bit uncomfortale
I see you tryna to cover it (Kyle: yeah, stop lookin at my legs)
You don't approve of Nin's choice?
I mean I prefer not to be in it, right?
I mean cool looks great on her whatever (A: yeah) I'm sure we look cute as hell, but...
A: Yeah, yeah
Kyle: I wouldn't personally choose- [laughs]
A: You wouldn't personally choose it K: Yeah, exactly
A: Do you mind continuing this interview?
K: No, no, I'm good. (A: Okay) I know why we're here
Do you proudly tell people that you have D.I.D or is that something that you keep more of a secret?
Depends on the person. Like, if it's... a professional situation, or something where if somebody does have like
Stigma around it or is very... I don't know, like, not open to it or... a little bit
oppressive around it, that could be like seriously damaging to whatever we're trying to do
(A: Yeah, yeah) Sometimes it's just safer to like not say anything.
What's the most annoying question you get about D.I.D?
Honestly, the one that bothers me the most is 'who's the real one?' Because that really is that
We're all real, though, and also...
Like 'oh well psychologists don't believe D.I.D. exists.' Yeah, they do.
It's been like in the DSM and the ICD, but it's in there like it's recognized
Worldwide, it's a treatable disorder, with, you know
A known cause and there's a **ton of medical evidence behind it
like people have been in cat-scans and brain scans and stuff and switch while they're in there and you can literally see different parts of
The brain lighten up.
How do you feel about the way D.I.D is portrayed in pop culture?
Like split and Mr. Robot.?
Mr. Robot is one of the more interesting like kind of positive ones
Split was actually like what drove me into plural activism because I was like not planning on talking about it
What's sad about that movie is like James McAvoy said in an interview in Good Morning America,
I think, that he watched a lot of YouTube videos by multiples to understand the role
But that he couldn't find anyone to talk to to study for the role
so it kind of feels like a form of stealing because he took those kind of
Interesting physical portrayals that kind of were accurate, maybe pushed, but then use them to represent a really awful
Situation that I won't even describe
without even understanding
The nuance behind it. (Yeah)
I think it offends me
It's offensive?
we're
Scared people often, we're not monsters. We're not out to get people, we're most often
hiding from monsters
We had this friend
right
and after we told them we had D.I.D - this was Chloe at the time (their host) - and they were walking and Chloe said
'I'm sorry. I'm getting switchy.
I might switch' - and this was like the first time this friend had seen them, and they like-
They looked really scared and they literally moved away and they said 'it's not going to be a murderer, is it?'
Like, she was 100% serious. She was like 'are they gonna hurt me? Do I need to be like
Do- do I need to be, like, be scared?' A: Was her only exposure to D.I.D through things like Split?
I don't know, but we've also had comments on our channel, like, of people saying that teachers have used Split to educate their students about
D.I.D as in like, this is an example of D.I.D, like-
A: How - how do you feel about that?
It's bollocks!!
To hear audio for this text, and to learn the vocabulary sign up for a free LingQ account.