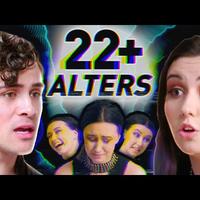 What I Found On Youtube, I spent a day with MULTIPLE PERSONALITIES (Dissociative Identity Disor... (1)
Dissociative Identity Disorder,
once called Multiple Personality Disorder, is a disorder in which a person alternates
between one or more alternate personalities
that function with separate memory and
awareness and adapt with amnesia between them.
The first detailed account of D.I.D can be traced back to 1791
when a German woman began speaking perfect French and behaving like a French aristocrat
despite never having learned French or even having been to France.
Although appearing extremely rare to the general public,
It's estimated that between one to three percent of the global population may have this disorder.
My name is Anthony Padilla and today i'm gonna be sitting down with people who
dissociate into fragmented identities to learn the truth behind this heavily
misunderstood disorder.
Does D.I.D access hidden capabilities and skills within the brain
allowing people to harness brain power in a way others simply aren't capable of?
Or, does it keep them feeling bogged down and
Restricted from participating in normality?
Are they openly proud of their disorder? Or, has the media's portrayal of D.I.D
forced them to live a life of alienation and
solitude, too worried of what their presence will unleash in others?
Hi, Amanda!
Hi, The Redwoods!
Nin!
Hi!
Thank you so much for coming out and teaching me about the wondrous world of Dissociative
Identity Disorder.
Anthony there's so much to learn.
What do you consider yourself? Someone with Dissociative Identity Disorder? Someone with multiple alters?
Yeah, just someone with D.I.D.
We identify first as 'we', and we identify as multiple. Sometimes we say we have D.I.D,
sometimes we say we're plural, but multiple is the main word that we use.
I consider myself being part of a D.I.D system;
So you could say 'somebody with Dissociative Identity Disorder', or if you wanted to refer to us collectively
It would be saying that I'm part of a 'system of alters'.
Can you explain what having D.I.D entails?
Yeah
So... having D.I.D means that as a child your personality was unable to fully develop into one singular
personality. Everybody as a child starts off with an un-integrated
personality, and around the ages of between seven to nine in normal development.
But if there is repeated or severe trauma before that age,
then the brain can say 'woah, I can't deal with this, this cannot be my life and we would not be able to survive
if I was aware of this.'
So this trauma, along with the ability to dissociate to a high level and
and having disorganized attachments to your primary caregivers,
prevents one personality from fully integrating because the amnesia that goes up to keep that trauma
away.
And that's why if you have D.I.D you have
multiple personalities, rather than one singular one.
For us like when we first started figuring it out
someone who thought they were the only person for like a long time, right? (A: Right)
Like as most people think 'oh I'm just the only person in this body.' (A: cuz that's the norm)
that's what people would identify with "normal"
Right, right they're like, yeah, of course
There's only one person, right? And you start to think like what could this be? Am I possessed?
whoa, you thought you were possessed?!?
i wasn't-
I didn't think I was 'possessed', but I definitely wasn't gonna talk about it with anyone in case I maybe was possessed!
[laughs]
Ya that's the last thing you want people to know, if that's true!
Yeah, yeah! I actually googled 'spirit possession' when it got really strong (A: Woah)
yeah, yeah fortunately this was like 2012
(A: Yeah)
there was some article that was like 'spirit possession versus Dissociative Identity Disorder'
And I was like looking at that and I went to a therapist and they were like, 'yep'.
Were you were you stoked that you were not possessed by a spirit?
R: Uhmm... I don't know.
Do you feel comfortable saying how many alters you have?
Mhm! At last count, which was actually about two weeks ago, I had 22 I think (A: 22!) mhm
We're nine people living in one body. So we went from three to nine over like (A: yeah)
Seven years.
I have 16, so there's 17 of us
total.
ranging from age four to eternal
Eternal!
Eternal, she's really cool!
A: Woah!!
She's really really cool.
Woah, do you show her frequently?
Uhmm she fronts...
occasionally; She's the caretaker,
so she takes care of the littles in our heads, and then occasionally
she'll come out to take care of me if I'm not doing so well... (A: uhum)
umm
So she...
she kind of fronts in the sidelines and behind the scenes more.
First off, do you
prefer to be referred to as a single or plural?
Well, it depends who you're talking to; if you're talking about me as in me
the person sat in front of you talking to you with my personality, then it's me one person as Nin.
But, if I was let's say Co-con... so there was more than one person essentially in the driving seat
Then it would be 'we', more than one person.
How might a normal day be different for you?
Who wants to answer this question?
So this is... this is Z.
Z: So it was like a combination of Alie and Eliza talking before.
We can kind of blend sometimes
So when we first came into what we would call Co-consciousness and that's a pretty common term
Which is the shared experience of kind of being able to talk to each other
A lot of people don't have that and they're basically like coordinating in the dark with someone who's not there when they're there.
(A: mm-hmm)
and so like, you might be doing something and then come back and
It's three days or three weeks later and your life has been lived and all kinds of stuff is happening.
I have a friend who would be heading one place and
then someone would switch and then they'd head back home and then they'd switch and head back and forth
and it would take like four hours
to get out of that loop until the same person came back and was like
'No, we're actually going here'
And what they learned to do, is to text
themselves or leave notes on their iPhone
and read those
and so it's kind of when you come to the front and you feel disoriented
(A: Yeah) you can read those notes
It's almost like having amnesia and leaving notes for yourself.
Yes. No, it's it's called Dissociative
Amnesia is like basically the term for that
I was in the bath. I just switched out
So I had no memory of what happened before, I didn't remember getting in the bath 'cause it wasn't me.
it was my alter Kyle who's my primary protector and... [laugh]
He'd apparently decided that he wanted a snack while he was in the bath.
And there was just this half-eaten banana
[Both laughing]
On like the shampoo holder and I was like
And I was like 'what? Why?!? That's disgusting!'
So you just realize that you are in a bathtub with a half-eaten banana?
Yeah, like like peeled... it was pretty beautifully presented actually (A: ohhh)
How do you feel about the the different labels in terms of personality,
alters, identities,
Multiple?
Yeah, there are a lot of people who don't like the term
'personality' because when a lot of people think of personality they
think of like how you act in a certain situation so some people
When I told them about D.I.D in its most basic terms
They said like 'I have a completely different personality when I'm at work and then I come home and I'm a different person!'
And it's like, I completely understand what you're saying. (A:Yeah yeah)
But it's kind of different when it comes to D.I.D.
So some people feel that the term personality isn't quite
encompassing or serious enough.
I don't mind the term personality
But the... the term that's generally used in the community and the scientific
kind of side of things is 'alters' because it stands for ultimate state of identity
So that's what what we prefer to use-
before we learn more about the wondrous world of dissociative identity disorder
I wanted to take a quick moment to thank you all so much for suggesting this video topic
I find the discrepancy between facts about D.I.D and the negative stigma surrounding it to be so incredibly
Massive that it's super important, I feel, to cover a topic like this and allow the community to speak for themselves
So thank you so much. And of course, thank you to the D.I.D community as well for trusting me to
Cover a sensitive topic like this one. That's all I wanted to say now back to learning about the wondrous world of dissociative identity disorder
A: When did you first realize that you have D.I.D?
Well, it was almost exactly a year ago.
Oh so it was pretty recent then
Yeah
So I was having a panic attack and I kind of felt myself as a consciousness retreat to the back of my own mind
so I was watching everything from behind and there was just...
nothing there
In 2012...
Hmm... (Eliza:) Yeah, so, this is- hum, switch, right there. So, that was Alli talking, but then, like, Alli...
pulled away, because this is Eliza. I was the one who was there and thought I was the only one, hum, so... yeah
I thought I was a boy and
I thought I was one person
pretty standard [laughs] like, expectation
That's how I grew up
E: Right, yeah, and then I just have this like weird
triggering confrontation with a stranger
basically what I understand is that I had a whole
System of covering up all of this
a whole like strategy and everything
but I was so busy dealing with family member with cancer, personal life stress, housing stress, and then this sudden
Trigger, it crumbled. (A:Yeah), and there was Alli and Z.
How di- how did you feel once you realized?
Yeah, that I wasn't the only one here?
(A:Yeaah) Uhmm.
So the first feeling was actually overwhelming love and joy, I was crying (A: oh you felt good about it) i was like- it was like a family reunion
with these other parts of myself, other
characters but like protagonists in my life
how D.I.D works is
The person who fronts the most often, the host, is generally the one who is kept unaware
Other alters can be unaware too, but the brain is built like that. That's why D.I.D exists
You're not supposed to know you have D.I.D
Right that's its entire purpose (Nin: exactly)
So if somebody then comes to you and says, 'hey, you've got this' your brain is gonna go 'w h o a h!
NO, you can't know about this.' This is the whole way we've lived our life in order to survive
I was seen by the crisis team after a suicide attempt and she asked me to fill in some questions and
This one had been a little different from the others and it was my first real
kind of
communication with
One of my alters Kyle, my primary protector the, banana guy
The banana guy (laughing)
He's gonna HATE me for that
He's gonna watch this later and be like 'yeah no we needa talk about that' (Nin: 'yeah that's who I am now, the banana guy)
And
He basically saved my life
Uhm
To hear audio for this text, and to learn the vocabulary sign up for a free LingQ account.