Playing Course audio, filtering Vocabulary by Course, Hebrew TTS
Administrator
mark

Canada
We have a few recent updates we wanted to let you know about.
Play Course Audio
Many of you have been asking about the possibility of having multiple playlists, and while this isn't possible, what we have done is enabled it so that you can listen to all lessons in any course. Just click on the "..." menu when looking at your list of courses in My Lessons. You will now see an option to "Play Course Audio". When you do this the course page opens up and starts playing the course.
You can shuffle and turn on continuous play and manage your lessons just like you do on the regular Playlist from there.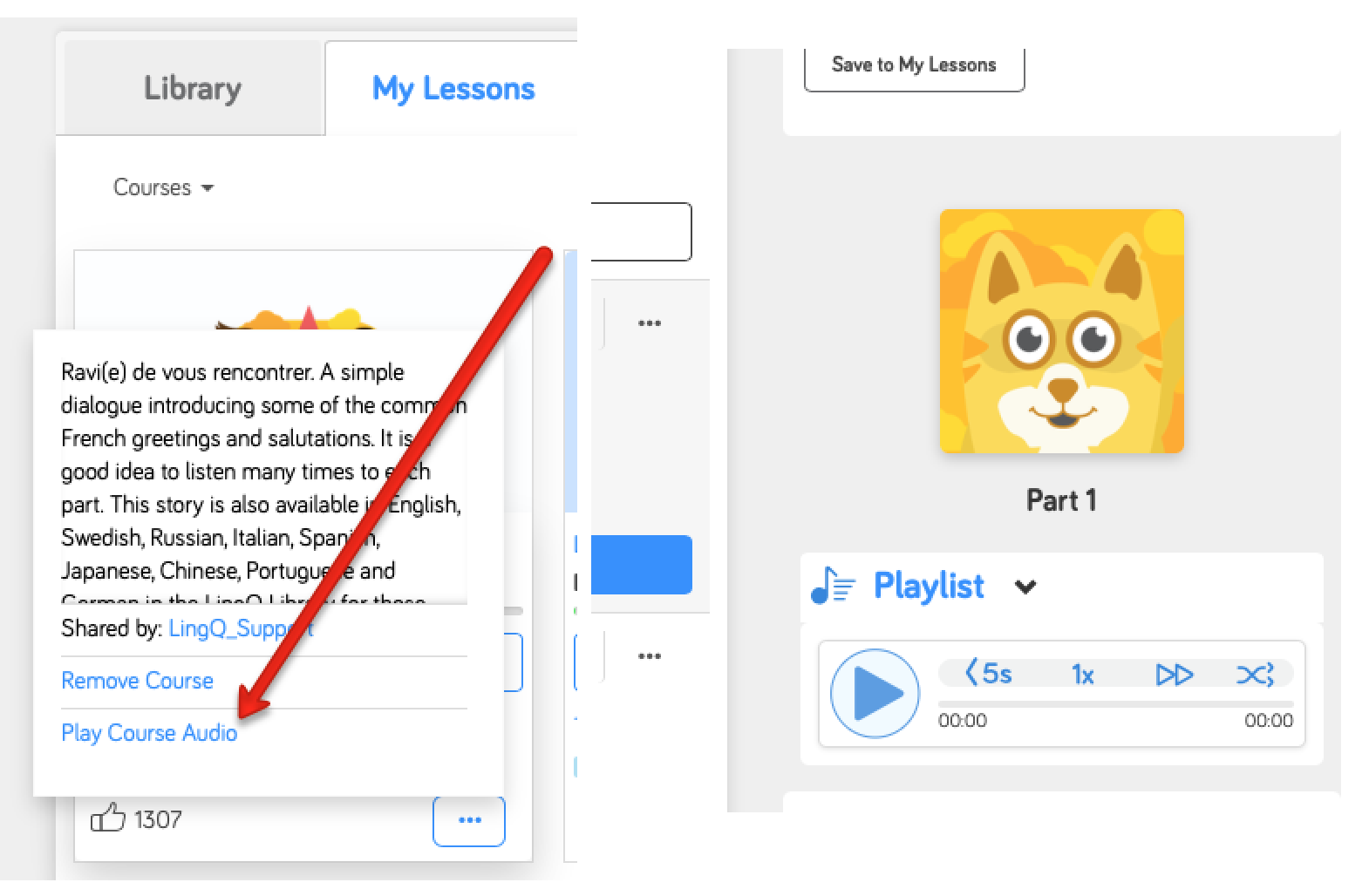 This option will be coming to mobile shortly as well. First on iOS and later on Android.
Vocabulary Course Filter
Another requested feature is the ability to filter your Vocabulary list by Course. You will now find a Courses dropdown in the filters on the Vocabulary page. Now you can focus on reviewing only those words you are learning from your favourite course!
Hebrew Text to Speech
We are always happy when we can add standard functionality that has been missing from our beta languages due to technical constraints. Thanks to our members for letting us know TTS for Hebrew was available on Bing Translator!
Enjoy these updates and keep the feedback coming!
April 23 at 18:04
patriciahe United States

You have no idea how much more I'm now listening with the course audio feature. It's awesome. Can't wait to try the vocab by course too, it makes the learning so much more efficient ... and fun. I LOVE you guys! There's just nothing out there like Lingq. Love love love!

April 24 at 01:38

Hikarion Germany

Its a nice idea. I just checked the vocabulary-course-filter and it doese NOT work as expected. There are still words shown in the list, which are definetly not part of the course. There are also way too much vocabulary listed. Even though i just marked like 10 vocabulary in a course, there will be shown few hundreds of words

April 24 at 07:39

tas4w444 Hungary

I've tried the new course filter feature, but I think there is a bug:

There are hundreds of words which appear in every course-filtered vocab list (even in the short ones whrere are only few lingqs in reality). I am sure that these courses don't contain these words/lingqs, because most of them are longer phrases.

I think these lingq's original courses were already deleted (mostly by me).

April 24 at 10:32

MatthewDonovan Canada

Thanks for adding Hebrew TTS. Unfortunately, it doesn't look like it's working on my mobile app (Android Version 4.8.2)

June 24 at 01:16
Page 1 of 1.