Importing doesn't work on iPad
Australia
Hi Zoran, have those iOS developers looked into the issue? I certainly haven't been contacted, eg. for error messages or such. I completely stopped using LingQ… Luckily my level is not too bad and I can watch Youtube etc. videos without LingQ. But it would be good to solve the problem. Someone had the same issue a year before me, others must have it, too. Or if they don't, I'd like to know what's wrong with my iPad (which is a fairly new iPad, fully updates OS and apps, not jailbroken, just an average iPad). Thanks.
Serbia
To import YouTube videos to iOS app, you actually need to import it through iPad browser. Open the video you want to import in a browser, then go to browser's menu > Share > Import as lesson to LingQ. That should work. Give it a try and let me know.
Australia
Thank you Zoran, it works !
Serbia
Are you trying to import through the LingQ app on your iPad?
Australia
Hi Zoran. Yes, that's one way how I try. I also try it directly from Youtube, selecting Share, then LingQ. Whatever I try, I always get this weird message, I'll try to paste a screenshot. All works on my Samsung tablet… If you have an IT support department, I'm happy to give details, eg. the time I try, IP address etc. Thanks.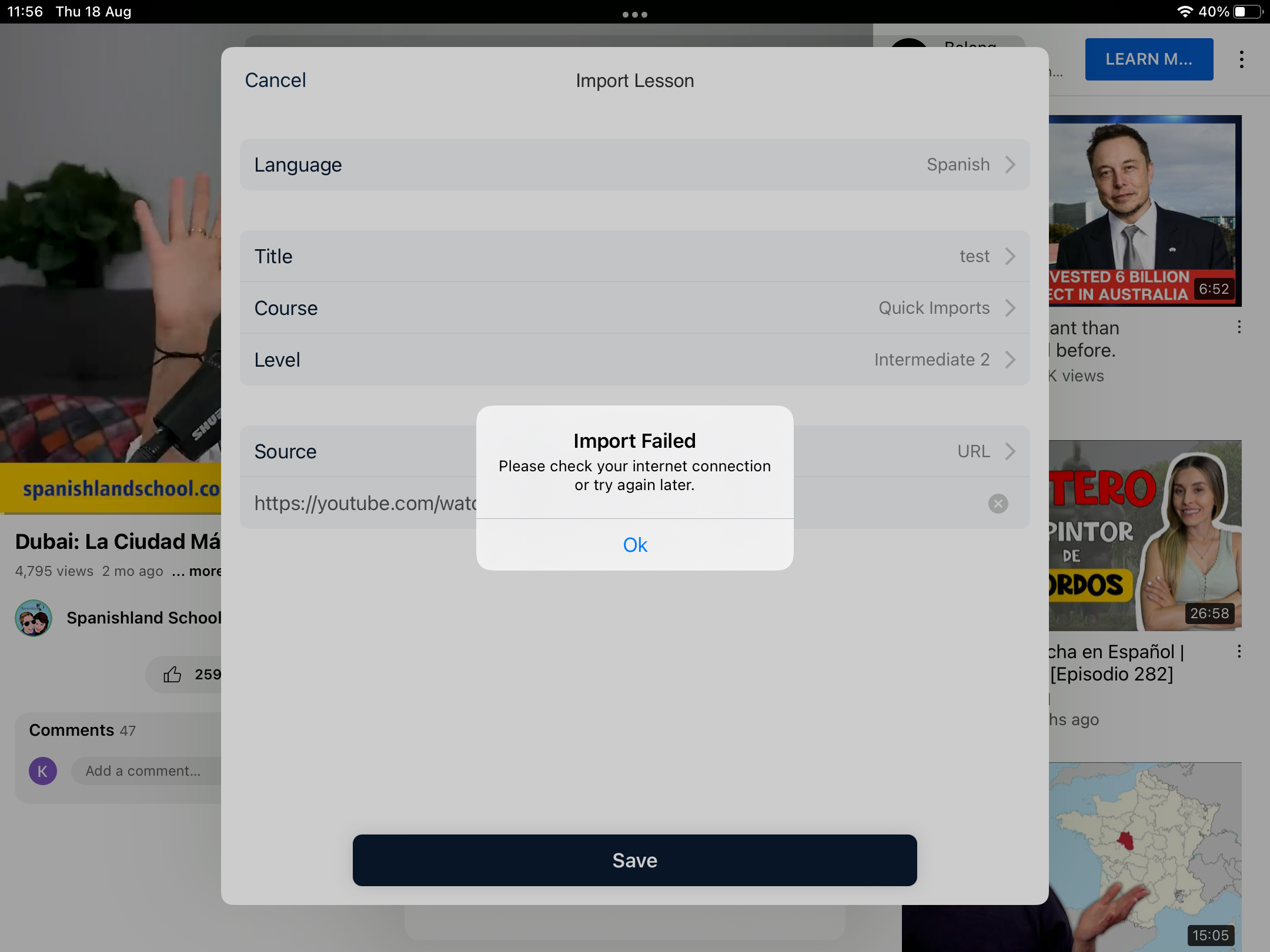 Australia
BTW, I'm extremely happy with LingQ, this is what I needed… I can use my Android tablet (or of course my laptop) to import, so my iPad issue is not awfully important. It just bugs me :-).
Australia
Hi Zoran, sorry for the avalanche of messages. One very interesting thing is that I cannot import on iPad, but I can import on Android. But as soon as I import on Android, the resource is available on the iPad as well! So I can work efficiently, I can import on my small, cheap 7inch Android tablet and after, I can actually do the lesson on my big iPad. So all is OK, I'm flying, it's just weird that iPad importing fails.
Serbia
We are investigating the issue and trying to figure out what's going on. Do you have issue with any YouTube video you try importing? Can you post a link to one of videos you tried to import but it didn't work?
Australia
Thank you. I've just tried https://youtu.be/-4F2CYAS4Rg and failed. Local time is 10:25am, 19 Aug, Friday, I'm in Sydney. My public IP is 58.107.82.191
Serbia
Please note that importing videos with auto-generated subtitles in some cases won't work due to changes made by YouTube recently, they changed the format of subtitles and our importer can't grab and import them. Try with the videos with regular subtitles (not auto-generated ones) and it should work.
Australia
Hi Zoran, the very same videos are imported without a problem when using my Android tablet.
Serbia
Thanks strange, but thanks for letting me know. I'll ask our iOS developers to investigate the problem. Appreciate your feedback!
WANT TO LEARN A NEW LANGUAGE?
Learn from content you love!
Sign Up Free