Germany
Yes, the problem is also with me for a while, probably only a few students are affected by it, but it is annoying, have for a week again and again informed the support by mail, the last information was that they are working on it.
United States
I am also not receiving daily LingQs anymore and that is a problem for me. I thought that was a great feature and I miss it. I have all the correct notifications checked by the way....
Germany
Thank you, AquiringALanguage, thank you, Zoran!
The settings were fine, so it had to be something else. Yes, it would be great to receive daily LingQs no matter what, 
Serbia
Please note that the daily email is now combined with the streak email and if you have already completed your streak, you don't get the email.
We understand that some users prefer to receive Daily LingQs email every day and we are already looking into changing this and allowing users to get and review LingQs.
United States
I have no idea why the daily email update containing the Lingq reviews would conditional on the streak email whatever that is but it's nevertheless yet another annoyance. This screenshot suggests that the reason the emails haven't been sent out is because the reviews are not regualarly being generated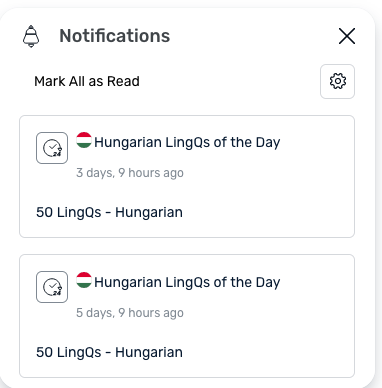 Australia
Hi druteweber, have a look at your "Settings" (if on desktop, click the arrow next to your profile image). Click on the "Notifications" menu option to the left and then see if the "Send Notifications" is ticked in the Daily LingQ's section.
For me, sometimes I have found this has been randomly switched off when I stopped receiving daily LingQ's.
United States

I've not been receiving mine either and at least in my case, the settings is not the source of the disruption
Australia
Hi Potomaker, that is for the weekly report email. There should be a section above that for the Daily LingQs.
United States
For what it's worth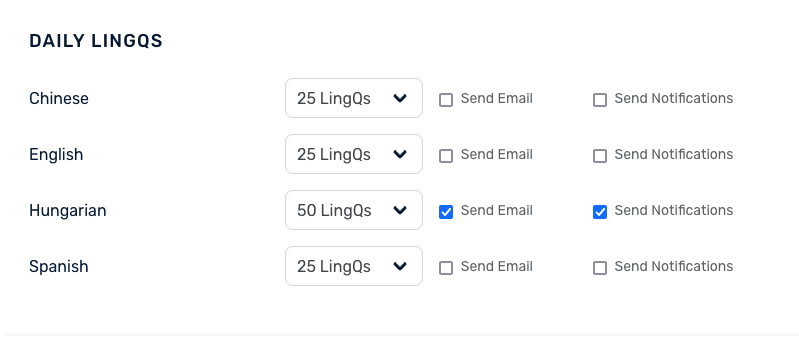 WANT TO LEARN A NEW LANGUAGE?
Learn from content you love!
Sign Up Free