Intermediate and Advanced
Australia
United States
I think the intent is that they are loosely based on the CEFR, but because "Known Words" are going to differ so much from person to person you cannot simply look at them and say, yep I am a C2 now because I have 30.000 Known Words in LingQ.
The reality is Known Words are a metric of progress purely within LingQ, that is a way to give you an objective measure of progress (even though it is not going to be directly comparable to any other user).
If, for example, you want a B2 Cert in a language to say you are a B2, the only way to go would be passing the test.
United States
Alan, per your post to my profile 10 days ago. Not sure if you saw my comments there, but I mainly read novels. I work alone. I read a lot. But I don't listen very much and do not talk at all. So the numbers are more reflective of my reading ability than conversation ability. In fact, I don't think I could carry on a conversation with anyone in any other language, but English. Maybe one day that will happen, but it's really not my main goal. I'm just a reader - and like to learn to read in other languages. So you can't compare my word count with others who are perhaps conversationally adept - at a much lower known word count.
Even my word count is likely overblown since I do mark as known if I recognize the word in context. However, months later I may come across it again and forgotten it. But I don't always mark it back as unknown.
I'm beginning to think of my reading ability is like posted a couple of days ago. In Norwegian I have read almost 4 million words which puts me at C1 level. Maybe, not sure if I feel confident I am there, but depending on the material I can often read entire paragraphs without looking up a word. But I do think Norwegian is the easiest of the languages for me. I think sentence structure is much closer to English than any other language. Swedish is maybe second because of it's close relationship to Norwegian. But it would be C1 in reading only. I could not talk with anyone.
United States
Hi there, you can find a chart in the LingQ support center. Click on the blue ? on the lower right of your screen, if you are on the desktop version. Under FAQS > How many words do you need to know to be fluent? It will break down the requirements by language and level. Here is a screenshot to help: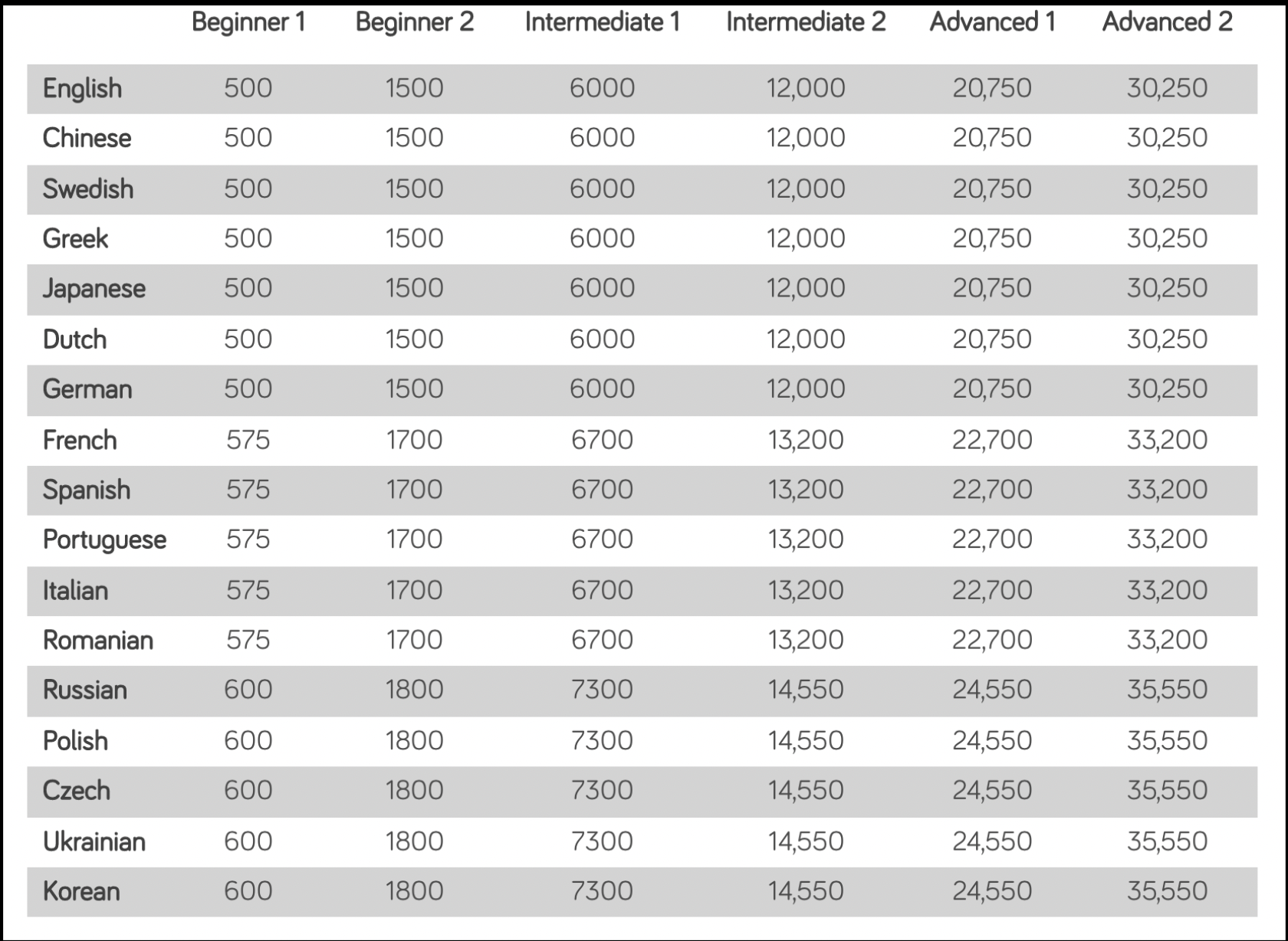 United Kingdom
That's great thank you. Well spotted!
United States
Thank you for posting it out! I have been wondering about how many words should I know to get to the level Advanced 1 in French for days till I see your post! Merci beaucoup!
United States
t_harangi (haven't seen him post in a while) has posted a few times in the past that he felt that for reading skill and in romance languages that the LingQ levels roughly lined up (Beginner 1 = A1, Beginner 2 = A2, etc.). He experimented in Spanish and German taking practice tests from Instituto Cervantes for Spanish and Goethe Institute for German.
He squeaked by on B2 reading test for Spanish with 60% score after completing Intermediate 2.
For German he scored 76% on the C2 reading test. He was well past Advanced 2 on LingQ German. I don't know exactly at the time, but he stopped at 50,000 words known I think (so somewhere between 35,000 or so and 50,000 I think.
United States
Also, "known words" is a nebulous designator because the user decides what connotes "known". I might mark words known when I can always recognize them in context (passive vocabular), while the next person will only consider it known if they can use it in speech (active vocabulary). And anything in between.
United States
My very unscientific impression is that most who use LingQ for any significant length of time tend to ultimately mark the words known if they recognize it in context. I do think that was the case for t_harangi, but I could be wrong.
You are correct though, that's a very subjective marker. Also, the content one takes in will very from person to person. I suspect someone that consumes nothing but scientific journals would not do that well on one of these CEFR tests =), but they may know a lot of words.
United States
for known words:
https://www.lingq.com/en/help/avatar/
however i think it's better to focus on words read. i grabbed this from noxialisrex as he and i agree on the numbers:
Speaking (hrs) Listening (hrs) Reading (words)
10 50 250000 A1
20 100 500000 A2
40 200 1000000 B1
80 400 2000000 B2
160 800 4000000 C1
320 1600 8000000 C2
640 3200 16000000 C2+
United Kingdom
United States
How do these numbers change for the different difficulties of languages say french vs russian vs chinese? (easy, medium, and hard languages?)
Germany
I'm willing to give my opinion based on more than one year of learning Chinese on LingQ: First off, I'm a bit confused because of the disparate units, if everything was in hours, I'd say 2000 hours of listening and 1000 hours of reading should get you started in Chinese (~B). Important to note is that listening comprehension requires a lot more time and effort, imho at least double the amount of time spent on reading. Frankly this table seems a bit heavy on the reading. But I don't doubt this approach works well for learning closely related languages, where listening comprehension isn't so hard to achieve.
Another problem with taking the reading statistics on LingQ as basis, is that it doesn't take into account how difficult the material was. For example, most of my reading comes from reading while listening to relatively easy content, like Youtube or podcasts. That's probably why I have, to the best of my knowledge, read more than anyone else on LingQ in Chinese (traditional + simplified) in just one year and three months - about 7.5 million words. While people reading actual literature would have to spend an extraordinary amount of time to reach this number. That's why I would argue for hours rather than words.
United States
What did you read for those 7.5 million words? I see your reading list on your profile but I don't know chinese haha I think I saw lord of the rings? If you could elaborate how you found this much content readable after a year of chinese I would be interested to know. Thanks!
Germany
Sorry, if I wasn't clear in my first post. 85%+ of my reading comes from listening and reading at the same time to relatively easy content; between 96% (80 words / LingQ lesson) and 98% (40 w/l) comprehension.
Typically talking-head style videos on news and politics, sometimes history here is an example:
I also used to use a transcription service to transcribe podcasts: https://aws.amazon.com/transcribe/ nowadays I use: https://github.com/ggerganov/whisper.cpp and create them myself.
A 90m podcasts results in about 6 LingQ lessons, something like 12.000 words; importantly, the time I spend studying is 90m in this case.
What I wanted to express is that, people who read mostly books, will most likely need more time to work through an equivalent bulk of material. Or in other words my approach is more extensive than intensive. Take a look at the profile of @TofuMeow for someone who must have spent thousands of hours reading Chinese on LingQ.
My booklist is a bit out of date and maybe misleading.
Some books that I read and understood are:
The Harry Potter series (almost done), the Hobbit, the Three-Body Problem (1)
Books like Stefan Zweig's The World of Yesterday and Kafka's The Trial were wasted, I tried to read them too soon and didn't understand much.
The rest are short and simple simple non-fiction books by the likes of Peter Thiel, Ray Dalio, Peter Schiff, Scott Young etc. Some I didn't quite finish (Dalio is a waffler) so I should probably clean up a bit...
In total probably 1.2 million words come from books. Also a word in Chinese (on LingQ) != a word in languages with an alphabet.
The way I was able to read many of the books is by knowing their content beforehand :)
United States
"The way I was able to read many of the books is by knowing their content beforehand :)" how do you do this with 15 months of chinese?
"between 96% (80 words / LingQ lesson) and 98% (40 w/l) comprehension." how did you find so much stuff where you knew this amount of words?
"I also use a transcription service to create transcripts from podcasts:" how good is this service?
Germany
I know the content of the Harry Potter books, by virtue of having read them before I even considered studying Chinese, so when reading the books in Chinese I can easily fill in the blanks. Mathematically my comprehension is probably around 90-95% depending on the scene.
how did you find so much stuff
The first thing I did on LingQ was to import videos by 大康, working through his and similar people's content for multiple hours every day for 15 months, resulted in the mentioned 96% rate of comprehension for this type of content. Note that this is with the transcript, just listening is of course much more difficult. Btw. I feel that my progress has been rather slow.
you knew this amount of words?
LingQ tells you the number of words, normally every lesson contains about 2000 words. I take the number of yellow words after studying as basis for the above calculations. For example if a lesson has 100 yellow words -> 95% comprehension. I admit this is a bit simplistic, but I like it as a rough guide.
Regarding transcription services, see this thread:
https://www.lingq.com/en/community/forum/open-forum/best-way-to-generate-subtitles?post_id=317153
There are many such services, Amazon's is good enough for me. I'm willing to share such a transcript so you can judge the accuracy for yourself, if you're interested contact me. But you can also just sign-up there and test it, they offer 60 minutes for free, per month.
Australia
@bamboozled
Btw. I feel that my progress has been rather slow.
Why do you think that is? Would you have changed anything about your method?
LingQ tells you the number of words, normally every lesson contains about 2000 words. I take the number of yellow words after studying as basis for the above calculations. For example if a lesson has 100 yellow words -> 95% comprehension. I admit this is a bit simplistic, but I like it as a rough guide.
When there are new words in your lesson, how do you deal with them? Do you pause the audio to look up the definitions, continue playing the audio and do it super fast, or do you do it before starting the lesson through the vocabulary tab?
Germany
@nfera
I have spent what I feel is a lot of time studying Chinese (even before I started on LingQ) and have little to show for. My Chinese can hardly be called functional, reading is painful, listening comprehension is spotty and speaking abilities non-existent. I would have hoped to be farther, that's all. But unrealistic expectations may be a factor as well. Regardless, I believe in habits and numbers, so I just do something everyday, keep the streak going, and try not to focus on results but on the time I have spent cumulatively. I will re-evaluate my approach once I reach my (arbitrary) goal of 2k hours of listening. Most likely, my next goal will be output related.
Re:audio
I don't stop the audio when LRing, the audio is often external to LingQ anyways (podcasts / Youtube), I just tap the word on the iPad and accept one of the user hints, I use English as dictionary language so there aren't many cases that require an actual dictionary. But most of the words encountered in Chinese are just recombinations of known characters, this is related to LingQ's word splitting algorithm, those get paged to known.
Belgium
@bamboozled, since most of your reading comes from listening and reading at the same time, what is your experience using this process in remembering hanzi without having the audio play at the same time (so, how well do you remember hanzi when reading without audio)?
Do you find listening and reading at the same time is efficient for this?
This is also what peterbormann regularly recommends doing in other threads, but would be interested in hearing from someone with a lot of experience with languages that use characters as a writing system.
I almost never listen and read at the same time for fear I would not remember the characters otherwise.
Germany
Sorry long post incoming, but I have a lot of thoughts on listing and reading (LR).
Why do I like LR? It reduces the cognitive load, for example I don't have to think about the pronunciation of a word or character at all. It reduces the chance of getting distracted. It's often more interesting to listen, the speaker might also convey meaning when speaking that might get lost when just reading. It also allows me to understand spoken content I wouldn't be able to understand without transcript, e.g. podcasts. It does train listening and reading at the same time, but listening comprehension takes much more time to develop. I (unscientifically) estimate probably 2x as much to reach an equal level (e.g. being able to read a podcast transcript has become easy for me, but listening to it is still hard. I also think it is very efficient, I can also increase the audio speed by 25% for most podcasts when LRing, thus saving time.
As for vocabulary, I believe I have learned all the words I know (passively) through LR. I don't treat vocabulary acquisition as a separate activity and don't use SRS/Anki.
But LR seems to work better in regard to meaning, e.g. 健康-> health/y has become quite natural, retrieving the pronunciation (+ tones) feels much harder (Jiànkāng).
---
A couple moths ago, I started reading books (without listening) after LRing for over a year for an average of 3h per day. And it was quite difficult, at first the process was painfully slow and exhausting. My reading speed was around 25/26 minutes per 2000 word lesson... But it improved to about 20 minutes after about a month of daily reading (1 hour). I'm hopeful that it would improve with more practice, but I currently don't have much free time and prefer the easier LR.
Two things hold me back when reading literature, vocabulary and pronunciation. The first might sound like a contradiction to the above, but the content I usually LR has become relatively easy: podcasts, political pundits, YouTube, news. When looking at literary texts, I see words I have never encountered before. So, why not get an audiobook for those and do LR? The cognitive load is to high, it's mentally taxing, too many words to look up requiring constant starting and stopping. What works however is to use the sentence mode, together with TTS and the translation feature.
The pronunciation is holding me back as well, when reading I like to subvocalize (controversial, I know but it helps me concentrate and improves comprehension imo), I would also like to be able to read aloud. It often takes me too long to come up with the pronunciation for many words
So long story short, LR helps a lot but doesn't solve all problems. Some skills will have to be practiced separately, that includes reading. And especially all active skills like speaking or writing. Those are in my case still woefully underdeveloped, despite 1400 hours of LR.
Belgium
Thanks for the explanation @Bamboozled , very interesting :)
United States
I would not worry about the numbers I came up with. Just an armchair guess. The important concept is it doubles with each increment. But you are correct that difficulty of the content being read is a major factor.
You could read the same sentence 1 million times and while LingQ might show 10 million words read, you aren't going to be a C2 in reading from that alone.
United States
United Kingdom
United States
There was a post made on this specifically by one of the users here who had a lot of great information. I can't remember the title of their post I'll try to find it.
WANT TO LEARN A NEW LANGUAGE?
Learn from content you love!
Sign Up Free