Tell us what frustrates you about Korean at Lingq?
United States
First, kudos to master Steve's series of Youtube videos on My 7 Language Learning Goals, and they lay one of the essential basic frameworks for learning any language in general.
https://www.youtube.com/watch?v=H1DGLnddKcI&list=PLiFB-yYuG2hiNmzz8GpdGmmyRDl5YzC6p
I want to address some hurdles a typical Korean learner may face in the learning process and some crucial things, such as milestones or a detailed roadmap worth mentioning and dealing with in specific approaches according to each user at Lingq. Hopefully, they will answer some of the questions, especially those mentioned by ConsistencyIsTheKey and Florian as bamboozled at the beginner's level.
These are my opinions based on my personal experience with the language. They may get more comprehensive and conclusive combined with insights from other experienced users, which I recommend sharing for the benefit of all.
Following is my roadmap according to the progression of difficulties with some of my comments.
Key elements
Hangul
Hangul functions effectively as a writing system. Romanization is only suitable for learning Hangul, but not so helpful in reading the Korean text in the long run. Learning Romanization for Hangul is comparable to acquiring Pinyin for Chinese characters with the same effort and learning Hangul to a few hundred Chinese characters as a beginner. However, we must realize a significant shortcoming of Romanization in representing Hangul phonetically in Korean compared with Pinyin for Chinese characters.
I have been practicing the Hangul alphabet chart with mnemonic hints from Miss Vicky's Youtube video on pen and paper. In addition, I have reinforced my learning by watching or listening to more pronunciation and introductory conversation lessons in the language, and I have ignored Romanization accompanied by text. It took me a month to learn all the basics and three months to become comfortable with the writing. More work is needed through further exposure to the language to have a greater mastery of Hangul.
https://www.youtube.com/watch?v=85qJXvyFrIc&list=PLECz2rpRD3Z0W9QQzvPb3KtVYm1gtphv_
https://www.youtube.com/watch?v=Sb5lUgpKwQg
Vocabulary and comprehension
Vocabulary acquisition has been slowest initially, especially before acquiring the first thousand words in the language and a good mastery of Hangul. I have encountered incomprehensible sentences occasionally and relied on the translation to gain a better understanding. I usually don't deliberately translate the sentence with the lookup of new words from the sentence.
Grammar
I have learned and absorbed most basic grammar from structured courses like Professor Yoon's videos for Integrated Korean and the Korean language course by the Cyber University of Korea. Both are available on Youtube, and I have imported the text into Lingq from Integrated Korean I found online. In addition, I have been using the following resources as well.
https://www.lingq.com/en/learn/ko/web/reader/2028460
https://www.youtube.com/c/ProfYoonsKoreanLanguageClass/playlists
https://kleartextbook.com/category/b_beginning/lesson-ppt/
https://www.youtube.com/@StudyAbroadinKorea/playlists
Chinese characters (Hanja)
We have discussed a great deal about the topic. We can rely on Chatgpt in addition to the content related to Chinese characters and sentence mining in a dictionary, provided the accuracy is ensured. Does anyone else have luck with the following inquiry?
List 10 Korean words with 면 as a common stem related to noodles but not a noodle itself.
Create a short story in Korean using these words.
A different variation of the first inquiry may return a different result. Some definitions need to be more accurate and related to noodles.
Contents
I+1 contents are a good choice, and I usually focus on one or two courses or resources for an extended time. I have acquired most vocabulary by reading and learning more by focusing on different aspects upon multiple passes on the same content, such as listening skills, grammar rules, set phrases, etc. I expect to avoid repeating the same content after finishing the first TV series and the first book in the language.
Methods and concepts
One of the key ideas is the learning readiness of learners, specifically the ability to process the text comfortably from the learners for maximum efficiency at the corresponding language level. Of course, the first thing to do is discover the meaning of symbols by learning Hangul to the heart. I have subsequently consumed content with linear difficulty, along with my progressing comprehension of the language.
Roadmap
I was learning from scratch with various online resources imported into Lingq. Some of the practice has proven extremely helpful.
1st month
Goal: Get familiar with the language by learning Hangul through mnemonic hints for Romanization.
Jenny's Korean
Integrated Korean: Beginning 1
Talktomeinkorean's essential courses
First 1k words (Milestone and toughest IMO)
2nd month
I had been practicing typing by entering words from some courses into Lingq to enhance my mastery of Hangul. I highly recommend it!
Typing practice: Jenny's Korean + samples sentences from Seemile Korean App
Integrated Korean: Beginning 2
Talktomeinkorean's essential courses (up to level 4)
https://www.lingq.com/en/learn/ko/web/reader/6320929
3rd month
Review less familiar content from 2nd month.
https://www.lingq.com/en/learn/ko/web/reader/2028460 (a breakthrough)
Integrated Korean: Intermediate 1
4th month
Integrated Korean: Intermediate 2
Quick Korean, Cyber University levels 2 and 3
Iyagi: Intermediate ⎟ Talk to Me in Korean
Review Lingq Mini Story for grammar, although I had never used it before.
A systematic grammar review with youtube channels
5th month
Quick Korean, Cyber University levels 4
Iyagi: Intermediate ⎟ Talk to Me in Korean
6th month
Consolidate my learning.
My learning in Korean has slacked off recently because I want to focus on reading English books. Anyways, the following is my want-to-learn list for further exploration in Korean.
Jadoo
Watching the Korean series Little women on Netflix will be interesting after reading the same title but a different novel by Louisa May Alcott and Pride and Prejudice.
외국인을 위한 한국어 읽기 (Korean Reading for Foreigners) at Lingq
These are my undertaking in learning Korean; others may have quite a different route from what I have experienced. Nevertheless, we should espouse the idea of self-improvement with visible progress after our little steps, albeit at a minimum. We will find the most suitable way comparable to the holy grail to prosper in the language and live the language to our original dream.
Please don't hesitate to share some of your valuable experiences, especially those at the beginner's level. They could be the paths a new learner searches for when trudging in a muddy quandary.
Germany
Interestingly, Alexander Argüelles & Jong-Rok Kim, have the following to say about the use of Romanization in Korean: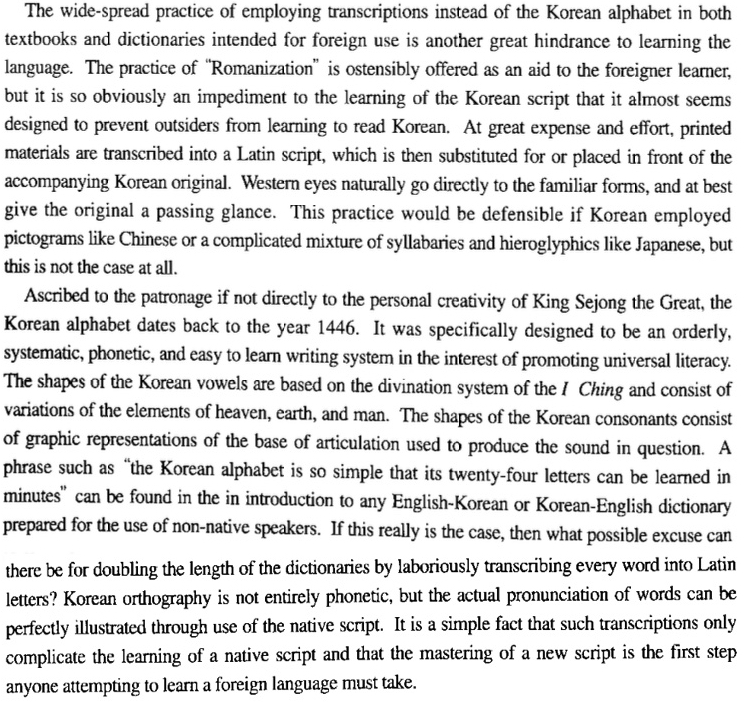 If this practice is indeed so harmful, maybe LingQ should spend its valuable engineering resources on facilitating the acquisition of the Korean alphabet instead? Would be good to have @Constantine weigh in on this.
United States
United Kingdom
There are lots of free apps out there to learn Hangeul. I would recommend to start with those and then to move on to Lingq.
Romanisation of Korean is, in my opinion, unecessary and even harmful as it can lead to poor pronunciation and an over reliance on the Latin alphabet.
Germany
I think it would be unwise, at least from a business perspective, to tell customers to first learn the basics elsewhere and then come back to LingQ once they're ready. I think it is reasonable to expect LingQ to offer a decent introduction to the alphabet so that even zero beginners can use LingQ from the start. The current way LingQ teaches the alphabet (https://www.lingq.com/en/grammar-resource/korean/alphabet/) is a bit unintuitive and frustratingly lacks any audio.
United States
Although I see your point I can't say I agree. We all understand the need to use outside resources, e.g. grammar books, dictionaries, italki, YouTube videos, etc. Hangeul apps are no different in my mind. They can't replace LingQ but are supplementary, and perhaps even necessary for people completely new to Korean.
Perhaps LingQ would better serve their users by admitting LingQ's limitations and pointing people to outside resources.
United States
It makes much more sense to treat Lingq as a platform for integrating resources via the unique feature of importing than a content provider in general. The Hangul lessons at Lingq are the least appealing to me. However, I have practiced a lot of the Hangul alphabet chart with mnemonic hints (Romanization based) from Miss Vicky in simple pen and paper.
United States
Yeah this is true. Also, lingq could just copy these people's youtube videos for the lingq learn hanguel course and now lingq has a better course lol.
Germany
At the risk of this being a controversial topic, what about North Korean? Would it be sensible to add way to differentiate courses or lessons by tags, similar to the way LingQ distinguishes between Spanish or Portuguese variants?
While I certainly don't have plans to learn Korean, I happen to have two textbooks teaching Korean, one [1] is explicitly teaching the North Korean variant and the authors of the other [2] have the following to say on the topic:
[1] Lehrbuch der modernen koreanischen Sprache, 1994, Wilfried Herrmann, Buske Verlag
[2] A Historical Literary and Cultural Approach to the Koran Language, 2001, Alexander Argüelles & Jong-Rok Kim, Hollym International Corp.
United States
north korean as a seperate section in the lingq library would be super cool!
United States
German speaking learners of Korean may be particularly helpful in that regard. In the USA we don't have much North Korean material to work with, but Germans will have more available to them from when there was an East Germany that had better relations with North Korea.
Honestly though, I doubt that I'd study it. It wouldn't be of much use. Unless I became so advanced that I just wanted to learn North Korean for the fun of it.
It'd be more fun to learn the Busan dialect, which I heard has a deeper and longer history than the Seoul standard dialect.
United States
Just out of curiosity. Once one has an advanced level how long would a dialect take to learn like 6 months to a year at the most right, or are the dialects in Korea a lot more profound than that?
United States
I wish I knew. My guess is that it'd be difficult and one would have to move to Busan and hang out in public parks drinking tea with Korean elders. Although that may be changing since dialects have been receiving more respect than they did in the past.
For English speaking learners who want to learn dialects, my understanding is that teaching/learning materials do not really exist. Strangely, it's easier to learn the Busan dialect as a Japanese person learning Korean. Due to regional proximity there are more Japanese books teaching the Busan dialect than English.
United States
There is some Busan dialect in the translation of Pachinko. The story begins over 100 years ago in an area close to Busan. In the early chapters almost all dialogue is in that dialect.
Germany
I guess almost no one would want to learn to speak North Korean, the two dialects are mutually intelligible to begin with, albeit North Korean representing a "purer" more archaic version of the same language that doesn't feature English loanwords and has reduced the influence of Chinese on the language. So, one would probably study it for comparative linguistic or philological motives, basically to gain a deeper understanding by using a comparative approach. Or, of course someone might want to prepare for the potential reunification...
I don't have an overview of what is in LingQ's Korean library and what percentage of it is in fact North Korean. So, it might not make sense to add this functionality, especially as much of the potential content could be considered propaganda.
As for Germany, the GDR indeed had unusually close ties to the DPRK, but I am not aware of significant material and this would be well over 30 years old and probably infested with communist language. Wilfried Herrmann taught at the Humboldt University in East Berlin, so it might be considered the culmination of their efforts. The book is by the way extremely thorough and grammar heavy it was intended to be used in a university curriculum. I believe this book is not easy to come by, if anyone is truly interested, they can contact me privately. Here is a video showing it briefly: https://youtu.be/5NVcCERZ9NQ?t=234
United States
Since the Korean dialects are mutually intelligent to a great extent, it's more similar to comparing Mandarin spoken in mainland China and Taiwan. However, the latter has incorporated more terms from the Southern Min dialect, other Chinese dialects, and foreign languages. One curious thing is that most Sino-Korean words are closer to the Southern Chinese dialect pronunciation than Mandarin, as they have retained notable features of classic Chinese, with unique vocabulary and pronunciation included. In conclusion, I estimate it will take three to six months for a native Korean to get used to and become fluent in another dialect compared to six months to two years for a native Mandarin speaker to speak fluently in Cantonese.
https://core.ac.uk/download/pdf/8767933.pdf
It affects less the applicability and practicability of adopting a particular language variant once a learner achieves a more advanced level. People are more aware of the difference in the pronunciation and usage of vocabulary nowadays due to the closer contact with the advent of the internet.
Two great examples are the different pronunciations of the word garbage in Mandarin in mainland China and Taiwan, and Latin America has adopted a meaning with a rather vulgar version of the term "coger" compared with Spain. From a linguistic point of view, why haven't more related words been introduced to Korean besides serve and service, such as server, servant, serviceable, servitude, etc., and other German words related to Arbeit?
Acceptance of the adoption may have to do with people's general sentiment toward global Anglicization in the languages, such as English words in German. Which one of the linguistic purist or pragmatist approaches will prevail? Or rather, do they work together to a great extent in a potpourri?
United States
Potpourri it seems. Always makes me smile when I see examples like:
이삿짐센터, a moving/removal company.
Its etymology is 移徙짐center, which is a mix of Sino-Korean, native Korean and an English loan word. The English loan word has a slightly different meaning in Korean as is often the case. Fun!
United States
@ llearner
➡︎ Chinese characters as reference tools are perfect for learning modern Korean with a phonetic Hangul-based writing system.
And such a cool way to study etymology — at least for Sino-Korean words.
P.S. This thread has gotten so long that I'm reply-posting at the top. This forum becomes impossible when there are multiple replies on top of replies.
Luxembourg
Hi, I'm intermediate 2  in Korean, I m fluent in several languages, this app ( the best from what I've tried so far and the more intuitive) helps keeping my brain less bored, learn much faster and acquire new ones. learning languages is my hobby, addictive :)
as for Korean sometimes the translation doesn't seem appropriate to the context at least. I would like to see short explanation of the suffixes used especially those that nuance the meaning. thanks 
France
I am Intermediate II and I am close to advanced
Germany
I'm a Beginner II, close to Intermediate I, according to LingQ.
When I started in October 2020, I actually did learn Hangul first with the help of Youtube and Anki. Of course it would be nice if one could use LingQ from the start without relying on external resources but that seems hard to realize.
I first thought it would be a good idea if you could add one of the Hangul-teaching-videos from YouTube as regular Beginners' content, like, a collaboration with Miss Vicky or Kagoshima Jun or whoever is out there creating content for complete beginners. The problem is that the explanation will always be in English or Japanese or whatever mother tongue the creator of the content uses. So, it won't be universal.
For me, Hangul was not the problem with Korean but the many homonyms. The translations are mostly wrong. For example I just came across the word 밀면. When I click on the "Popular Meanings", they mostly say "push, shove". Some add the meaning of "+ 면 = if", so it becomes: "if you push". But, from the context, it is clear that in this case the meaning is "wheat noodles", the 면 being 麺. At least some of the English "Popular Meanings" take this into account but in the Japanese or German "Popular Meanings", wheat noodles don't appear at all.
Instead of a romanization, I would love to have the option to have little Hanja displayed above the words, that would so help to distinguish noun meanings from each other and from verbs, adjectives etc. I could imagine that a lot of learners from Japan and China would love that feature, too.
The good thing about Lingq – the user created content – also is its one Achilles' heel: If, for example, the Hanja were created automatically, how could the system distinguish between "if you push" and "wheat noodles" without someone professional editing it? Maybe that would be a chance to put the lately improving artificial intelligence to a test.
That said, what is going on my nerves is the constant correcting and editing that I'm inclined to do. I'm constantly in the sentence editing mode to erase incorrect word spacing that obscures the correct meaning of a sentence even more. I know I'm not forced to do this and I also see it as a way of improving my own language skills, but it's almost impossible to edit sentences or translations on the mobile phone. There is a bug where sometimes the cursor jumps to the end of the sentence, so for every single character that I want to type I have to go back to the respective position in the sentence – impossible, really.
Also, I'm flipping between English, German and Japanese translations. (This concerns "Popular Meanings", dictionaries and translations.) I don't know how LingQ decides which language they show me first but I noticed it changes all the time. One session I get the German translations first, the next one the English ones. The more I see the more I feel pressured to correct all of them!
I'm also volunteering a lot adding time stamps, since I hate to have the automated text-to-speech when there's the original audio available. I just wish the transcript (in my case TTMIK's Iyagi course) had less full stops in the middle of a sentence, since every full stop creates a new paragraph which causes the natural flow of the audio to be completely chopped up. In those cases I wished I could just delete whole paragraphs and add them to the sentence they belong to. But that might only be possible for the creator of the content?
Doing all this takes so much time that I sometimes wonder if it really helps my Korean or if I'm just procrastinating or if I maybe should get some money for my work? (Only joking…)
There's a lot more to say about editing and bugs and differences between the desktop and the mobile version of LingQ but since it doesn't concern Korean specifically, I'll better stop here.
Despite all the nagging, I really love LingQ. The TTMIK Iyagi course that I'm into right now is perfect for me. I tried to add some own content, like K-drama-transript using a workaround but I've only done that once so far.
United States
@
Making corrections in German, English, and Japanese! Wow! Honestly I do think you should be compensated.
I agree with everything you said except for displaying Hanja. Native Korean words without Chinese characters will get confused with Sino-Korean homonyms.
I don't want to read 부친 in context meaning pan-fried or mailed, and see 父親.
Even without native Korean words, there are Sino-Korean homonyms. So I'm not sure how displaying Hanja above the text would help with that. We would need very advanced AI for it to work.
Another example: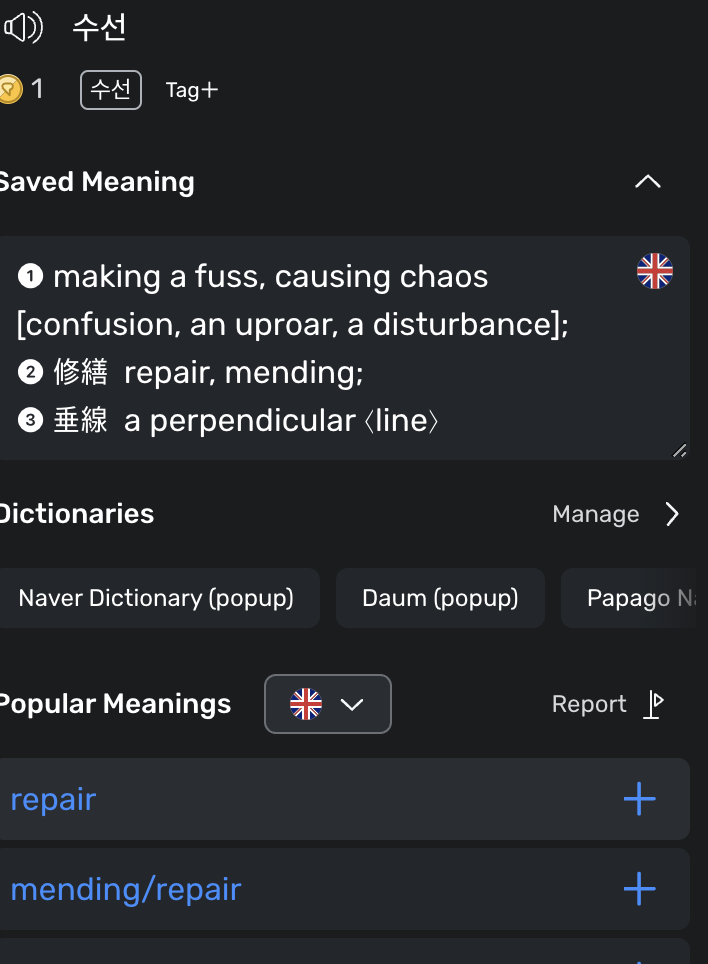 Germany
Oh, I'm not really correcting Japanese! (Only German and sometimes English, if the translation is too far off – I don't feel qualified enough to produce a beautiful translation, just one that offers the basic meaning.)
Japanese I'm just using as a reference (the "Popular Meaning") because most of the time they show the relevant Kanji, and since I have a strong "feeling" towards words of Chinese origin in Japanese (though they sometimes differ in Korean), it really helps me when I see the Hanja or Kanji. The words just make more sense all of a sudden. Seeing the Hanja or Kanji suddenly expands my horizon of this one word, since I have all the context from the past (all the situations that I have "experienced" those words in Japanese).
Yes I know, displaying the Hanja would only help if the appropriate one was displayed above the word. It should be like the audio, only belonging to that specific lesson, not like the collective pool of lingqs that can offer every possible meaning. So, it only made sense if there was a really advanced AI or some proficient person doing this once, at the beginning, when the lesson is created. The latest developments in AI, like Chat GPT made me gain some hope.
The reason I suggested adding Hanja is, that there should be so many people with a background in Chinese or Japanese. I'm thinking of learners of Asian languages, since those people tend to learn not only one of them. (Some start with Mandarin and expand to Japanese, some start with Japanese and add Korean…) But mostly of native speakers of languages that use Chinese characters. I got the impression that the discussion here neglects this massive group of language learners.
I remember Steve told in one video that he started learning Korean with a book that had a Hanja transcript, since he had the same problem with the homonyms that every Korean learner encounters. You just can't distinguish homophone nouns from each other or nouns from verb endings if their syllables could be part of a noun, like the above mentioned 면.
For all those learners who know Chinese characters, the display of the correct Hanja would be so helpful. Just imagine Japanese being only written in Hiragana. A nightmare! And this nightmare is Korean… At least for Korean learners. Native speakers at least know their language when they start to read. But as a non-Korean speaker it takes so much time until you are shrewd enough to guess everything from context.
And Steve's example shows that there IS material out there with Hanja transcript. I don't know what it looked like exactly. Were the Hanja replacing certain syllables of nouns or verb stems, like in Japanese? Did it have little Hanja printed above or next to the respective syllables? Was it "new" material, particularly catering to the market of Japanese or Chinese/Taiwanese students? Or was it "old" material from the 50s or 60s, then used by Korean schools?
Maybe it would be possible to design at least one course that uses this kind of learning material?
So, although it might be next to impossible to implement the Hanja, in my opinion it could enhance LingQ's attractiveness for a huge group of learners.
United States
@
➡︎ And Steve's example shows that there IS material out there with Hanja transcript.
I don't know the history of 漢字 that well, but my impression is that it stopped appearing regularly in the 1990's. These days Hanja only appears parenthetically to clarify homonyms for the average native Korean reader.
Since this was before digitization, reading materials easily found online may not contain much 漢字. But if you were able to visit a used book store in Korea, my guess is that it'll have many books from 30 to 40 years with Hanja. The language used in those books (with or without 漢字) will be somewhat outdated and old-fashioned, but not completely archaic.
In the USA or Germany perhaps an academic library will have Korean literature published 30-40 years ago? If you're a student or academic that may work.
Online archives of newspapers published 30-40 years ago may also be a good source, but I have not looked for such things myself.
Germany
@Tamarind
Actually I did some quick research on the topic and found out the Hanja were completely banned from Korean Elementary schoolbooks in 1970. They're discussing lately whether to integrate them again but opponents criticize that it's only due to the lobby of the private education industry who want to push their Hanja-drill-schools and there's no need to undo the ban, since literacy among teenagers in Korea ranges highest in the world, so why increase the workload of Elementary School students unnecessarily?
https://www.hani.co.kr/arti/society/schooling/704213.html?_ga=2.147215927.1618984677.1678865834-719430311.1678865834
I tried to find out if there was comprehensive learning material with Hanja transcript in Japan but there were only textbooks teaching the Sino-Korean words, comparing them to the Sino-Japanese ones, one by one.
So I was wrong to assume that books with Hanja transcript were a regular genre in Japan. Apparently no one seems to feel the need, even in countries where they use Chinese characters. Is there some fundamental problem that I have overlooked? (Apart from Korea not wanting the Hanja to be in use again?)
Still, it doesn't have to be a bad method just because no one is using it. (Especially with language learning we are seeing lots of ineffective and demotivating methods in practice just because "we've always done it that way".)
United States
@Sasuem
The timing does make sense. Older adults who grew up reading books and newspapers with Hanja probably started to become outnumbered by young adults who grew up reading Hanja free in the 90's. I imagine that publishers made the switch when it became more profitable to cater to younger readers.
➡︎ Is there some fundamental problem that I have overlooked?
Perhaps technology? It's easier and faster to type with the Korean alphabet alone. Starting in the late 1980's typing started to become a requirement for everyone, not just secretaries or professional writers. Mobile phone texting started in the late 1990's or early aughts. All easier Hanja free.
United States
➡︎ Is there some fundamental problem that I have overlooked?
Native Asian speakers have a perfect mastery of the pronunciation and writing system in the language as everyone else in their native language. They also have developed a good sense of language along with early formation in elementary school, enabling them to infer the meaning of new words more intuitively from shared stems and contextual clues without relying on Chinese characters. Koreans have used Chinese characters to clarify the ambiguity among common names, such as on a driver's license.
United States
➡︎ And Steve's example shows that there IS material out there with Hanja transcript.
Perhaps Steve was referring to ISBN 0-295-96018-3.
Title: A First Reader in Korean Writing in Mixed Script
Author: Fred Lukoff
Currently the 7,822,112th most popular book on amazon.com.
This is a book for those who know English and want to read intermediate level Korean including Hanja. The book was published by Yonsei University Press and printed in the Republic of Korea. It has 300 pages and covers about 1180 Hanja. Included are indices of these 1180 Hanja ordered by sound and by radical.
My copy is copyright 1982, printed in 1986. Due to laziness or overenthusiastic book buying, I have not yet taught myself the material covered by this book. I'll get around to it someday.
United States
Wouldn't you know it? There's even a lengthy Wikipedia entry about Korean mixed script.
Korean mixed script - Wikipedia
Ukraine
...Just imagine Japanese being only written in Hiragana. A nightmare! And this nightmare is Korean…
So true.
United States
We could have imagined how worst Korean phonetic writing would become if we removed some of the consonants and vowels from the Hangul—learning Korean in classic Chinese with no good representation of the actual pronunciation of spoken Korean before King Sejong would be a nightmare for any learner. Chinese characters as reference tools are perfect for learning modern Korean with a phonetic Hangul-based writing system.
United States
@
➡︎ I just wish the transcript (in my case TTMIK's Iyagi course) had less full stops in the middle of a sentence, since every full stop creates a new paragraph which causes the natural flow of the audio to be completely chopped up.
If you become a librarian you'll have editing privilages that allow you to join sentence fragments together into a complete sentence. Since you're already doing so much work join us as a librarian!
Germany
If being a librarian means that I can do it like I'm doing it now: randomly, while learning my sentences – then I'm willing to join you.
United States
Great! Constantine, the LingQ staff member who created this thread may see this soon and reach out to you. But to make things easier for him, you could also go to the 'Community' ▶︎ 'Contribute' page. There is a 'Become a Librarian' button, a link to reach a staff member who can give you privileges.
Germany
Ukraine
Great idea. We lack librarians in Korean.
United States
@Sasuem
You have elucidated the most valuable points that serve well to us.
However, I also beg to differ on Hanja's actual application in learning Korean. Displaying Hanja does not solve the problem in most cases. Following are 面/麺 entries from my lingqed terms under Vocabulary. I list them under the same definitions.
Noodle
"준기는 오늘 아침에 파스타 면도 많이 살 것입니다."
"석진:" 너구리" 는 면발이 되게 두껍죠."
Face
"…2 급]15-2 걱정하지 말고 면접(interview as in audition in face to face) 잘 보고 오세요."
"면도하다" even the face, referring to shaving in the context.
"그런데 이 면접관과 준수는 오늘 처음 만났어요."
side; aspect; facet
"…기억하는 기회도 되고, 그런 면에서는 좋은 것 같고요."
The more common word I have yet to encounter
면적 is the area, the mathematical product of a surface.
면하다 to face; to encounter
etc.,
The knowledge of Chinese characters works more like a memory booster than a panacea. It works backward when using it to identify merely the Chinese character associated with Korean words. It's more important to learn a new word such as 면목 (面目) appearance; characteristic, which is more related to the meaning of face than others. We can significantly reduce the time needed to commit the words to our long-term memory by associating them with our prior knowledge of a particular meaning of 面.
Germany
Yes, I understand completely. I'm also using the Hanja "backwards" as a memory booster, or as a means to "get a feeling" for the meaning of a Sino-Korean word. As you said, it helps if we can associate a new word with prior experiences. Displaying the Hanja (and I mean only that one correct, appropriate Hanja that applies to that one situation in that one lesson – think of a line-edited text, not a pool of meanings) makes sense almost exclusively for learners who know Chinese Characters. (And there are lots of them!)
It could be counterproductive for total beginners without a background in China-related languages. If they feel forced to learn the Hanja, or even see them displayed, it might discourage them. On the other hand the Hanja could still help to visually structure a sentence and distinguish Sino-Korean nouns from other word classes more easily.
United States
Well put. Using the Hanja as a memory booster does not work backward. Instead, it complements how we learn other elements in the language, such as grammatical structures, as you have mentioned.
It works backward only if one expects to acquire the new Sino-Korean vocabulary with little effort by learning a few hundred Chinese characters without context at the beginner's level. I recommend learning a particular Hanja on a needed basis with Sino-Korean words in the context than deliberately learning Hanja in the first place to recognize unknown Sino-Korean words. It certainly causes massive diversion and confusion in the beginner's learning routine.
The best practice is to have toggleable Chinese characters on the top of Korean text with a superscript in number corresponding to a different meaning of the word on Krdict or a built-in library for Hanja at Lingq. A tag with the definition entry or combining it with the definition may not allow the user to see the whole picture without deliberately clicking the words. Chinese characters work well to clarify the meaning of Sino-Korean words with at least two Chinese characters. I don't see difficulties implementing such a feature, though I am open to the Lingq team's and experienced users' concerns. Due to the problem with the multiple characters corresponding to single Sino-Korean words or numerous definitions related to a single Chinese character, we can at least do this by brute force and limit it to the guide courses if not possible by programming. One good thing is that we can ensure it is in context if implemented by brute force.
Ps. I have completed more or less 100 episodes of the TTMIK Iyagi course, and I am on the second pass to nail down more grammatical structures and unknown words before tackling new lessons and moving on to my first TV series on Netflix. Strongly recommended!
United States
I thought of an alternative by putting the latest AI Chatgpt into the service, and the result was a mixture.
Please identify all Sino-Korean words by the highlight.
안녕하세요, 잘 지내시나요? LingQ에 오신 것을 환영합니다. 이름이 무엇인가요? 언어를 배우고 싶으시군요. 좋습니다. LingQ에서 배우게 됩니다. 새로운 단어들을 많이 배우게 됩니다. 새로운 언어를 이해하는 것을 먼저 배우게 됩니다. 문법은 배우지 않습니다. 언어를 즐기는 방법을 배우게 됩니다. 이것은 새로운 언어를 배우는 가장 좋은 방법입니다. 새로운 언어로 말을 하고 싶다면 이것이 첫번째 관문입니다.
The Sino-Korean words in the text are:
안녕하세요 (安寧하세요): hello
이름 (姓名): name
언어 (言語): language
배우다 (學う): to learn
단어 (單語): word
이해하다 (理解する): to understand
문법 (文法): grammar
즐기다 (享受する): to enjoy
방법 (方法): method
관문 (關門): gateway, entrance.
The ones in bold are valid ones.
문법 (文法): grammar
문 1 (文) : arts
-문 (文) : A suffix used to mean a piece of writing.
문 : it can also be stationary in its short form vs. 문구.
문갑 : stationery chest: A long piece of furniture, low in height and used to store documents, stationery, etc.
법 1 : law; act
법 2 : way, method, rule,
It's more intuitive to associate the related Chinese characters with the Sino-Korean words than deduce the true meaning of an unknown word. I am keen to hear the logic of how we derive the actual definition in "grammar" instead of 서법 (書法): calligraphy; penmanship.
관문 (關門): gateway, entrance.
A part or place which must be passed by to reach a certain place.
A learner not knowing Asian languages would rush to derive the literal meaning of "Closed door." 관: 關 has more to do with the context of passing security checkpoints or levels in a video game. 세관 (稅關): has the literary meaning of checkpoint of tariff for customs at airports, harbor, etc. Unfortunately, this inferred definition is not even available at Krdict.
Following is a proposal for introducing Chinese characters to the text by brute force. The sheer amount of work is too much when we do not consider our crowd-contribution approach at Lingq.
We collaborate in a shared workspace, and the Lingq team will incorporate the final work upon review.
Identify all Sino-Korean words in the text.
Provide accurate Chinese characters by consulting a dictionary.
A native speaker to double-check the accuracy.
A Librarian at Lingq to raise any questions in doubt, and the final result will be desirable if not perfect.
United States
@llearner
I always enjoy hearing your thoughts about Sino-Korean words. Not sure if LingQ or anyone else has the time to do what you propose, but sometimes it's good to have ideas simmering in the back of your mind for a while.
United States
@ Ilearner chatgpt the sino words include
안녕하세요 安寧
환영합니다 歡迎
언어 言語
단어 單語
이해하는 理解
문법 文法
방법 方法
관문 關門
when I flashcard them since I learned all the hanja purely through korean it helps me a ton either forwards or backwards. If I learn this word 환영합니다 with the characters if I want to go back and formally study 歡 or 迎 it becomes very easy because they look familiar and I already have a connection and the pronunciation in my head. There is realistically only 1200-1500 (vocab building) useful hanja in korean for vocab building and like 2500 (hardcore) for mixed script reading etc.
Germany
@llearner
I like how you describe the new feature, it sounds exactly like what I was dreaming of ;-)
I could imagine, if LingQ decided this was a good way to attract more learners with a Hanzi/Kanji background, then they might put some effort and money into it. Of course it could also be done by "the cloud" but I have the strange feeling that the "cloud" that's inclined to do such a nerdy and time consuming task will consist of 2 to 3 people at the most – me being one of them? (What have I done!)
I'm happy to contribute in a slow but steady way, though.
United States
@ Hagowingchun
This approach could be an excellent way to go for you. You will find Chinese characters more helpful as you progress in the language, like making neural connections among words instead of cells. One of the pitfalls to watch for is the multiple meaning of a single Chinese character, and I have elucidated with the example 관문 關門.
@ Sasuem
To implement a feature like this, Lingq would have to allow Librarians to customize an additional form of input on the top of the text and allow users to report but not modify the errors directly from the sentence with related issues. We can even use it to make annotations for those interested in reading Shakespearean works.
Nonetheless, the Lingq team prioritize their solution to existing issues with the website's basic functionality between different Os, devices, browsers, etc. Besides, the chaos caused by this direct reporting feature is enormous. Adding Chinese characters will be the last straw in addition to reporting problems related to Pinyin, errors in text, time stamps, translation, etc., not only in Lingq shared contents but everything.
I have prompted myself to make correction suggestions for the Lingq story in Cantonese. I would have to make an extra effort after completing the first ten lessons because other things mandate extra exertion.
The best way could be to import content related to the usage of Chinese characters and search the dictionary for entries related to Chinese characters with sample sentences in the meantime.
Ukraine
Thank you for a thorough answer.
I am afraid only content creators can edit their audios.
I'll see what we can do about adding hanja.
Korea, South
I'm enjoying learning Korean on LingQ at the intermediate level. I find the user experience and functionality to be very good and don't see the need for any significant changes. Based on my experience learning Korean, I would say that introducing transliteration to the Korean program on LingQ isn't really necessary. The Korean script - Hangeul - is quite easy to learn as it is highly phonetic without many exceptions to its basic rules of phonics. So, total beginners would do well to learn to pronounce Hangeul by sight first, before learning any of the language because learning transliterated Korean won't help you in a real communication situation. Transliteration is rarely used in Korea apart from place names on road signs. So, it's really only a crutch used by non-Korean speakers. Transliteration of Korean also must follow the official rules of Korean transliteration, which can change from time to time. So, I would say it is much more efficient to learn Korean through Hangeul from the beginning. I hope this is helpful.
United States
I agree with everyone on this thread commenting about how we'd like to see improvements in translations/definitions. Whatever time I have available to donate to 'librarian' tasks is almost entirely spent on cleaning up translations/definitions. And there are many others who are doing the same even though they're not librarians. I often find that a definition I chose earlier because it was 'good enough' now has among the word's choices many other, much better definitions/translations to choose from. 🧡 to all you Korean learners for that extra effort!
Spain
I'm a beginner. I can read fairly fast, but don't know much vocabulary or grammar constructions. There are multiple courses to choose from, but as a beginner who knows some particles (like 는/은, 를/을, 이/가, 에/에서, 도) and some basic vocabulary, lessons provided by LingQ can be difficult. That's why I sometimes feel discouraged to use the platform until I know more Korean.
Ukraine
United States
I'm going to comment and then look at what others have to say. Basically, all the conjugations and the way LingQ counts words. I have to look the same word up over and over and over and often create my own definitions using external resources (dictionaries). It drives me nuts. Of course, the better I get at the language the less I have to look up words or the better at it I get so it becomes less of an issue and over time I've seen the LingQ dictionary get better as users contribute to adding to the dictionary.
I can't relate to people who choose not to learn hangul on day 1. I would say maybe develop a course teaching hangul but otherwise I don't see the point. You could use IPA but why bother learning IPA when you can just learn hangul directly instead. And using romanization has the same problem - you have to learn how to read the romanization anyway so why not just learn hangul?
Keep in mind if you struggle to read a word you can just click/tap it and LingQ will pronounce it for you. So why would you want to us any script except hangul?
I self judge my Korean at A2 but I've at least looked at grammar books with intermediate grammar structures but many of them are still shaky or I don't know them at all. I'd say I know about 1500 words as counted by a dictionary (rough guess). LingQ has my word count at 18,834.
Ukraine
Germany
For me LingQ generally works quite well for Korean, at least since I got past the initial beginner stage. For the first steps in Korean and other languages which are quite different from the ones I already know, LingQ does not seem to be the best resource anyhow in my opinion. I tend to look for other resources first and then start to use LingQ more regularly.
My biggest challange for Korean in LingQ is currently to figure out the meanings of (some of) the endings. Available translations often only provide the meaning of the verb stem, but not always the complete meaning of the endings. Some useres have already provided very helpful translation and I guess this issue could greatly improve over time with more experienced users adding such explanations.
[Note: I am aware that grammar books also help with this, however it takes time to work through those.]
Korean romanization does more harm than good in my opinion.
My level: Beginner 2 with 4830 known LingQs as per today.
United States
I do try to input clearer definitions for the endings, but not always. It can get really complicated with distinctions that either don't exist in English or are not simple to describe.
Lately I've been copy pasting Naver's long explanations into 'notes.' But that vocab area is not shared with other users. Perhaps it should be?
An example. It's found in Naver by adding the ending after a hypen in the search window,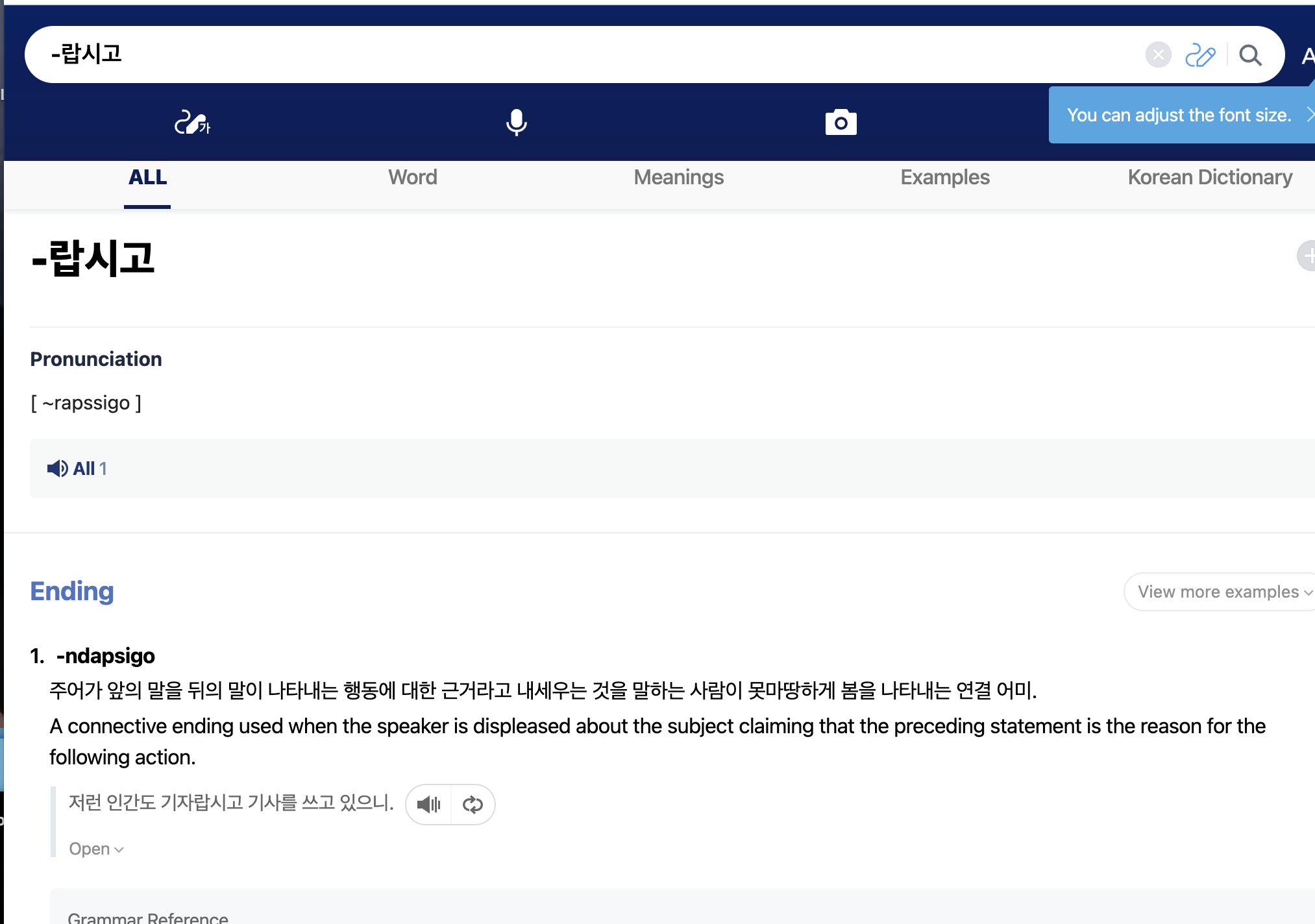 United States
And this is how it looks in my word definition. The definition is clearly not just 'as a missionary' but it's difficult to nail down so I keep it simple for now.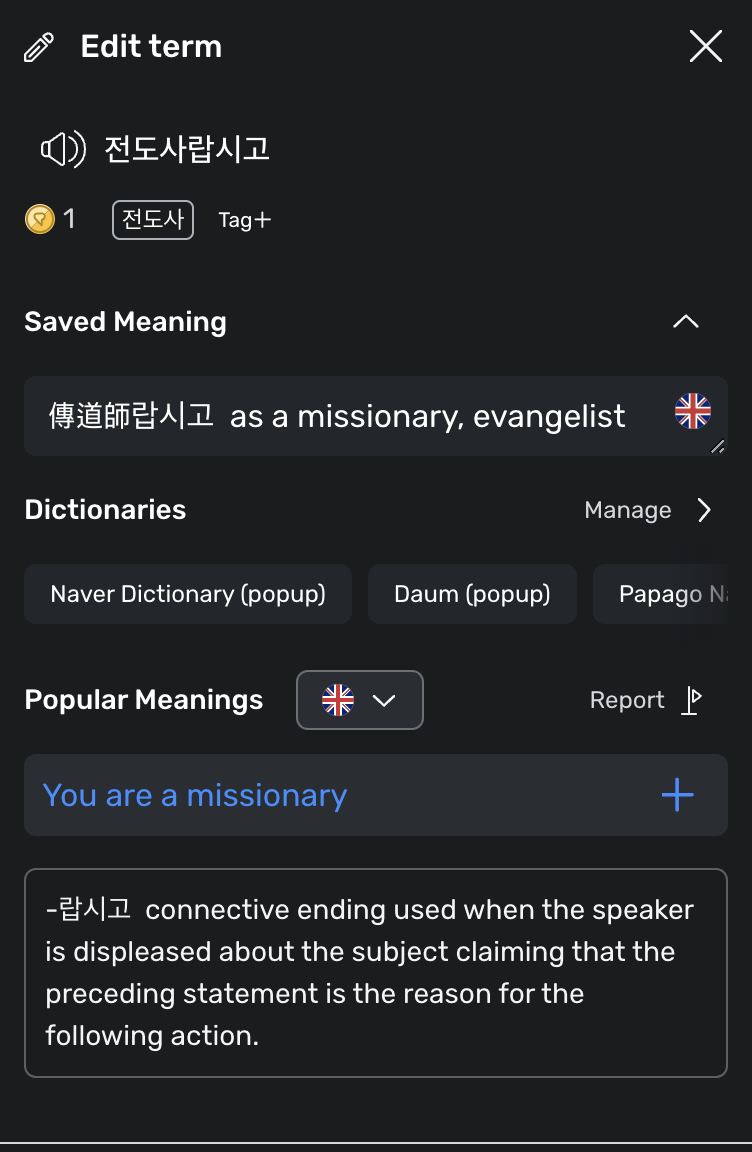 United States
I didn't know you could search Naver for word endings.
United States
I concur with the excellence of LingQ as a great tool in providing such a fantastic platform. As for the meanings of the endings, the cross-reference between Prof. Yoon's Korean language course for Integrated Korean, Cyber University of Korea courses, and even the Lingq Mini story has served me well. They are available at Lingq or can be imported easily. Following more structured courses at the initial stage effectively builds a solid foundation.
Ukraine
United States
I have been learning Korean since last September on my second attempt. I rate myself an A2 in reading and listening in Korean. The first one I made three years ago and failed, in which I learned up to 300ish words and gave it up. However, I attribute the difficulty of learning to a different writing system in Korean and a need for more solid motivation at the time. Nonetheless, as a beginner, transliteration is a distraction that interferes with the more natural acquisition of Hangul compared to simply listening and matching the pronunciation to the actual words in Korean IMP.
https://www.youtube.com/watch?v=Sb5lUgpKwQg?t=01m55s
@Hagowingchun
Studying the word list with the shared word stems by the Chinese characters could be tiresome. The purpose of Chinese characters included at Krdict is for the learner to distinguish the different meanings of a particular word or words. These Chinese characters could have been represented by symbols or in another language, Pinyin, binary codes, etc.
Learning Chinese characters may only be necessary after the intermediate level, even though it's more intuitive if someone has good knowledge beforehand. 동학 is a classmate in English. Most nouns in Korean have a secondary literal meaning besides simple translation, which applies to verbs as well since we can make some nouns in Korean into verb forms.
One of the literal meanings of 동 is "same"; I would be more inclined to associate it with con in contemporary or co in a coworker or colleague. Now, 동창 (attending or studying, a traditional way and still in use) under the same window as a classmate, 동학 studies together for a classmate, and 동료 officially holds a position at the same time for coworkers or colleagues is more understandable with knowing the literal and comparable meaning in English. We can deduce meanings for 동기 동+기(period) and 동시 동+시(time) with fair easiness.
We must remember that one of the literal meanings for 동 is associated with the definition above. We use it to at least notice the same component in the new words with the shared stem, and a direct association between the actual Korean expression and the literal meaning is better than with 同, tong, or con, co, or 1001 if someone does not have a good knowledge of that representation.
By the way, 원 means a member from another post you quoted aligns with the ending like -er, ee, an, ist, etc. Another way is to associate 원 with the stem "essence," as in quintessence for a secondary meaning, as opposed to the given definition of a prefix used to mean original or raw. 원주민 aborigine, 원래 origin, and 원칙 rule; principle are a few examples related to this one.
It will be keen to discover the similarities of shared stems between Korean words and yet to distinguish differences when the circumstance does not apply.
이번에 한국에 와서 우리 영국 고딩들이 할 수 있는 여러 체험 중에 한국 학생으로서의 하루를 꼭 경험하게 해주고 싶었어요.
체험 and 경험 are similar but a little bit different in their usage.
카이는 만두는 만들어도 바느질은 못해요.
만 in 만두는 and 만들어도 share nothing in meaning. 만 has other meanings which can be used as a stem but not in the context from above.
I recommend implementing a function allowing Librarians to denote general stems in the context. It will be a great addition to have a recording of the learner's speech compared with the audio in sentence mode.
United States
@llearner
I've been using tags to input general stems. Initially, before I got comfortable with inputting tags, I would just make a bracketed note at the bottom of my definition but I don't do that anymore. Here's an example of an older definition with stems, both in tags and with a bracketed note.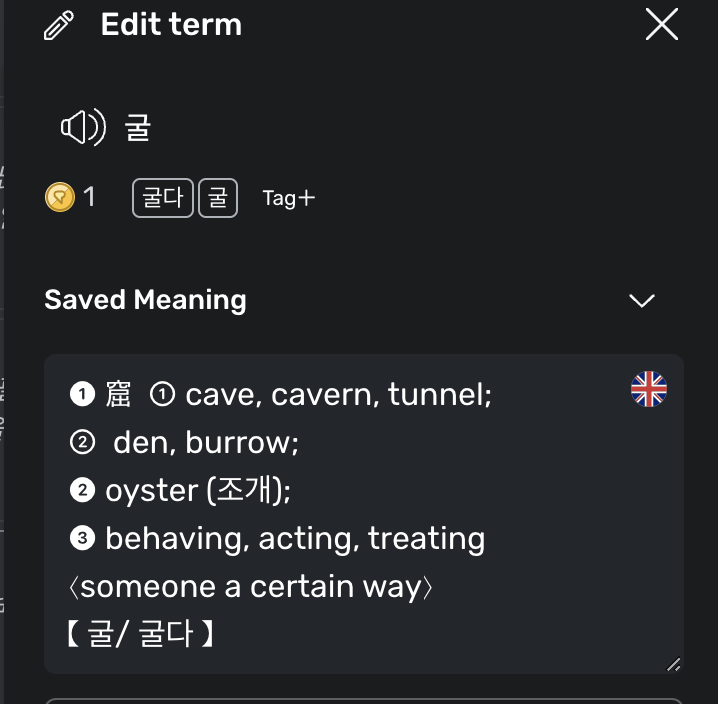 Ideally the order of tags would match the order of the definitions but I can't control how the tags are listed. And I only have so much time to fuss over definitions (I probably spend too much time fussing already).
United States
@Tamarind
I recommend beginners and even users at the initial intermediate level adopt one or at most two definitions related to the context. The user understands the general stem's meaning more intuitively by the context, and maybe just a downward arrow above the word is needed for them to notice other words with the same stem in the future.
Learning the general stems using Chinese characters helps very little before reaching a B1 level. I had my share of struggles with the language, even if I am fluent in Chinese. Following is what I think about the Chinese language as a deciding factor in acquiring Korean vocabulary and grammar.
Before getting a foothold in Korean A1 - A2
Chinese character 10 %
For one point, I wanted to block off the Chinese pronunciation while keeping the knowledge of the definition.
Others, such as grammar, etc., 20%
Familiarity with Hangul's writing. 40%
The pronunciation, 30 %
My mastery of Hangul and pronunciation is at 60% and 70%, respectively, contrary to the popular belief of learning it in two weeks.
From B2 - C2
Chinese characters 20%
More literary and high-register words
Others, such as grammar, context, topics, etc., 50%
Familiarity with Hangul's writing. 15%
The pronunciation, 15%
I am more inclined to encounter words with common stems through reading instead of studying from a list, and perusing the dictionary is just a review instead of learning. Another great thing is reading the monolingual definition under the Korean entry in Krdict.
화재 (火災)
fire
집이나 물건이 불에 타는 재앙이나 재난.
A calamity or disaster in which houses or possessions are burnt.
재 is repeated in two more words, and 불 is the equivalence of 화.
재난
Following is a typical sentence from folktales 외국인을 위한 한국어 읽기 at Lingq.
부부는 열심히 일했지만 가난했다.
I don't know. My mind has a mysterious way of making a connection out of nowhere. A Korean language learner could do the same with tons of noticing things in the language even without deliberately studying Chinese characters.
United States
Yes, since I don't know Chinese (and don't remember much Japanese) when I hear homonyms my mind immediately jumps to the common use native Korean word meaning. It's an advantage when first learning in that it's far more useful for daily life Korean. Also makes reading A2/B1 material much more straightforward.
I can imagine that having your mind jump first to higher level Sino-Korean word meanings will cause a lot of initial confusion.
부부는 열심히 일했지만 가난했다.
Although the couple worked hard they were poor.
United States
A lot of Korean nouns have the same terms in Chinese. That makes the retrieval part far easier for me. On the other hand, if the stems are in a reversed order or an unusual combination of stems different from Chinese, they can be tricky to guess. Most of the time, I have a good idea of the common stem or stems in words.
가난했다 is a bit tricky for me. The corresponding Chinese characters should be 艰 (toil) + 难 (hardship, distress). If we search under 艰, 힘들다 is more appropriate than 어렵다.
https://krdict.korean.go.kr/m/chn/searchResult
Another related word is 생활난 (生活難) financial difficulties; economic distress.
难 (simplified) = 難(traditional)
If we search under 가, the closest we can get, but probably unrelated, are -가, A suffix used to mean a family, and -가, A suffix used to indicate a price.
To my great surprise, I just had a sudden enlightenment of searching under 간, which is closer to Chinese pronunciation, and found another related word.
간신히 Adverb
with difficulty
https://krdict.korean.go.kr/m/eng/help?nation=eng
Is 간 a conjugated form of 가 due to grammar rules, regional variance, or the evolution of the language, making them adopted separately for the usages of a verb and an adverb, respectively?
United States
I apologize for the late response, but I wanted to ask you why you said 10% for a1-a2 for chinese characters? And only 20% for b2-c2. If one grabs the topik list for all the vocab its like 55% hanja words for all the 10,000 words that the want you to know for the test. Whether one learns what the characters is personal opinion, but I wanted to know why you put the percentages so low.
United States
Language has many shades and becomes more intricate, combining with even more sophisticated aspects in a person's learning process. Language learning is about connecting meaning, text, and sound. The mastery of Hangul, or rather lack of it, significantly impacted my learning at A1 - A2 level.
Connecting Chinese characters and Korean words can be as easy as learning Impacto in Spanish or as challenging as creating a cross-reference between Seguir in Spanish and English word sequel. One extreme case is the word 쓰레기 for garbage. It took me four months to realize that the word is in the reverse order of Mandarin pronunciation in Taiwan for the same writing in Chinese characters. I have already known the word way early by then.
I assigned 10% to the usefulness of Chinese characters at A1 - A2 for two reasons. The first one is that other elements, primarily the familiarity with the Hangual in both the writing system and pronunciation, play a more significant role during this stage. Secondly, the usage of Chinese characters in the real scenario may be considerably different from what people expected. It's not one-to-one mapping, and there are more gaps that one has to bridge.
I would have delayed a deliberate attempt at learning Chinese characters at A1 - A2 level if I had no prior knowledge. The learner would progress well even without resorting to an alternative that I considered a better version at this stage of learning.
Sample sentence
People have published many well-known articles within the 학계.
학교,학생, etc., and 세계 could give you some hints if you are familiar with these words. So the better alternative is to associate 학 with Sch in school or scholarly and, my analogy of dom in the kingdom, or landia in ratonlandia vs the true meaning of "world" or "circle." for 계. Most importantly, lacking prior knowledge of these words or failing to make connections among seemingly unrelated things does not prevent one from learning the word from context.
I would learn Chinese characters more systematically after B1 if I were not a native. The complexity of Chinese characters will be less mysterious once you become more familiar with the usages. Let me invent some writing system or a representation of the English language, which could be a nightmare for even natives to handle.
I list them in a progression of difficulties. All these representations are unique one-to-one mapping from English alphabets to others.
Korean 학 for h, and so forth.
One of a binary sequence of 6 digits for h
One of 256 colors from the computer system for h
A Chinese character of more than 26 strokes and with one stroke in different to represent all 26 letters in English
Use a 3-D geometric structure with variation in the degree of angle combined with the position to represent all 26 letters.
The writing system is embedded with an encrypted key, or a different decryption method must be employed to decipher each letter in the message every time.
Another thing we can see again is that the writing system significantly impacts the text's intelligibility and efficiency of a learner to absorb the language.
Learning Chinese characters is not a horror after all.
United States
Now this video I did watch just because it's so charming. We all have to start somewhere!
While visiting Korea and having the time of their lives, we also wanted to give the boys an experience of what the lives of High Schoolers their age in Korea are like. After a full day of Korean School we invited a special guest to help teach the boys Korean, with a special prize in store for the ones who learnt the most! Special Reward video coming this Saturday! Thank you to Sam Hammington for coming in and helping the boys learn Korean! And to Talk to Me in Korean for providing the textbooks! -- 이번에 한국에 와서 우리 영국 고딩들이 할 수 있는 여러 체험 중에 한국 학생으로서의 하루를 꼭 경험하게 해주고 싶었어요. 한국 고등학교에서의 하루 마지막으로, 특별한 게스트를 모셔 우리 영국 고딩들에게 한국어를 가르쳐줬어요. 제일 열심히 배운 두명의 학생에게는 멋진 선물도 준비했고요! 그 두 학생들이 받는 선물은 이번주 토요일 영상으로 공개될 예정이니, 모두 많은 기대해주세요! 학생들에게 한국어를 가르쳐주러 들어오신 샘 해밍턴 선생님과 교과서를 선물해주신 Talk to Me in Korean 께 감사의 말씀을 전합니다! https://www.instagram.com/samhammington/ https://talktomeinkorean.com/
Czech Republic
I can't read the letters, so I'm missing latin sliblings for spelling. In Japanese they have it. So it's easier to learn Japanese as Korean.
Ukraine
Thank you. We'll add the shortly.
United States
I just wanted to comment on the transliteration. If we are talking about the english letters next to the korean.
The korean alphabet is easy to learn but the major problem with transliteration versus say japanese kana is there are so many sound changes rules for example ㅂ ㅁ ㄴ ㅈ ㄷ ㄹ have different sounds depending on the place in the word.
ㄹ can make an L sound if there are two touching like 골라 = go+ la
it can make a tap/soft d noise like the american pronunciation of wa(t)er like in 때리다 = de +dee +da when it touches vowels or is in the middle of words.
or at the beginning of words it makes a softer than english but distinct l noise like 라면 = la + myun this is ramen but with in l sound at the beginning.
this is just the ㄹ block so a computer will not transcribe these noises correctly like the example below also with the doubles and stressed consonants ㅃㅉㄸㄲㅆ and ㅋㅌㅊㅍ transliteration it just ignores these. If korean didn't have these letters and sounds it would still use characters (think japanese) because of lack of sounds/combinations etc.
transliteration puts ㅂ ㅍ ㅃ pretty much as the same noise either p or b but just cause a level 0 person doesn't know the difference doesn't mean it is not important. The korean vowels are also tricky like 아 어 오 우 으 some people cant hear the difference between combinations of these but in order to hear anything one needs to learn these.
한국은 네 계절이 뚜렷하다.
Hangugeun ne gyejeori tturyeotada. (the tranliteration)
it should be hangoogun neh Gay-jul-dee Doo-dyu-saa-da
the difference between these if they arent that big of a deal then there is an argument for having it, but korean without hangul is like if chinese ignored tones or characters etc just because they are "harder" does not mean they should be ignored.
The only critique for lingq of korean is the sheer amount of word forms in the other post we talk about how reaching 200k+ known words in korean is very common for people who become fluent in the language. This is not the case with other languages but I don't know if there is a solution for this. Korean is just a hard language its backwards still basically uses characters for vocab (stupid amounts of compound words), and has more grammar forms than japanese by a long shot.
it is hard to acquaint my korean level I have studied hanja extensively and probably know a few thousand words (its hard to quantify this because of the compound like nature of the vocab) I would say I have a low a2/high a1 level with extreme vocab potential (1400 hanja). I have also spent a lot of studying what makes korean hard as it doesn't use characters but is still considered a category five language by FSI etc. People with higher korean levels will be more adamant than me for hangul because it is the life blood of korean and it takes a week. Hangul is absolutely necessary by the way haha aka transliteration can be added for people that want to learn it like that but please make it be able to be toggled off completely.
United States
Are there any intermediate learners who think that romanization was helpful for them?
My impression is that anyone who advances past A1 decides it was a waste of time to not master the Korean alphabet right from the beginning,
P.S. level ➞ somewhere past B1 trudging to B2
Ukraine
Hagowinchun, Tamarind, and Bamboozled, I thank you all for your thoughts.
I'll get started by mentioning my level of Korean, which is zero. However, my life is intimately connected with Japanese, to Chinese to minor extent, which gives me a naive and deceptive impression it's somewhat similar to Korean.
Korean is a hard nut to crack. No doubts about that. However, I'd like to point out the sheer fact my questions is related to total beginners such as me. That said, hat's off to Bamboozled who accurately has described the fist impression of a Korean newbie LingQer. Intimidating. I don't really know what to refer to. Even Arabic doesn't seem as hard to figure out. Therefore, I would appreciate at least some crutch that would look like transliteration. You claim it's lame and accurate? Good to know, but I'll figure out that later when I master hangul. But now get me at least something to start with or I simply walk away.
United States
the alphabet can be learned just by practicing syllable blocks like the following
(audio is needed in order to learn how these are said transliteration is just bad as these sounds dont exist in english) they are much softer and more east asain sounding or korean sounding haha.
가 고
나 노
자 조
바 보
and then combinations
바보 =idiot (pa-boh) ㅂ = p at the front of words but b every where else. These p and b noises are approximations as the p and b in english are different than every other p and across every language.
가고= verb to go + and particle same thing here ㄱ at the beginning makes more of a k sound and every where else it makes a g sound.
자= x person sleeps
바나나= banana
조= said like "joe"
there are courses like this in the lingq library? lingqing out the syllables is no help so like @ said just learn outside of lingq for 5-10 days and your ready to go. The most annoying part is how people say its the easiest alphabet but tackle it with the tenacity and resolve of any other alphabet and you will be better than fine.
Germany
The request for a crutch (from ) is understandable. I have been using a crutch myself - although a somewhat different one: I have been using some of the korean mini stories from LingQ. Here is an example for mini-story number 20, part A: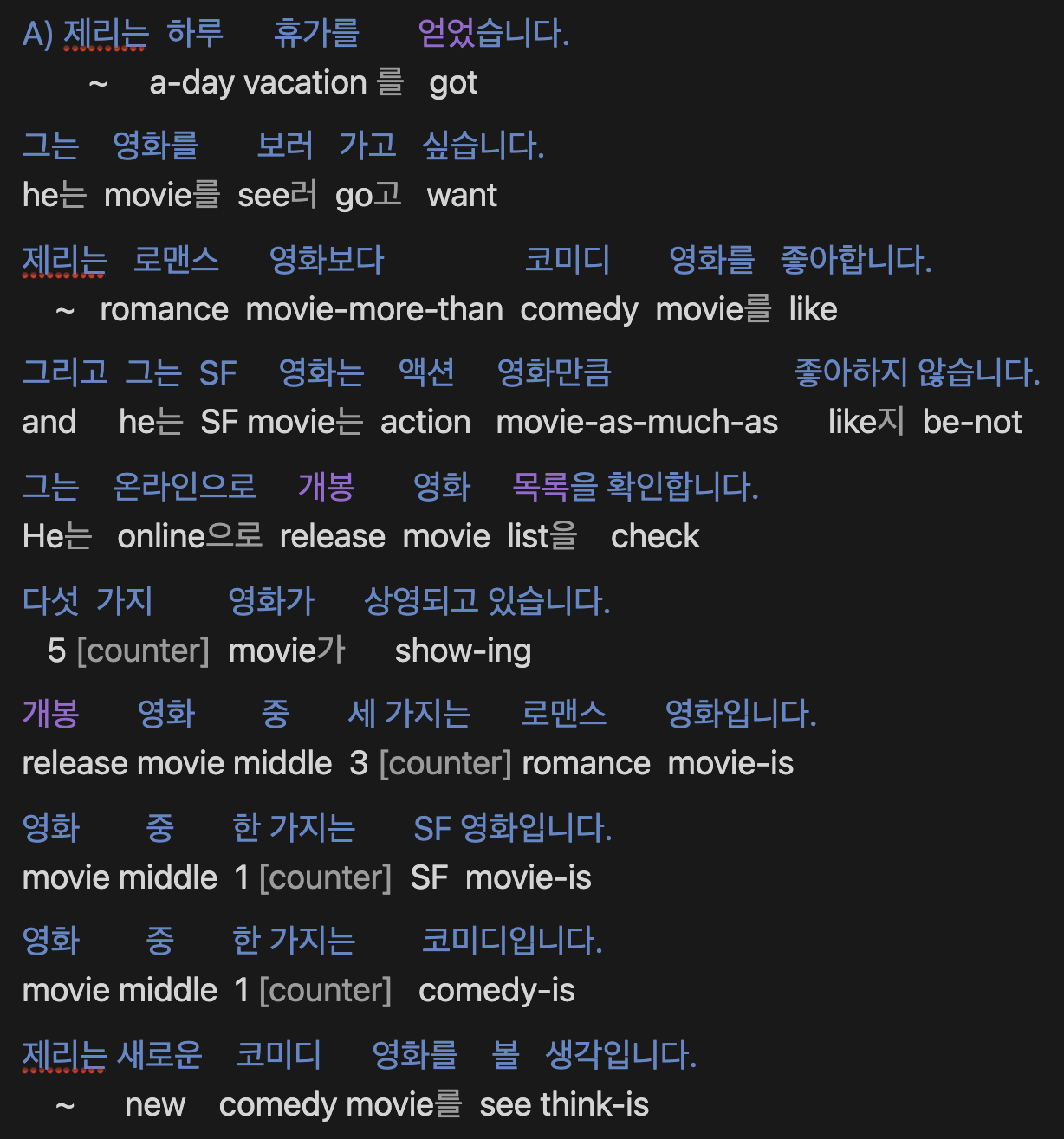 This is a literal translation which I have created.
~ indicates a name
particles, counters etc. which have no English equivalent remain unchanged (in grey color), the same goes for parts I don't understand yet.
Colors: I have highlighted some words which I had trouble remembering.
중: generally translates to middle, here; among [I already knew this, so I didn't need a note]
How I work with this type of crutch:
1. Create the word-by-word translation (export korean text; add spaces between words; add literal translation which I get from LinQ). This requires some effort, but is part of the learning process
2. Listen to the sound of the mini-story and read only the English literal translation at the same time (not the korean text - that comes later). Repeat...
I have done this for approx. 30 mini-stories (part A only) and I would use the same method for other languages that appear challenging to me, like Mandarin Chinese, Japanese or Greek. The literal translation helps me to get a feeling how the grammatical structure works in the target language - probably a much bigger challange for most learners than the korean alphabet 한글. Once I don't need the crutch any more, I will throw it away.
United States
I really like this lol i wish every mini story came with a breakdown like this. It allows one to visualize see the language etc. Obviously once higher levels are achieved sentences and chunks of language are processed without refering to one's native language, but in the beginning stages this is gold. Thanks for sharing this!
Germany
Hey Костя,
adding a transliteration is a great idea. I know that experienced Korean learners look down on this and feel it is superfluous. But to me it would be the difference between learning Korean using LingQ or doing it elsewhere. I would probably just get a textbook to get started or look for other learning resources online. I did play around with Korean on LingQ, but not knowing the script made the process so annoying that I quickly deleted the language again :) I might try again in the future though.
LingQ's official introduction to the Korean writing system was not particularly elucidating: https://www.lingq.com/en/grammar-resource/korean/alphabet/
I would've preferred a more traditional introduction, comprising e.g. consonants: initial, final, aspirated or tense; vowels; and an explanation on how syllable blocks are constructed; and maybe even some exercises. But what is most sorely missing is audio, especially since the transliterations are said to be somewhat inaccurate. It is just really difficult to learn a writing system in isolation to the sound system. So, even after perusing the official introduction I find myself completely unable to even approach "LingQ 101 -Getting Started" - I can't read a single word. It is of course possible I missed something or just didn't do it right. But learning Korean on LingQ seems unusually challenging, even more so than Chinese or Japanese which already feature romanization. (I don't know in how far this problem affects Arabic, Persian Gujarati etc.).
My level in Korean is zero (0), I know nothing.
United States
It'd be great if you all joined us in the Korean library studying Korean! But I absolutely recommend learning the Korean alphabet elsewhere first.
There are a couple of Korean teachers I like who have made videos teaching the alphabet. I learned the basics decades before YouTube existed, so I haven't watched these particular videos myself, but I highly recommend these channels for any level:
Miss Vicky
받침 (final consonant) lesson: https://youtu.be/yE6p6V7UpEY(separate 받침 lesson is finally up!)They say Hangul is easy, but Korean is hard... and as a native Ko...
Learn Korean with Go! Billy Korean
https://www.youtube.com/watch?v=s5aobqyEaMQ
P.S. Don't be disheartened by the fact that I'm only at B1 after starting Korean decades ago. 😂 I started learning but then stopped, and then did absolutely no studying at all for decades. And only restarted again a couple of years ago.
Germany
Fully agree! I used the same videos by the way.
Personally, my impression is that romanization could be harmful to the learning process. If it's there, I naturally tend to look at it. So, dear LingQ-Team, if by all means you should decide to add romanization, please offer at least the option, not to show this / to turn these off. Otherwise this would be a typicall 'Verschlimmbesserung' (German expression of an improvement that actually makes things worse).
My level: Beginner 2 with 4830 known LingQs as per today.
WANT TO LEARN A NEW LANGUAGE?
Learn from content you love!
Sign Up Free