Making a private course public?
Italy
I'm having problems with this as well. I have added text, image, video, audio, level and tags. But when trying to change the status it says it's only possible to do as a librarian? Has there been some change the last few months?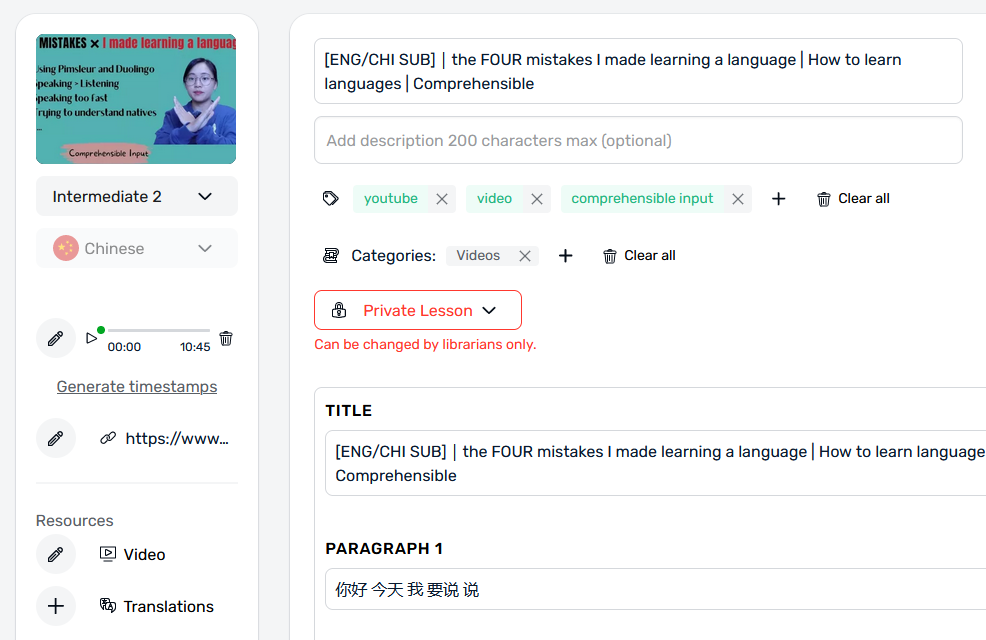 Ukraine
I think that now should not be a problem with, for example, writing this or that work for the school. For example, I could easily find and order an essay here and I can confidently say that they are probably the most competent professionals in this field. I hope that you will be helpful, because often a lot of people are worried about this when writing a paper, whether there is somewhere to get help and so on. So I already know that this is just the same will be able to help with writing a paper of any complexity.
Australia
Thank you for your comment, Darniza. I have now done it successfully.
United States
You are right. Making a private course available to the public would be very helpful. I've been looking for something like this for a long time. And since I, as a student, am interested in different sources, I found https://www.grabmyessay.com/plagiarism-free-essays that I also can't do without in the learning process. For me it is important to do quality homework.
Canada
In my opinion, if students ask for help with their homework, it doesn't mean they are stupid. As a student, I often look for services where they can help with writing assignments. And it is important for me to find a reliable but inexpensive service. I was lucky enough to find such a personal statement writing service and with professional help I got the best personal statement. And I got through the admissions office with ease.
Serbia
Sure, you can share your course from the Edit Course page. Just open the course, then click on the Edit Course under the menu button (three dots). On the edit course page you will be able to select lessons and change their status from Private to Shared.
United States
Not sure what you are talking about. This seems to be a reoccurring problem that frustrates a lot of users. I may be wrong, but in the picture below there is no option to make the course public.
Additionally, I saw your comment from a few months back regarding the requirements for a public course. I understand why Lingq would want users to have the audio, a picture, and other details to make a public course, but that makes the process rather onerous to the community that is (more or less) responsible for generating new content. For example, I noticed the other week that there were no new publicly available Hebrew Courses. I saw one update the other day, but the requirements for a public course are preventing new content from being published. There has to be a middle ground.
It is getting to the point where I spend more time creating a lesson, making audio for that lesson, making sure that the audio is synced with the paragraph etc, than actually studying on Lingq. And for what? coins? learning?
Serbia
Honesty, I don't see "many frustrated users" at all. Courses/lessons are shared by many people regularly every day.
Regarding the screenshot you attached, your first need to select a lesson/lessons you want to share. Just checkmark it and the option to change it's status will be available.
United States
perhaps that was a bit of hyperbole, but when searching how to do it, there are more than a couple requests. Its not an attack, just feedback. I will definitely try your suggestion.
United States
I posted many of the early Hebrew courses. Took me a little time to figure it out and then was quite easy. Once I created a public course, the additional lessons were easy. I made a bunch of them (sometimes paying others for content, sometimes doing it for my iTalki teachers) in the early days of LingQ Hebrew. (Search on my name?) Haven't done any in while as there is now much more content. Have a bunch ready to go, but for copy-write issues...:)
Fair, I haven't done a new one with v5.0, but I think I could get it to work quickly. I was playing with it yesterday.
There is also a great Hebrew teacher (Alisa at the Hebrew Hub) who is creating classes for her students and letting them see her semi-private lessons. I've read a few Israeli novels with her class. She and Zoran got the "classes" feature working last year.
Australia
Thanks Zoran, that has solved one of my problems (changing a course from public to private). Is it also possible to change the image for a course? I have only just started importing some YouTube videos and combining them into a course but would like to use the channel's logo - instead of the logo I inadvertently used the picture for the first video I imported). Hope this makes sense!
WANT TO LEARN A NEW LANGUAGE?
Learn from content you love!
Sign Up Free