Any news on Vietnamese mini stories?
United States
My guess is this isn't going to come out anytime soon. If Vietnamese doesn't come out then I unfortunately have no reason to renew my membership next month. :(
New Zealand
It is definitely very frustrating.
Brazil
United States
I would also like to know
New Zealand
United States
Yeah I wonder but then again I'm surprised Hindi, Telegu or Tamil aren't up. Thai as well.
New Zealand
Telegu and Tamil I understand, wonderful languages but they would only appeal to a small section of LingQ users. Hindi, Thai and Vietnamese however are major languages with broad appeal.
United States
Depends Leon. In US where there are Indian immigrants some places have mainly Telegu speakers, not Hindi. Not sure about Tamil.
Frankly with Catalan being up I'm a little surprised Basque isn't up either.
United States
I also don't understand why there isn't more uptake in most apps for Hindi (Duo and 1-2 others). Hindi is the 3rd most spoken language in the world, so it's baffling (to put it nicely) to me that 30th-40th rank languages show up in more learning apps. Plus 1/3 to 1/2 of other-than-Hindi/Urdu Indian language speakers have Hindi as an L2 or L3, even more so than English.
New Zealand
I suppose most language learning programs don't believe the financial rewards are worth the effort. Pity!
United States
3 more months and nothing at all here
Viet Nam
Hi there, I am Vietnamese.
I would like to record mini stories in Vietnamese.
What do I need to do?
United States
We would greatly appreciate this! I'm not with lingq but I can tell you what I know
I'm not sure if you have to retranslate the ministories but there already 60 translated ministories typed out. I think you have record the mini stories in batches of 10, then submit them to see if they are up to lingqs standard in audio quality. I think it would be better if an admin contacted you with the requirements though.
United Kingdom
Last I heard from Sahra someone was already recording the stories and was supposed to be starting last week. I'm not sure if that is still the case.
United States
justthetwoofusmakeitifneedbe
Canada
Was the vietnamese audio example deleted, or am i just blind?
New Zealand
No, it has definitely been deleted.
United States
@zoran did you ban me from being able to post from dellatsne because I can't post after posting that 😂
New Zealand
Serbia
@ No, there's no any ban on your account. What happens when you try to post from it?
United States
I hit "post comment" and nothing happens.
Canada

5/5
Canada

4/5
Canada

3/5
Canada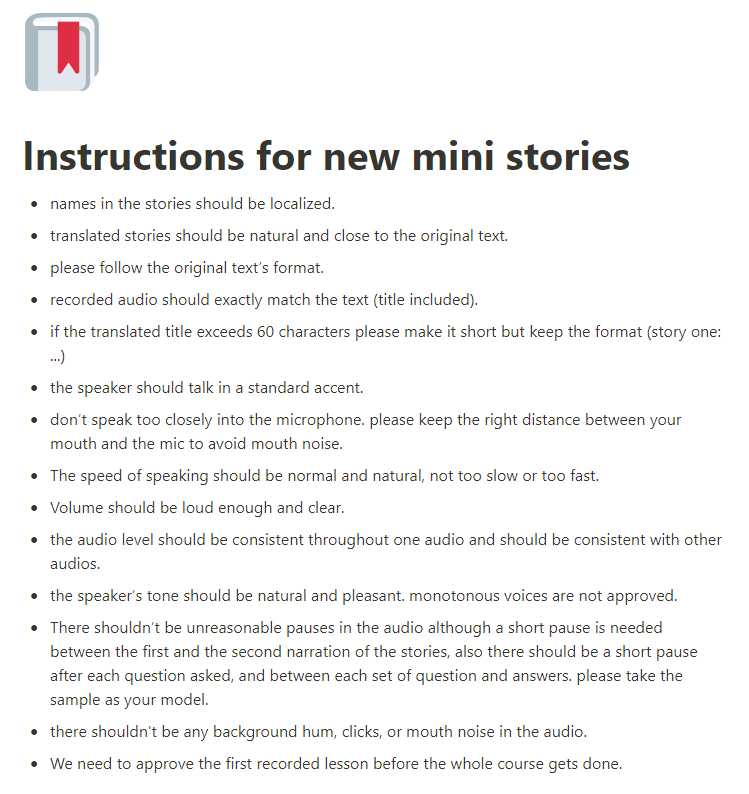 2/5
Canada
1/5

Germany
I would also like to see Vietnamese here on LingQ. At the moment I can bridge the time by learning Turkish...
Canada
The day vietnamese gets added, i will cry tears of joy.
New Zealand
United States
Mình đang khóc hai năm rồi về cái này đến mức mình có thể nói được tiếng Việt không có giúp của LingQ.
Canada
Mình có thể nói tiếng Việt nhưng chưa giỏi, nói cơ sở mà muốn đọc truyện như Cô Gái từ đến hôm qua - Nguyễn Nhật Ánh và quyển như vậy.. cũng đọc tín tức, Wikipedia, etc.
United States
Nội dụng yếu thích nhất của mình là nhạc của rapper Đen Vâu :)
Canada
Mình thích Đen Vâu nhưng thích MCK hơn nhiều.. và thích Paris by night vì bà nội nghe cả ngày haha
Tự Tin, Quyết Liệt, Là Chính Mình là tinh thần MCK và Tlinh muốn truyền tải tới thế hệ trẻ Gen Z. Ta cá tính, khác biệt không có nghĩa là ta hư! Không Cần Cố nói về câu chuyện của các bạn học sinh chuyển cấp, lần đầu bước vào môi trường cấp ba, ai cũng muốn được nổi bật và có tiếng nói của riêng mình. Bài hát mang tới thông điệp tôn vinh sự khác biệt của mỗi cá nhân, Không Cần Cố để trở thành phiên bản của ai vì chính chúng ta là phiên bản duy nhất. ❗ Bạn đã là chính bạn chưa? Đa Sắc Màu - Bật Chất Riêng --------------------------------------------------------------------------- Không Cần Cố - MCK x TLINH l Official MV Starring: MCK, Tlinh Songwriter: MCK, Tlinh Music Producer: RPT.Phongkhin Singer: MCK, Tlinh Arranger: RPT.Phongkhin Sound Engineer: Hung Nguyen Mix & Master: Playground Studio Casts: Dang Huynh Phuoc, Pham Tuan Hung, Hung Dinh, Cham Nga, Do Thuy Trang, Huong Ly, Thuc Anh, Thanh Trung, Vu Nam, Duy Vuong, Huy Dang Talent Managers: Hieu Marlin, Tracy Dang, Huu Phuc, Hayden Nguyen TCC & PARTNERS AGENCY Project Supervisor: Minh Duc - Duy Son Project Manager: Khanh Ly Planning & Creative Team: Nhat Minh - Khanh Ly - Ngoc Van - Quang Vinh - Thanh Hang Social & PR Management Team: Ngoc Van - Nhat Minh - Nguyen Tuyen Account Executive: Manh Tien 84GRND Director: Tu A. Vo 1st AD: Mason Executive Producer: Sammy Nguyen Project Supervisor: Yannick Van Draanen Producer: Thao Le PA: Annguyenhuu, Ha My Runner: Tan Nguyen, Huy Nguyen, Le Trung Hieu Art Director: Dao Nguyen Minh Set designer: Quang Sot Set design: HPH Art Crew M.U.A & Hair: Nam Makeup Stylist: Cao Ly Director of Photography: Nghia Minh Phan Camera Operator: Nghia Minh Phan Focus Puller: Tuan Anh Equipment: TL Productions Location: PIX Studio Offline Editor: Tu A. Vo Online Editor: Mason Color Grading: Hoang Quan VFX: Hung Nguyen, Mason Graphic Designer: Luu Thanh Ha #khongcanco #tlinh #mck #dibaovn #DasacmauBatchatrieng --------------------------------------------------------------------------- DIBAO VIỆT NAM ► Website: https://dibao.com.vn/ ► Fanpage: https://www.facebook.com/dibaovietnam --------------------------------------------------------------------------- Tải ứng dụng POPS để xem MV, liveshow, phim ca nhạc hot nhất: http://bit.ly/app-POPSmusic-1 POPS Music - Kênh âm nhạc trực tuyến hàng đầu Việt Nam. Follow POPS Music: ♫ Subscribe kênh: http://popsww.com/popsmusic ♫ Theo dõi các sản phẩm mới tại POPS App: http://pops.vn ♫ Facebook: https://www.facebook.com/POPSMusicChannel ♫ Instagram: https://www.instagram.com/popsvietnam ♫ Website: http://www.popsww.com ♫ Twitter: https://twitter.com/Pops_Vietnam POPS Music là kênh giải trí âm nhạc trực tuyến lớn nhất tại Việt Nam. Giới thiệu đến người xem những sản phẩm mới và hot nhất thị trường âm nhạc hiện nay. Hãy đồng hành cùng chúng tôi để thưởng thức những sản phẩm âm nhạc tuyệt vời nhất.
United States
Hay quá. Cảm ơn cho giới thiệu mình với MCK. Mình không thể quên Hoàng Thuỳ Linh bởi vì em ấy cũng rất là tuyệt vời. 🤩
Canada
Chị ấy hát hay quá nha. Gina có thích Min hay AMEE k ạ?
[[ Hopefully this conversation shows that there is a very lively Vietnamese community online and many people who want to learn and improve their Vietnamese ]]
United States
I too still want to see Vietnamese on here. That would be super cool.
Canada
United States
Just here to poke about Vietnamese lol Hopefully it'll be added soon! I want to practice with my husband and in-laws.
United States
Many of us also want to study Vietnamese :)
United States
Hey guys, I'm working with some Vietnamese people to get Mini Stories re-recorded. I lived in Vietnam for 3 years and also want to get Vietnamese up on LingQ. Please be patient :)
United States
Yay! That's exciting. So happy to hear 🥰
United Kingdom
That is good to hear, is there any time frame for this? I am learning Vietnamese currently and would love to be able to use LingQ for it as it has helped a lot in other languages I've learned.
United States
I think we'll need to find more volunteers to record the stories. Because the person I found is having trouble finding a place to record quality audio. The big cities in Vietnam are very loud.
United States
Maybe relying on volunteers is the issue. I'm pretty sure I could get someone in Hanoi to record them in a quiet place for a nominal rate.
United States
I'd be willing to donate toward this cause. Anyone else want to set up a fund?
United Kingdom
I would also be happy to donate to this. I feel if lingq would give more information about progress of different languages, people in the community would be able to do more to help get languages added quicker. Such as donating money for recordings/translations or finding volunteers.
United States
I'm also willing to donate for recording vietnamese mini stories
United Kingdom
I absolutely would not donate towards this. Somebody has already gone to huge efforts to get the stories translated and recorded, only for them now to be deemed not good enough. The system for getting new languages set up here is just not transparent enough for me to spend any additional money on.
United States
I was thinking the same thing! I'd donate to this since we as users have been waiting for *checks watch* literal years for this to be added. I'd happily pay someone for their time and efforts. Just wondering the best way to go about it.
Canada
Why do they have to be re-recorded?Zoran at LingQ sent them to me back on June 2, 2021
Serbia
We need them in better quality.
Canada
This is not good enough quality? This is Story 1 that you sent me a year ago. Maybe you can survey the learners on LingQ and see if they find it to be tolerable enough or not. This is very clear for me to understand and follows the script very clearly. I don't think it will be difficult for others to use it. It is comparable to what I find in Vietnamese textbooks.
Do you mean you want it to be consistently the same accent from one audio recording to the next, or do you mean that you want higher quality microphones...?
Most of us are listening to recordings from textbooks like this or similar. In addition, some of us are using Youtube videos to learn from, which often do not use audio quality that is higher than this. Often, it's much worse! If you compare it to other Vietnamese videos on Youtube, it is very comparable or better. Here are some examples:
https://youtu.be/g9CgpowuOjU (TV channel)
https://youtu.be/Py-kThk1C0w (Paris by Night, a very popular Vietnamese show recorded usually in USA)
https://youtu.be/g2dcD1ePZ9c (Government-funded news. Audio quality is similar to attached)
https://youtu.be/C4cxURFhxuY (Popular Rap show in Vietnamese)
https://youtu.be/vHPYImlP0Sk (Popular cooking channel in Vietnamese)
I don't think that anyone who is asking for Vietnamese and who is used to the Vietnamese media available will find disappointment in the previously recorded audio tracks, such as the one attached. I hope you will reconsider this. You can always upload it/add it to the site and then update it later on. It's better to have something rather than nothing.
United States
I could understand everything and would have been so happy to have something this quality when I started learning Vietnamese 2 years and 5 days ago. Re-recording them later would have been fine.
Canada
@GinaNYC I heard something similar happened to the Swahili language. I hope that LingQ reconsiders delaying release of languages. Language learning is never going to be perfect, and a good chunk of new subscribers would come if their target language was available on LingQ.
New Zealand
I don't understand a word of Vietnamese but it sounds quite clear to me. Much better than many of the mini stories already available in other languages.
Serbia
Could be that we don't need to re-record all 60 stories. Our content managers have correct information and Librarians working on it with them know what stories needs to be re-recorded.
Canada
@zoran I tried to email Sahra, but didn't get a response yet.
United Kingdom
I agree, I'd be interested to hear what a "bad quality" recording sounds like. It's a shame there's this potentially useful content there that just isn't available yet on the site.
justthetwoofusmakeitifneedbe
Canada
If its the hard "S" sounds that are the problem, i think that can be partly helped by an audio editor, even.
Viet Nam
United States
Thanks for your post. Any updates Tommy? I'd be very excited to see Vietnamese come to LingQ.
United Kingdom
I was looking to study Vietnamese on lingq when all the new languages are added with 5.0. Comments below say all 60 stories are ready however, in one of Steve's recent videos he said there are only 25 ready. Does anyone know why this is and if we can expect to see Vietnamese in the near future?
Serbia
@tavisoreilly We do have all 60 stories in Vietnamese, thanks to @tuzogep. :)
Not sure at the moment when exactly Vietnamese will be added..
United States
That's good to know. I was a bit confused after Steve's latest video when he listed which languages had all of the mini-stories.
Australia
Still really looking forward to this
United States
Can we expect to see it before spring?
Serbia
United States
Which new languages are being added and what is 5.0? How can we see the new languages?
Serbia
A few languages are on the waiting list, but we'll talk more about it once when we actually get back to adding new languages.
LingQ 5.0 is new web/app version of LingQ that will be released very soon.
Brazil
I remember that Mark said that in LingQ 5.0 it would be more transparent to the users the status about the Languages in Alpha. I hope that you guys are thinking on having a website endpoint with Coming Languages listed and what are the requirements lacking, then it would increase community awareness on how to help "LingQ Librarians" to meet all the requirements.
Germany
Great point! I think the problem is not the working speed at LingQ (they should take the time necessary for the things they want to do) but the communication with the paying community. Make a clear feasible plan and then tell your users when exactly you will release 5.0 on the different platforms and when new languages will be released. The "Coming Languages / Incubator" site is a great idea!
United States
I've been waiting for the Vietnamese stories and checking back here occasionally since I started learning in June 2020. I'm almost to B2 already, so I guess I don't even need them any more 🤷‍♀️
Canada
Hi Gina,
Unfortunately we had some difficulty sourcing high-quality Vietnamese Mini Stories. Since we don't want to start a new language unless we are confident our users will benefit from them, we delayed the rollout of that language a bit. We are doing our best to bring it to Beta - If you know someone who could help us with that, we would absolutely be glad to speak with them!
North
United States
Thanks for the reply. There are several posts from more than a year ago saying you had enough stories to launch Vietnamese, and if I had known before now, I would have been happy to spend some of my own money to commission my Vietnamese teachers' company to submit some stories. Now that I'm kind of past the point where they would be helpful for me, I'm not inclined to spend my own money on it. If LingQ wants to pay for good quality content, please feel free to reach out to YourVietnameseTutor.com. You can tell them I sent you :)
Just to add some info about YourVietnameseTutor.com: Quyên, the founder, was Moses McCormick's Vietnamese teacher for 2 years, and appears with him and almost a dozen of his other teachers in a livestream shortly before he passed. She is speaking at this year's Women in Language conference and is also a university professor, in addition to running her company, and released both a pronunciation course and an intermediate listening course that started as a podcast (available everywhere). She posts on all social media under YourVietnameseTutor (YouTube, Instagram, TikTok) including a recent series of Slow, Short Stories in Vietnamese. The teachers that work for her are excellent as well. I may be biased, but I don't think there is anyone else creating as much high-quality Northern Vietnamese learning content as she is right now.
Hungary
I've just sent the last stories and recordings (46-60) to Zoran. From this perspective, everything is ready to have Vietnamese (northern) on Duolingo, but as far as I know, it will only come after the new platform of LingQ is done. And that will be... no one knows when.
United States
Serbia
@MarkE 25 stories translated and recorded so far. However we won't be adding new languages before we launch site update. Hopefully in June the new version will be up and we will continue.
Hungary
Hey Zoran,
How does the development work usually? After how many mini stories do you start to develop the language on the site, or what milestone do you need to reach, in order to add the language to the "beta" section?
I'm trying to gather some help in translating the stories to Vietnamese, but I also like to know, that after this is done, how long do I need to wait until I can finally learn with them on LingQ?
Italy
This is a similar question I had for Georgian (the mini stories are ready...I think it's been more than 2 month but the developers have not yet decided when to put them onto the site) I guess there is more work involved than one imagines.
Serbia
@tuzogep We need at least 40 Mini Stories before we can add a language. So far 20 stories are delivered in Vietnamese but some volunteers are working on more so we should hopefully have enough soon.
At the moment we are working on our major site/apps update (LingQ 5.0 version) which takes most of our time. Once when we release this major update, we will start adding new languages again.
Serbia
No, sorry. Nothing in Vietnamese so far.
Australia
I know that you here this a lot Zoran, for every language... but I would LOVE to study Vietnamese on lingq with the mini stories,
Serbia
I'll do my best to make your wishes come true as soon as possible, guys. I promise.
Malta
WANT TO LEARN A NEW LANGUAGE?
Learn from content you love!
Sign Up Free