I don't get the LingQ idea
United States
Hey guys, we hear you about the 20 LingQs limit being very limited and maybe not giving you a decent opportunity to determine if LingQ Premium would be worth it. You can get 100 additional LingQs by either signing up with a referral code or getting a friend to sign up with your referral code. Please try that.
Australia
But how can you recommend the software to someone else, when you don't even know if it's worth it for yourself?
Canada
Is it possible, is there a way, to have a sentence repeat continuously until you are satisfied that you are catching all the words? Regards and thanks.
Canada
@James01 - Really, the purpose of LingQ isn't to drill individual sentences until you get them. It's more about letting the language wash over you while creating LingQs for new words. You can move on to new lessons or review old lessons. The Listening mode where you can read along as the audio plays is quite helpful in trying to get your brain to catch up with the audio initially. But, in general, you should just be plowing ahead rather than drilling sentences.Read lessons while creating LingQs, listen to those lessons in listening mode if you like, or on the playlist while doing other things, occasionally go back and re-read a lesson.  
Over time, your brain will catch up and you will understand more and more and realize you now know many of the yellow words. It takes belief in the method and spending the time. Don't sweat it. The results just happen. But, you're better off to move on after a reasonable time rather than staying in the same lesson trying to nail it down. 
Canada
Thanks, Mark. You make lots of good points. I was wondering about the feature because I have found myself occasionally wanting to try to catch what is being said, to see if I can actually hear all the words being spoken (instead of having to back up the audio with my cursor). Regards.
Spain
Hey James. In the app you can kind of do that by clicking up on the scrolling text. I wish the website did it. If you're on youtube, the Language Reactor chrome plugin can make this easier.
Also, this AI transcription site (free), https://revoldiv.com/, could accomplish the same thing (I wish LingQ did it EXACTLY like this).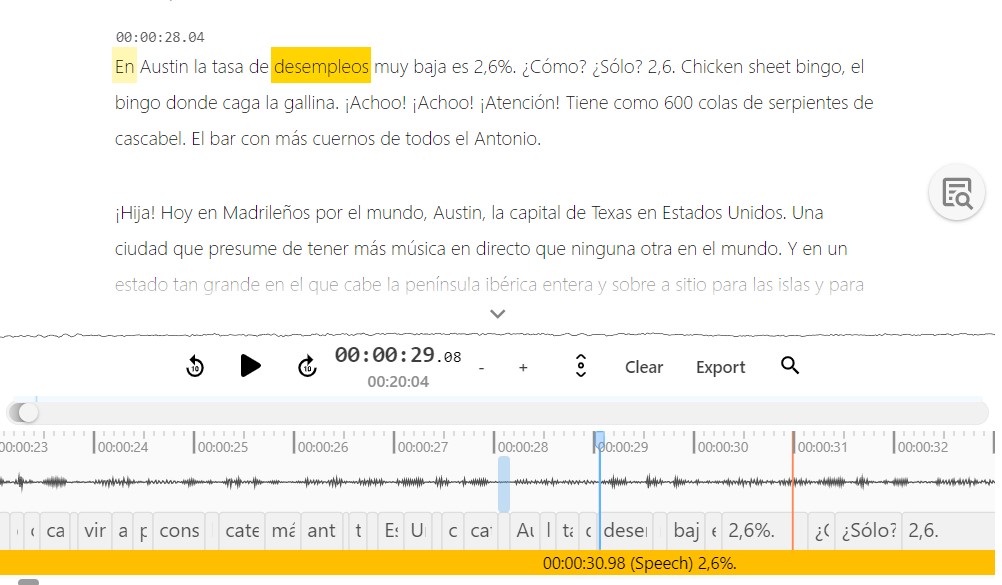 Canada
Thanks, Stewart. Wow. You really have a good handle on this kind of thing! :)
Canada
Makes sense. I recommend the 5s rewind buttons in the player to jump back. Especially doing this in Listening Mode. Or, in Sentence View simply leaving your cursor on the sentence audio button and continuing to click it while reading along. Not to mention the s keyboard shortcut to play the sentence audio.
Austria
Listening mini stories is a bit difficult. I am not concentrating on the story when I walk. Or is it not necessary because the brain is still listening
United States
Steve says his attention often drifts off— but then maybe drifts back on.  But I do think it's more effective if you do pay attention.  If you tune out you can't really learn though there is some marginal benefit I think.
Austria
20 LingQ limit for free accounts, but I paid for one month to see how it is. I liked it, so I paid for one year. I tried Babbel for over a year, memories, Duolingo and drops. Sadly, I have a lifetime subscription to Babbel, but maybe I go back when I learned a lot of vocabulary on Lingq.
Singapore
same I was skeptical of Duolingo coming from memories but realised the duo lingo league tables helps to distract from pain of learning great for competitive ppl.  I was attracted to this for videos and TV shows. seems to require more conscious learning.  still early days so ill try a little harder but I feel Duolingo will be my staple. 
United States
I credit Lingq for establishing my first foothold in learning Korean. Some basic features have made a considerable impact on both my learning style and efficiency. Firstly, electing a lesson based on the percentage of unknown words enhances the readability of the text. Secondly, the simplicity of looking up definitions with linked online dictionaries saves tons of time. The highlighted or lingqed words are the last and least noticeable, which help me retain the less familiar vocabulary with greater efficiency as I follow along in the reading. All these may mean little to a beginner in using Lingq, but it makes a world of difference as we can talk about reading books, watching TV series, and Youtube channels of particular interest, etc., in a much shorter time frame than we expected. I have constantly reminded myself that personal time and effort are an essential part of the equation besides excellent tools.
Belgium
exactly! The time and effort you spend on learning a language (or anything else) is essential, it's the most essential. Having the right tools, will help to spend more time on learning. I love the spaced repetition in LingQ and the daily alerts. It's the first thing I go through when starting my session daily.
Good luck with your study!
United States
You can't do much with a free account, but I can attest that reading and listening to content in LIngQ is so much superior to Duolingo that there is no comparison. Reading and listening to self-selected content is vastly superior to translating millions of sentences and having cartoon characters treat you like you are a pre-schooler.
Austria
I'm on Lingq 38 days. I was learning Spanish with Babbel over one year and I thought I will never learn Spanish. Almost nothing stuck in my brain. Now with Lingq I can read easy stories. Babbel helped me a little bit with grammar, though.
United Kingdom
I've learned Japanese from scratch on LingQ. It was harder than, say, Russian, because the Japanese writing system is truly frightening. But other than that, it's the same as learning any other language. You find content that interests you, at a level that you almost understand, and you keep reading.
I import Agatha Christie novels into LingQ and read them. My main problem is that it is hard to find DRM free translations in Japanese. If anyone can recommend a source of Japanese novels in PDF form, I would be very interested ;-)
You do need the premium version though. The free version isn't worth the money, so to speak.
United States
I've talked about this before, but I came into LingQ understanding what I wanted was an audio-reader software that made tracking words easier. I had essentially re-invented this concept in calibre, highlighting 5 words/page I didn't know and looking them up in wiktionary/glosbe/etc. After reading a book doing this I thought, someone has to have had this idea before and found LingQ.
For the core functionality of LingQ to click for you, you need to buy into the idea of extensive reading, and tools that make extensive reading more accessible sooner.
As a complete beginner looking to start Japanese, you may benefit more from other tools first as others have suggested. There are of course Mini Stories and you could get mountains of short story content from ChatGPT now (at your own peril), so it is certainly possible to learn only using LingQ, but it may be more efficient to use a more structured approached.
In particular with Japanese you have the mountain to climb of 3 writing systems, and one being logograms. SRS is your friend here -- Memrise and Anki.
United States
Some other suggestions (i learned chinese but hey, kinda similar)
Like peter said, LingQ is great but you need a bit of a base to start with LingQ if you are learning chinese / japanese vs a related language
Get some basic grammar down, read a bunch of graded readers (https://dokushoclub.com/2022/02/12/graded-readers/) while cramming kanji with an SRS tool (some people like wanikani or remembering the kanji or mnemonics with anki)
the mini stories aren't really that great for japanese / chinese beginners since they throw a bunch of random characters that aren't necessarily N5/N4 beginner level
But while getting a good N5/N4 base down, LingQ can still be used! There are some great beginner resources that people have uploaded - search for "comprehensible input" and go through a lot of those while learning the kanji / basic grammar. The vocab will come from reading a lot (like a lot....like way more than you think...) - the trick is to get in the habit of reading a little more every day and keep up your streak!
after you get a base you can start the fun part, by uploading your own content! Get webtoepub google chrome extension and you can import a lot to stories from https://syosetu.com/ or find your own epubs to upload
Believe me, reading webnovels (especially with LingQ's TTS!) is a super fun way to learn a language - you'll stall out very quickly with duolingo
Belgium
webtoepub google chrome extension
thanks for the hint! I now put it on my computer already. It may become handy!
Germany
Hi grizzlyfoxcat,
Here a few suggestions for your challenges / issues:
1) Ask Zoran (the LingQ support) to raise the threshold to 100 or 200 LingQs.
However, this may not be sufficient for Japanese. In this case, you could use ReadLang (https://readlang.com/) for a while to learn the ropes about (Audio-)Reader based second language acquisition.
If I remember correctly, Japanese is implemented as a beta version in ReadLang. Unfortunately, I don't know how user-friendly this beta version is. I've used ReadLang only with Spanish and Portuguese.
2) The more interesting question is if you should use LingQ for Japanese as an (absolute) beginner.
I've been learning Japanese for about 2.5 years and I'd say no. Starting with LingQ immediately and from scratch is great for close second languages (in my case - as a native speaker of German - other Germanic or Romance languages), but Asian languages with pitch accents (like Japanese) or tones (such as Mandarin, Vietnamese, etc.) are different L2 beasts (at least from an Indo-European native speaker perspective).
After testing countless apps and approaches with Japanese (Duolingo, Assimil, Anki decks, Memrise, Skritter, Michel Thomas,JapanesePod101, LingQ, etc.), I'd say you'll  probably be happier with AudioReader software such as LingQ if you lay a solid foundation first.
Here is my list of recommendations for Japanese as a beginner:
Pimsleur as a grammar light, speaking first approach (https://teamjapanese.com/pimsleur-japanese-review/)
The Memrise Japanese courses 0-7 (esp. the paid version with videos from natives is excellent) https://app.memrise.com/de/courses/english/japanese-4/
Skritter for Japanese (https://skritter.com/) - just reading in kana and kanji is way too passive for my taste, but writing these characters yourself is highly effective.
The foundational and advanced Michel Thomas courses are great for understanding the basic grammar patterns in Japanese, which gives a huge motivational boost. In my opinion, these are "must have" courses.
After those courses, I'd start either with Assimil or LingQ's Mini Stories (in fact, I'm using both right now :-)), then I'd continue with a few hundreds "Learn Japanese with Noriko" lessons that are already imported into LingQ (https://www.lingq.com/en/learn-japanese-online/courses/887822/) and use Roger Lake's / Noriko Ura's Audio Lessons and Readers (https://www.japaneseaudiolessons.com/how-to-read-japanese-and-learn-kanji/).
The rest is straightforward for me (at least from a reading while listening point of view):
reading longer non-fiction texts / light novels in LingQ
importing Netflix shows into LingQ
and finally, a few thousand hours later, just reading / listening to what I want in Japanese.
Notabene: Further grammar resources for Japanese I'd recommend are
Good luck,
Peter
PS - 
I'd add 
deepl.com
and
ChatGPT for Japanese to the tool zoo mentioned above. 
See, for example:
https://medium.com/illumination/i-used-chatgpt-to-teach-me-japanese-fast-here-is-what-i-learned-in-20-minutes-c26895cc2941
Canada
Thank you SO MUCH! I'll take a look at all of your suggestions!
Ireland
I first stumbled upon LingQ about 15 years ago. I'd seen a video of Steve's and thought I'd give it a go - the free version anyway.
I really just didn't get it. Ran out of LingQs almost immediately, and thought it was a complete waste of time. Any time I saw one of Steve's videos pop up on YouTube I thought "I'm not watching that, it's just the guy who likes to plug that weird, annoying app that serves no clear purpose".
I'm not sure what changed. I did eventually watch Steve's videos and something chimed with what my language learning experience had been up to that point. Maybe because I was no longer a poor student I didn't baulk at the idea of paying for a subscription for something. Either way, I gave it a go just over a year ago and can confirm it is very useful. I use it to top up my French and Spanish which are already quite good, and I started Italian from scratch and am now on my second novel in Italian. I plan to dedicate more time to Greek in the coming year, and wouldn't think of not having LingQ as my go to tool for doing that.
So, in short it's a fantastic tool. Very effective. But the limitations of the free version are pretty much the main reason why LingQ didn't have over a decades worth of business from this customer
Spain
Ya this 20 LingQ limit is probably why I can never get my students to purchase even a monthly subscription to try it more. For me and many, LingQ is valuable, but it's hard to know if it's worth it for you without letting you try it more. I know the first time I tried LingQ, I immediately closed the site because I already hit the paywall limit in 2 seconds and didn't know how LingQ gave me any value. I can't imagine how many users have been lost with this odd strategy. Completely shooting themselves in the foot. Raising it to 1000 LingQs or 100 Known words or something would do LingQ wonders to experiment with. The only reason I came back was when I was struggling in the beginner stage forever, and I thought, "man, if only there was some tool that does (what LingQ does)" and found lingq again with my google search terms, came back and THEN it dawned on me how useful it is and I signed up. From there I saw all the other excellent features. It is odd how we humans don't blink to pay $10-20 for a single language lesson, a single meal, a single drink, but then we have this gut reaction and scoff at even being forced to pay for a $1 subscription if we don't get to try an app/website for more than 7 Days. But LingQ is very stubborn to change and this is just the introduction to that. So, welcome to LingQ! A great tool with lots of odd quirks!
Germany
"But LingQ is very stubborn to change" regarding the trial period.
Yes. And Mark Kaufmann has responded countless times on the forum that they have done (AB) testing that showed that learners were more willing to subscribe to LingQ when the threshold was 20 rather than more LingQs.
Either there is something wrong with the tests or the learners are even more quirky than LingQ :-)
United States
People might not upgrade for many reasons. When you really get down to it, it really just helps track and put everything in one place. Plus the reader is really helpful. But like for me I could pretty easily use my Google Pixel to read similar to the reader, just no LingQs. It's just a convenient service.
Reasons they might not upgrade:
Don't like reading, most people I know wouldn't use it for that reason.
Don't want another subscription.
Already paid for or have too many other resources, as is I have a hard time managing my time between resources and lingQ -- most of which I can't even use on LingQ like language exchange, paid course or protected ebooks from Google Books.
Too complicated, when I joined, there wasn't a walk through or anything that was obvious. It took me a couple days to figure out the benefits and if it was really worth it. Which I submitted as my first suggestion.
They just don't have enough time to offset the cost. I doubt most people sign-in daily. The monthly sub is $12.99/mo, $3.25/wk, $0.46/day.
And I don't really like the fact of advertising a "free level" if it's as usable as people keep saying. Yeah, restrict it but at least allow them to read and it would build the community and imports. Or they might as well just provide a free 7 or even 3 day trial, preferably no card required.
Germany
Hi krisnd, 
I agree with most of what you wrote - and, personally / from a business point of view, I'd change quite a few things in LingQ (esp. the "cancel" option, which is so frustrating for many learners who just want to downgrade their accounts).
However, we're just LingQ "users" and don't have a say in how LingQ is run as a business. So the discussion about the low LingQs threshold is just a waste of our precious life time. 
Or, to put it differently: If Mark writes again and again that the 20 LingQsthreshold is far more effective reg. LingQ subscriptions than higher thresholds (100, 200, etc. LingQs), then I believe him. 
Yes, it's "counterintuitive", but AB tests don't lie (until they do :-) )...
Have a nice WE,
Peter
United States
Yeah, I got nothing against you in any way. I'm more surprised and disappointed that apparently that is their primary source for testing. And correct, we're just users we don't really have an impact or say really - nor should we, only suggestions.
"Yes, it's "counterintuitive", but AB tests don't lie (until they do :-) )..." -- There are lots of credible sources stating how bad A/B testing is and how it may show insight but it's on a case by case basis and should never be solely relied on. No two people are the same in such a niche market where there is already a high fall out rate.
Although, I'm more than willing to agree to disagree with you. I don't think either one of us are willing to move on the "A/B testing" being effective or not 😂 It's much more effective in a field like engineering, which happens to be Kevins degree. Like when testing physical items.
I posted these messages in hopes somebody who might be able to do something sees them and might look into it. I've fallen in love with LingQ and it works well for me. It's disappointing how inactive the community is and how bad these common experiences are.
Thank you for your time and have a great day as well.
Russian Federation
Maybe small limit is more effective for getting new subscriptions (similar to how video games without demo get more purchases), but do these subscriptions stick?
Some people may want to subscribe, just to see further what's Lingq is about. But if they don't like it eventually, they'll probably just unsubscribe.
Although here's probably where the second part of strategy, such as hiding Cancel button kicks in.
Canada
Times change, habits change, your demographics for an app changes over time.
With that said, why not create a tutorial where lingqs are free WHILE IN THE TUTORIAL. Then, when you finished the tutorial and saw everything the system has to offer and move on, your LingQs are reset and you start with the 20 limit.
Lots of games do that. "Task: Create a LingQ. Here, any LingQ you create during the tutorial is on us, but be aware as soon as you finish the tutorial you'll only have 20 for free. Go ahead, create a LingQ!" -- or something like this.
United States
I agree, allowing a little more for new users would increase the amount of paid accounts. Doing something like you stated, allowing 1000 LingQ's would at least allow them to try it out for a bit, I could do 1000 LingQ's a day if I'm using new lessons.
I could understand your statement about $10-20 for many things without blinking but I think the main thing is the fact it's a "subscription". I would be more willing to drop $50-100 on a course I can review over and over. But $12.99/mo, over $100/yr, it adds up quickly and I think subscriptions are starting to get a bad rap, there's a lot of people with several every month already so they think of the impact more.
Now of course, I think it's worth it, for now. But at some point it's not going to be as useful as it is while very actively learning.
And apparently, whenever I decide to downgrade my account all my premium data is deleted, so I'll probably be several hundred in and it'll all get deleted. That's really the biggest thing I disagree with. But it is a great service still.
Germany
"I agree, allowing a little more for new users would increase the amount of paid accounts."
Well, there are "opinions based on gut feeling" and there are "opinions based on AB testing". I trust the latter. And it seems Mark Kaufmann does the same :-)
United States
Please check my other post right above this one where I talk more about it and put some bulletins points.
I really think they should listen to these new users who are explaining they can barely test the product. And there are many articles out there talking about issues with A/B testing, it's not a sole way to base everything on.
Germany
I agree A/B tests are not a kind of "panacea". 
However, you and me are not LingQ. That is, if Mark / the LingQ team are convinced that the road to subscription hell - sorry, I meant: "heaven" :-) - is paved with low LingQs thresholds, so be it. 
United States
Hey Stewart, get your students to sign up with your referral link. They'll get to start with 120 LingQs on the free plan. And you'll earn referral revenue if they subscribe to Premium.
United States
It's monthly so you don't get sucked into a big annual purchase and you can still try it out. But it is a big drawback that there isn't a good free option to really try it first or like DuoLingo where you can actually do the whole course for free. Most people like LingQ after they've learned the basics somewhere else. But some people like it even as beginners. It doesn't hold your hand at all. There is some beginner content and the app dictionary will probably give good definitions for it as opposed to looking up words from randomly imported content - it fails a lot but it facilitates using Google Translate or other web dictionaries.
If you enjoy reading and really want to try I say go for it.
I don't know about other users but I don't use any of the provided learning content on LingQ (or anywhere even.. I hate content designed for learners). I import my own books and articles to read. I'm a bit of an experienced language learner though.
A lot of Japanese learners like the Genki text books. I would recommend that if you're a complete beginner and feeling lost.
United Kingdom
We're a mixed bunch here.
I wouldn't dream of wasting my time importing material - too time consuming, and time I could be spending learning - and much prefer to use the already existing content than to make an effort to bring in my own material. Albeit my LingQing days are long gone.
As for 20 Lingqs, some of us easily get the idea after a single LingQ.
If LingQ gave away a 1000 LingQs, there'd be many that would end of using the system for free forever. 
grizzlyfoxcat, I think you've already got a slight grasp of the LingQ idea, what you really mean is you don't want to pay a month's fee of less than $15 thoroughly exploring it :-)
If you don't wanna pay, you don't wanna pay!
United States
It takes me seconds to import a book.
United States
same …..in my advanced language most of my material is imported.  It's fairly easy to do.  And if you think of Lingq as an ereader assistant, that's what you should be doing.  Though I think it would be nice if there were already more interesting books+ audio already uploaded — thank you to those who uploaded the francais facile podcast, it makes it really easy for me :-D  
1000 words is about 3-4 pages, hardly exhaustive.  Don't see how that would mean using Lingq free  "forever." The concept of Lingqs only really comes through when you see the same word in different lessons, anyway.  Otherwise "saving it" doesn't mean anything and you don't get a sense of what a Lingq is. 
Canada
I understand the business decision to limit the free user account. I get it, truly. I work for a mobile video games company, and if there's something we do good is to set up paywalls :P
My questioning for this strategy is that this limit is stopping me from even finishing the tutorial. I am not even allowed to see what the platform has to offer in a structured and guided way, because of this limit.
Yes, I've got a good grasp of what the platform is about, but I question the design decisions very much :P
Canada
Thank you. I never heard of the Genki books. I'll give them a look.
United States
That is my use too. I import my own books into French and Spanish and that is 90% of what I use. Occasionally, I will browse the available content and read or listen to something if it catches my attention. 
United States
This is one of those scenarios that I think pops up all of the time. I really don't understand why LingQ hasn't changed the LingQ limit for people that just want to try the site out. A 20 LingQ limit is just not enough for someone to really get to know how LingQ works and if it's worth their time and money. The LingQ limit should be around 1,000 lingQ. That way people can finish quite a few lessons and start to notice themselves learning new words, and really get a taste of what lingQ is all about.  
United States
This is a perfect solution
United States
Absolutely! The free-trail is useless to the point of not actually having one. Especially since they have (or had, maybe they changed) that dumb feature set by default where turning the page auto-lingq's everything. You pull up a lesson, turn a page, and bam, free trial over before you have any idea what's going on. 1000 lingqs would be much more reasonable, if not more. Lingq is awesome (though quite buggy). Let people get a taste and get hooked. (and duolingo can **** ** *****, only as a last resort would I resort to it, such an inefficient use of time)
Germany
After trying to learn Hungarian for months, trying a dozen apps, buying lots of books and a language course, I came across LingQ. I quickly realized that it was exactly what I was looking for because I had previously read alot about the Birkenbihl learning method. I wanted to get away from the dull vocabulary using flashcards and wanted to find something that was really fun.
In my opinion, the free version of LingQ is not enough to get to know the platform. I recommend buying at least one month and using it intensively during that time to decide whether you want to pay longer or even buy an annual subscription.
I don't think you can say that LingQ is THE solution for language learning, but it supports very well and is more fun than many other solutions. But you should always decide that for yourself.
United Kingdom
With Duolingo, I clicked what I needed to to get to the next screen.
With LingQ, I've read 1,000,000 words in my target language with audio and English subtitles. I can use a version of the Comprehensible Input approach to lanugage earning where you read what's very interesting and in a way you comprehend it (normally graded readers, but in my case, subtitles). Modern research supports this far more than traditional methods might indicate.
Russian Federation
Basically Lingq is just a reader "with benefits'.
I don't think it should be the only thing what you're doing with your target language.
It doesn't really help with grammar studies, and listening mostly TTS content is not a good idea (although you can also work with videos on Lingq).
If you're just a beginner and have little experience with foreign languages, you'd probably be better with some more structured course, before engaging into extensive reading. Lingq doesn't really "gets you by the hand" as some other apps. 
But as a reader Linq is very good. It lets you upload your own content, allows you to look for any word and mark it easily, as well as keeps your word database for you, so you can know have you ever met this word before.
United States
I completely agree, very well said. I have enjoyed LingQ but of course it's not an all-in-one product. I use it probably 50% of my study time.
It's great for building vocabulary.
Keeping track of your stats.
Importing content as that is the main benefit.
It's a great reader for multiple forms of content.
Practicing and learning to read.
Socializing with the community.
I do wish I didn't upgrade so quickly, as I don't remember getting any pop-ups or anything. I seen something before about how it basically makes it almost unusable but I find that hard to believe.
United States
I mean it's true. Without a subscription you can't save any new words.
United States
I have discovered quite a few podcasts with real people speaking and listen to quite a bit that way. Actually the LIngQ podcast is pretty good and all about language acqusition, I have gained from that.
United States
Can you recommend me the podcasts you like? 
United States
Yeah, you can't do much with the free version. It's really just enough to figure out how the program works. I think it lets you import a lesson which is worth trying out.
IMHO, LingQ is much better for learning vocabulary *in context* compared to Duolingo. It's probably drier and less fun, though.
Jordan
"It's drier and less fun"
Import, Import, Import. This allows you to study what you like. Also, you can make playlists for all of your imported lessons.
After you make Lingqs for your lessons, listening becomes a little easier.
The free account is very limited, but for the material you gain from using Lingq (especially learning more known languages) 15$ a month isn't much.
WANT TO LEARN A NEW LANGUAGE?
Learn from content you love!
Sign Up Free