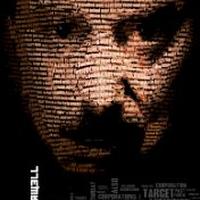 1984-George_Orwell, 1984 (7)
The Low and the Middle would not wish to stay in their places and would not need to.
The Middle and Low are kept in their places by their belief in the wars that none of the three countries can win. So the Party has to end independent thought and make people believe everything they are told. The Party must know what every person is thinking, so they never want to end the war. War continues, always and for ever.
People are given somewhere to live, something to wear and something to eat. That is all they need and they must never want more. They are given work, but only the Thought Police do their work really well.
All good things in the world of Oceania today, all knowledge, all happiness, come from Big Brother. Nobody has ever seen Big Brother. He is a face on posters, a voice on the telescreen. We can be sure that he will never die. Big Brother is the way the Party shows itself to the people.
Below Big Brother comes the Inner Party, which is now six million people, less than 2% of the population of Oceania. Below the Inner Party comes the Outer Party. The Inner Party is like the mind of the Party and the Outer Party is like its hands. Below that come the millions of people we call 'the proles', about 85% of the population.
A Party member lives under the eye of the Thought Police from birth to death. Even when he is alone he can never be sure he is alone. He will never make a free choice in his life.
But there is no law and there are no rules. They are not necessary. Most people know what they must do - in Newspeak they are 'goodthinkers'. And since Party members were children they have been trained in three more Newspeak words: 'crimestop', 'blackwhite' and 'doublethink'.
Even young children are taught 'crimestop'. It means stopping before you think a wrong thought. When you are trained in 'crimestop' you cannot think a thought against the Party. You think only what the Party wants you to think.
But the Party wants people to think different thoughts all the time. The important word here is 'blackwhite.' Like many Newspeak words, this has two meanings. Enemies say that black is white - they tell lies. But Party members say that black is white because the Party tells them to and because they believe it. They must forget that they ever had a different belief.
'Blackwhite' and 'crimestop' are both part of 'doublethink'.
'Doublethink' allows people to hold two different ideas in their minds at the same time - and to accept both of them. In this way they can live with a changing reality including a changing past. The past must be changed all the time because the Party can never make a mistake. That is the most important reason. It is also important that nobody can remember a time better than now and so become unhappy with the present. By using 'doublethink' the Party has been able to stop history, keep power and...
'Julia?'
No answer.
'Julia, are you awake?'
No answer.
She was asleep. He shut the book, put it carefully on the floor, lay down and put the blanket over both of them. The book had not told him anything he did not already know, but after reading it he knew he was not mad. He shut his eyes. He was safe, everything was all right.
When he woke he thought he had slept a long time but, looking at the old clock, he saw it was only twenty-thirty. Outside he could hear singing. It was a song written in the Ministry of Truth and a prole woman was singing it. If there was hope, thought Winston, it was because of the proles. Even without reading the end of Goldstein's book, he knew that was his message. The future belonged to the proles; Party members were the dead.
'We are the dead,' he said.
'We are the dead,' agreed Julia.
'You are the dead,' said a voice behind them.
They jumped away from each other. Winston felt his blood go cold. Julia's face had turned a milky yellow.
'You are the dead,' repeated the voice.
'It was behind the picture,' breathed Julia.
'It was behind the picture,' said the voice. 'Stay exactly where you are. Do not move until we order you to.'
It was starting, it was starting at last! They could do nothing except look into each other's eyes. They did not even think of running for their lives or getting out of the house before it was too late. It was unthinkable to disobey the voice from the wall.
There was a crash of breaking glass. The picture had fallen to the floor. There was a telescreen behind it.
'Now they can see us,' said Julia.
'Now we can see you,' said the voice. 'Stand in the middle of the room. Stand back to back. Put your hands behind your heads. Do not touch each other.'
'I suppose we should say goodbye,' said Julia.
'You should say goodbye,' said the voice.
There was a crash as a ladder broke through the window. Soldiers came in; more came crashing in through the door.
Winston did not move, not even his eyes. Only one thing mattered: don't give them an excuse to hit you.
One of the soldiers hit Julia hard in the stomach. She fell to the floor, fighting to breathe. Then two of them picked her up and carried her out of the room, holding her by the knees and shoulders. Winston saw her face, yellow with pain, with her eyes tightly shut as they took her away from him.
He did not move. No one had hit him yet. He wondered if they had got Mr Charrington. He wanted to go to the toilet. The clock said nine, meaning twenty-one hours, but the light seemed too strong for evening. Was it really nine in the morning? Had he and Julia slept all that time?
Mr Charrington came into the room and Winston suddenly realized whose voice he had heard on the telescreen. Mr Charrington still had his old jacket on, but his hair, which had been almost white, was now black. His body was straighter and looked bigger. His face was the clear-thinking, cold face of a man of about thirty-five. Winston realized that for the first time in his life he was looking at a member of the Thought Police.
CHAPTER NINE
Miniluv
He did not know where he was. He thought he was in the Ministry of Love, Miniluv, but he could not be certain.
He was in a high-ceilinged, windowless cell with white stone walls. It was bright with cold light. In this place, he felt, the lights would never be turned out. One moment he felt certain that it was bright day outside and the next moment he was equally certain that it was black night. 'We shall meet in the place where there is no dark,' O'Brien had said to him. In the Ministry of Love there were no windows.
He thought of O'Brien more often than Julia. He loved Julia and would not betray her, but he did not think about what was happening to her. Sometimes he thought about what they would do to him. He saw himself on the floor, screaming through broken teeth for them to stop hitting him. O'Brien must know he was here. O'Brien said the Brotherhood never tried to save its members. But they would send him a razor blade if they could. One cut and it would all be finished.
In his cell, there was a continuous noise from the machine that brought air in from outside. A narrow shelf went round the wall, stopping only at the door, and at the end opposite the door there was a toilet with no wooden seat. There were four telescreens, one in each wall.
He was hungry. It might be twenty-four hours since he had eaten, it might be thirty-six. He still did not know, probably never would know, if it had been morning or evening when the soldiers took him. Since then he had been given no food.
He sat on the narrow shelf without moving, with his hands crossed on his knees. He had already learned not to move too much. If you moved around they shouted at you from the telescreen. But he wanted food so badly, especially a piece of bread. He thought perhaps there was a small piece in the pocket of his overalls. His need for the bread grew stronger than the fear; he put a hand in his pocket.
'Smith!' shouted a voice from the telescreen. '6079 Smith W! Hands out of pockets in the cells!'
He crossed his hands on his knee again. There was a sound of marching boots outside. A young officer, black-uniformed, with an emotionless face, stepped into the cell. He waved to the guards behind him and they brought in a man who they were holding by the arms. It was Ampleforth, the man who re-wrote poems for the Party. The cell door closed behind him.
Ampleforth walked up and down the cell. He had not yet noticed Winston. He was dirty, wore no shoes and had not shaved for several days. The hairy half-beard gave him a criminal look that was strange, with his large weak body and nervous movements.
Winston thought quickly. He must speak to Ampleforth even if they shouted at him through the telescreen. It was possible that Ampleforth had the razor blade for him.
'Ampleforth,' he said.
There was no shout from the telescreen. Ampleforth stopped walking up and down. He seemed surprised. It took him a moment to recognize Winston.
'Ah, Smith!' he said.
'You too!'
'What are you in for?'
Ampleforth put a hand to his head, trying to remember. 'There is something...' he said. 'We were working on a poem and I didn't change the word "God". It was necessary, in the poem. There was no other word. So I left it.' For a moment he looked happy, pleased with his work on the poem.
'Do you know what time of day it is?' asked Winston.
Ampleforth looked surprised. 'I hadn't thought about it. They took me - it could be two days ago - perhaps three.' He looked round the cell. 'There is no difference between night and day in this place. You can never know the time.'
They talked for a few minutes, then, for no clear reason, a voice from the telescreen told them to be silent. Winston sat quietly, his hands crossed. Ampleforth was too large for the narrow shelf and moved from side to side. Time passed - twenty minutes, an hour. Again there was a sound of boots. Winston's stomach turned to water. Soon, very soon, perhaps now, the boots would come for him.
The door opened. The cold-faced young officer stepped into the cell. He waved his arm at Ampleforth.
'Room 101,' he said.
Ampleforth marched out between the guards. He looked a little worried but did not seem to understand what was happening to him.
More time passed. It seemed like a long time to Winston. He had only six thoughts: the pain in his stomach; a piece of bread; the blood and the screaming; O'Brien; Julia; the razor blade.
Then his stomach turned to water again as he heard the boots outside. The door was opened and a smell of sweat came in with the cold air. Parsons walked into the cell.
'You here!' Winston cried out in surprise.
Parsons did not seem interested in Winston or surprised to see him. He looked completely without hope.
'What are you in for?'
said Winston.
'Thoughtcrime' said Parsons, almost crying.
To hear audio for this text, and to learn the vocabulary sign up for a free LingQ account.