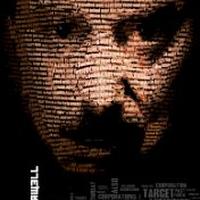 1984-George_Orwell, 1984 (6)
***
They had done it, they had done it at last!
The room was long, carpeted and softly lit; the sound from the telescreen was low. At the far end of the room O'Brien was sitting under a lamp with papers on either side of him. He did not look up when the servant showed Winston and Julia in.
Winston's heart was beating fast. It was dangerous to arrive with Julia, although they had met only outside O'Brien's flat. And although O'Brien had invited him, he was still afraid of the black-uniformed guards in this enormous building with its strange smells of good food and tobacco. But the guards had not ordered him out.
O'Brien continued to work and did not look pleased at the visit. It seemed quite possible to Winston that he had just made a stupid mistake. He could not even pretend that he had come only to borrow the Dictionary - if he had, why was Julia here?
O'Brien got up slowly from his chair and came towards them across the thick carpet. He pressed a switch on the wall and the voice from the telescreen stopped.
Julia gave a small cry of surprise and without thinking Winston said, 'You can turn it off!'
'Yes,' said O'Brien. 'We can turn it off. We in the Inner Party are allowed to do that.'
Nobody spoke. Without the voice from the telescreen the room was completely silent. Then O'Brien smiled.
'Shall I say it or will you?' he said.
'I will say it,' said Winston immediately. 'That thing is really turned off?'
'Yes. We are alone.'
Winston paused. He did not know exactly what he expected from O'Brien. Then he continued, 'We believe that there is a secret organization working against the Party and that you are part of it. We want to join it and work for it. We are enemies of the Party. We are lovers, and we are thoughtcriminals. And now we are in your power.'
O'Brien took a bottle and filled three glasses with dark red liquid. It reminded Winston of something he had seen a long time ago. Julia picked up her glass and smelled the liquid with great interest.
'It is called wine,' said O'Brien with a small smile. 'Not much of it gets to ordinary Party members, I'm afraid.' His face became serious again, and he lifted his glass: 'To our Leader,' he said. 'To Emmanuel Goldstein.'
Winston lifted his glass, wide-eyed. Wine was a thing he had read and dreamed about. For some reason he always thought it tasted sweet. But it tasted of nothing. The truth was that after years of drinking gin he could taste almost nothing.
'So Goldstein is a real person?' he said.
'Yes he is, and he is alive. Where, I do not know.'
'And the Brotherhood is real, too? It was not invented by the Thought Police?'
'No, it is real. But you will never learn much more about the Brotherhood than that.' He looked at his watch. 'It is unwise even for me to turn the telescreen off for more than half an hour. It was a mistake for both of you to arrive here together, and you, Comrade,' - he looked at Julia - 'will have to leave first. We have about twenty minutes. Now, what are you prepared to do?'
'Anything that we can,' said Winston.
O'Brien had turned himself a little in his chair so that he was looking at Winston. He seemed to think that Winston could answer for Julia.
'You are willing to give your lives?'
'Yes.'
'You are willing to murder another person?'
'Yes.'
'You are willing to cause the death of hundreds of innocent people?'
'Yes.'
'If, for example, it would help us to blind a child and destroy its face - would you do that?'
'Yes.'
'Are you willing to kill yourselves, if we order you to do so?'
'Yes.'
'You are willing, the two of you, to separate and never see each other again?'
'No!' shouted Julia.
It seemed to Winston that a long time passed before he answered. 'No,' he said finally.
'You did well to tell me,' said O'Brien. 'It is necessary for us to know everything.'
O'Brien started walking up and down, one hand in the pocket of his black overalls, the other holding a cigarette.
'You understand,' he said, 'that secrets will always be kept from you. You will receive orders and you will obey them without knowing why. Later I shall send you a book by Emmanuel Goldstein. When you have read the book you will be full members of the Brotherhood. When you are finally caught you will get no help. Sometimes we are able to get a razor blade into the prison to silence someone, but you are more likely to tell them all you know - although you will not know very much. We are the dead. We are fighting for a better life for people in the future.' He stopped and looked at his watch. 'It is almost time for you to leave, Comrade,' he said to Julia. 'Wait. There is still some wine.' He filled the glasses and held up his own glass. 'What shall we drink to? To the death of Big Brother? To the future?'
'To the past,' said Winston.
'Yes, the past is more important,' said O'Brien seriously.
They finished the wine and a moment later Julia stood up to go. When she had left, Winston stood up and he and O'Brien shook hands. At the door he looked back, but O'Brien was already at his desk, doing his important work for the Party.
CHAPTER EIGHT
Doublethink
On the sixth day of Hate Week, just before two thousand Eurasian prisoners were hanged in the park, the people of Oceania were told that they were not at war with Eurasia now. They were at war with Eastasia and Eurasia was a friend. You could hear it on the telescreens - Oceania was at war with Eastasia: Oceania had always been at war with Eastasia.
Winston had worked more than ninety hours in the last five days of Hate Week. Now he had finished and he had nothing to do, no Party work until tomorrow morning. Slowly, in the afternoon sunshine, he walked up a narrow street to Mr Charrington's shop, watching for the Thought Police, but sure - although he had no reason to be sure - that he was safe. In his case, heavy against his legs, he carried the book, Goldstein's book. He had had it for six days but had not looked at it yet.
Tired but not sleepy, he climbed the stairs above Mr Charrington's shop. He opened the window and put the water on for coffee. Julia would be here soon. He took Goldstein's book out of his case and opened it. Then he heard Julia coming up the stairs and jumped out of his chair to meet her. She put her brown tool bag on the floor and threw herself into his arms. It was more than a week since they had seen each other.
'I've got the book', he said.
'Oh, you've got it? Good,' she said without much interest, and almost immediately bent down to make the coffee.
They did not talk about the book again until they had been in bed for half an hour. It was evening and just cool enough to have a blanket over them. Julia was falling asleep by his side. Winston picked the book up from the floor and sat up in bed.
'We must read it,' he said. 'You too. All members of the Brotherhood have to read it.'
'You read it,' she said with her eyes shut. 'Read it to me, that's the best way. Then you can explain it to me.'
The clock's hands said six, meaning eighteen. They had three or four hours ahead of them. He put the book against his knee and began reading:
There have always been three kinds of people in the world, the High, the Middle and the Low. The world has changed but society always contains these three groups.
'Julia, are you awake?' said Winston.
'Yes, my love, I'm listening.'
The aims of the three groups are completely different. The High want to stay where they are. The Middle want to change places with the High. Sometimes the Low have no aim at all, because they are too tired from endless boring work to have an aim. If they do have one, they want to live in a new world where all people are equal.
At the beginning of the twentieth century this equality became possible for the first time because machines did so much of the work. A centuries-old dream seemed to becoming true. But in the early 1930s the High group saw the danger to them of equality for all and did everything possible to stop it.
The individual suffered in ways that he had not suffered for centuries. Prisoners of war were sent into slavery or hanged. Thousands were sent to prison although they had broken no law. The populations of whole countries were forced to leave their homes. And all this was defended and even supported by people who said they believed in progress.
The people who entered the new High group were from the professions: scientists, teachers, journalists. They used newspapers, radio, film and television to control people's thoughts. When a television that could both send and receive information was invented, private life came to an end. Every individual, or at least every important individual, could be watched twenty-four hours a day. For the first time it was possible to force people to obey the Party and to share the Party's opinion on all subjects.
After the 1950s and 1960s the danger of equality had been ended and society had re-grouped itself, as always, into High, Middle and Low. But the new High group, for the first time, knew how to stay in that position for ever.
First, in the middle years of the twentieth century, the Party made sure that it owned all the property- all the factories, land, houses, everything except really small pieces of personal property. This meant that a few people (the Inner Party) owned almost everything and the Middle and Low groups owned nearly nothing. There was therefore no hope of moving up in society by becoming richer and owning more.
But the problem of staying in power is more complicated than that. In the past, High groups have fallen from power either because they have lost control of the Middle or Low groups or because they have become too weak, or because they have been attacked and beaten by an army from outside.
After the middle of the century there was really no more danger from the Middle or Low groups. The Party had made itself stronger by killing all of its first leaders (people like Jones, Aaronson and Rutherford). By 1970 Big Brother was the only leader and Emmanuel Goldstein was in hiding somewhere.
The Party then kept itself strong. The child of Inner Party parents is not born into the Inner Party; there is an examination, taken at the age of sixteen. Weak Inner Party members are moved down and clever Outer Party members are allowed to move up. Although proles do not usually move up into the Party, the Party always stops itself from becoming stupid or weak.
The Party has also made attack from the outside impossible. There are now only three great countries in the world. They are always at war but none of them can win or even wishes to win these wars. Following the idea of 'doublethink' the mind of the Party, which controls us all, both knows and does not know the aim of these wars. The aim is to use everything that a country produces without making its people richer. If people became richer, there would be an end to the world of the High, the Middle and the Low.
To hear audio for this text, and to learn the vocabulary sign up for a free LingQ account.