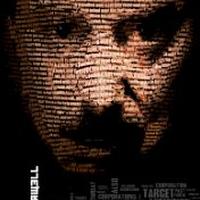 1984-George_Orwell, 1984 (2)
But no, there was another knock. He could not delay - that would be the worst thing he could do. His heart was racing but even now his face, from habit, probably showed nothing.
He got up and walked heavily towards the door.
CHAPTER TWO
The Spies
As he opened the door, Winston saw that he had left the diary open on the table. DOWN WITH BIG BROTHER was written in it, in letters you could almost read across the room.
But everything was all right. A small, sad-looking woman was standing outside.
'Oh, Comrade Smith,' she said, in a dull little voice, 'do you think you could come across and help me with our kitchen sink? The water isn't running away and...'
It was Mrs Parsons, his neighbour. She was about thirty but looked much older. Winston followed her into her flat. These repairs happened almost daily. The Victory Mansions flats were old, built in about 1930, and they were falling to pieces. Unless you did the repairs yourself, the Party had to agree to them. It could take two years to get new glass in a window.
'Tom isn't home,' Mrs Parsons explained.
The Parsons' flat was bigger than Winston's and unattractive in a different way. Everything was broken. There were sports clothes and sports equipment all over the floor, and dirty dishes on the table. On the walls were the red flags of the Young People's League and the Spies and a full-sized poster of Big Brother. There was the usual smell of old food, but also the smell of old sweat. In another room someone was singing with the marching music that was still coming from the telescreen.
'It's the children,' said Mrs Parsons, looking in fear at the door to the other room. 'They haven't been out today and of course...' She often stopped without finishing her sentences.
In the kitchen, the sink was full of dirty green water.
'Of course if Tom was home...' Mrs Parsons started.
Tom Parsons worked with Winston at the Ministry of Truth. He was a fat but active man who was unbelievably stupid and endlessly enthusiastic. He was a follower with no mind of his own - the type that the Party needed even more than they needed the Thought Police.
At thirty-five Tom Parsons had only just been thrown out of the Young People's League, although he had wanted to stay. Before that he had continued in the Spies for a year beyond the official age. At the Ministry he had a job which needed no intelligence, but he worked for the Party every evening, organizing walks and other activities. The smell of his sweat filled every room he was in and stayed there after he had gone.
Winston repaired the sink, taking out the unpleasant knot of hair that was stopping the water running away. He washed his hands and went back to the other room.
'Put your hands up!' shouted a voice.
A big, handsome boy of nine was pointing a toy gun at him. His small sister, about two years younger, pointed a piece of wood. Both were dressed in the blue, grey and red uniforms of the Spies. Winston put his hands up. The look of hate on the boy's face made him feel that it was not quite a game.
'You're a Eurasian spy!' screamed the boy.
'You're a thoughtcriminal! I'll shoot you, I'll vaporize you!'
Suddenly they were both running round him, shouting 'Spy! Thoughtcriminal!' The little girl did everything seconds after her older brother did it. It was frightening, like the games of young, dangerous wild animals that will soon be man-eaters. Winston could see that the boy really wanted to hit or kick him, and was nearly big enough to do so. He was glad that the gun in the boy's hand was only a toy.
'They wanted to see the Eurasian prisoners hang. But I'm too busy to take them and Tom's at...'
'We want to see them hang!' shouted the boy, and then the girl started shouting it too.
Some Eurasian prisoners, guilty of war crimes against Oceania, were going to hang slowly in the park that evening. This happened every month or two and was a popular evening's entertainment. Children were often taken to see it.
Winston said goodbye to Mrs Parsons and walked towards the door. He heard a loud noise as a bomb fell. About twenty or thirty of them were falling on London each week. Then he felt a terrible pain in the back of his neck. He turned and saw Mrs Parsons trying to take some sharp stones from her son's hand.
'Goldstein!' screamed the boy.
But Winston was most shocked by the look of helpless terror on Mrs Parsons' grey face.
CHAPTER THREE
The Ministry of Truth
Winston pulled the speakwrite towards him and put on his glasses. To the right of the speakwrite there was a small hole, to the left a larger one. In the office wall there was a third hole, larger than the other two.
Messages came to Winston's office through the smallest hole. Newspapers came to him through the middle hole. The largest hole was for waste paper; hot air carried that away. These large holes were called 'memory holes', for some reason.
Today four messages had come through the smallest hole, onto his desk. The messages were about changes to the Times newspaper. For example, in Big Brother's speech in the Times of 17 March, he had said that South India was safe. The Eurasians would attack North Africa.
This had not happened. The Eurasians had attacked South India, not North Africa. Winston had to re-write part of Big Brother's speech so you could read in the Times for 17 March that Big Brother had known about the attack before it happened.
When Winston had finished, his changes to the Times went with the newspaper down the middle hole. A new edition would soon appear, with his changes. Every copy of the old edition would disappear. Destroyed. The message to Winston with the changes would disappear down the memory hole, to be burned.
Every day newspapers, magazines, photographs, films, posters and books were all changed. The past was changed. The Party was always right. The Party had always been right. The Records Department, where they destroyed all the old copies of everything, was the largest department in the Ministry of Truth, but there was no truth. The new copies were not true and the old copies had not been true either.
For example, the Ministry of Plenty had said they would make 145 million pairs of boots last year. Sixty-two million pairs were made. Winston changed 145 million to 57 million. So the Party had made five million more boots last year than they expected to. But it was possible that no boots at all were made last year. And it was possible that nobody knew or cared how many boots were made. You could read in the newspapers that five million extra pairs of boots had been made and you could see that half the people in Oceania had no boots.
Winston looked around the office. A woman with fair hair spent all day looking for the names of people who had been vaporized. Each of them was, in Newspeak, an unperson. She took their names out of every newspaper, book, letter... Her own husband had been vaporized last year. She took his name out too.
People disappeared from the newspapers when they were vaporized and they could also appear in the newspapers when they did not exist.
Winston remembered Mr Ogilvy. He had appeared in the newspapers because he had led the sort of life the Party wanted. Ogilvy had joined the Spies at the age of six. At eleven he told the Thought Police that his uncle was a criminal. At seventeen he had been an organizer in the Young People's League. At nineteen he had invented a new bomb which had killed thirty-one Eurasians when it was first tried. At twenty-three, Ogilvy had died like a hero, fighting the Eurasians. There were photographs of Ogilvy, but there had been no Ogilvy. Not really. The photographs were made at the Ministry of Truth. Ogilvy was part of a past that never happened.
Anything could be changed. A dreamy man with hairy ears called Ampleforth re-wrote old poems until they supported everything the Party believed in.
But all this work, all these changes, were not the main work of the Ministry of Truth. Most workers in the Ministry were busy writing everything that the people of Oceania read or saw: all the newspapers, films, plays, poems, school books, telescreen programmes and songs, the Newspeak dictionaries and children's spelling books.
After his morning's work, Winston went to the canteen. It was full, very noisy and smelled of cheap food and the gin that was sold from a hole in the wall.
'Ah, I was looking for you,' said a voice behind Winston.
It was Syme, his friend from the Dictionary Department. Perhaps 'friend' was not exactly the right word. You did not have friends these days, you had comrades. But some comrades were more interesting than others.
Syme was working on the eleventh edition of the Newspeak Dictionary. He was a small man, even smaller than Winston, with dark hair and large eyes. These eyes were sad but they seemed to laugh at you and to search your face closely when he talked to you.
'Have you got any razor blades?' asked Syme.
'None,' said Winston quickly, perhaps too quickly. 'I've looked for them everywhere.' Everyone was asking for razor blades. There had been none in the Party shops for months. There was always something which the Party could not make enough of. Sometimes it was buttons, sometimes it was wool; now it was razor blades. 'I've been using the same blade for six weeks,' he lied. He actually had two new ones at home.
The people waiting for food and gin moved forward, slowly. Winston and Syme took dirty plates from the pile.
'Did you go to the park yesterday?' asked Syme.
'All the Eurasian prisoners were hanged.'
'I was working,' said Winston. 'I'll see it at the cinema.'
'That's not as good,' said Syme. His eyes looked hard at Winston's face. 'I know you,' they seemed to say. 'I know why you didn't go to see the prisoners die.'
Syme was an enthusiastic supporter of the Party's decisions about war, prisoners, thoughtcrime, the deaths in the underground rooms below the Ministry of Love. Winston always tried to move conversation with him away from all that. Syme knew a lot about Newspeak and when he talked about language he was interesting.
'The prisoners kicked when they were hanged,' said Syme. 'I always like that. It spoils it when their legs are tied together. And one of them had his tongue hanging right out of his mouth. It was quite a bright blue. I like that kind of detail.'
'Next, please,' called the prole who was giving out the food, and Winston and Syme gave her their plates. She put some grey meat on each one. There was also some bread, a small piece of cheese and a cup of sugarless black coffee.
'There's a table there, under that telescreen,' said Syme. 'Let's get a gin and sit there.'
The gin was poured for them into big cups and they walked through the crowded canteen to a metal table. There were some pieces of meat on the table from the last person's meal.
They ate in silence. Winston drank down his gin, which brought tears to his eyes.
'How's the Dictionary?' he said, speaking loudly because of the noise.
'I'm on the adjectives,' said Syme. 'It's wonderful work.' His eyes shone.
To hear audio for this text, and to learn the vocabulary sign up for a free LingQ account.